Plan Templates
13+ Nonprofit Fundraising Plan Templates – Word, PDF, Google Docs
Nonprofit organizations are institutions whose focus is dedicated to bring into focus certain social issues and bring them to light. Nonprofit organizations' fundraising plans are named this way because they do not earn any profits. On the contrary, they do. It is just that they use their profits and revenue surplus to achieve and fulfill their objectives and goals rather than distributing said income to the organization's shareholders leaders and members. For this reason, most nonprofit organizations are tax-exempt or charitable. This means that they do not pay income tax for any money the institution gets. You can also see more on Fundraising Plans.
Nonprofit Fundraising Development Plan Template
Non-Profit Fundraising Plan Template
Planning to raise non-profit fundraising for your philanthropic activities? Make it a success with our effective and efficient nonprofit plan template, that you can use instantly by downloading it. It's important to pinpoint your target audience and entice more donors. All you have to do is alter some of its content and make it as your own. This expertly designed template isn't just limited to a computer. You can view and edit it on your tablet and phone as well. Download it now! You can also see more on Non Profit Budget Templates.
Alliance Fundraising Plan Sample
allianceforthebay.org
Nonprofit organizations can operate in different sectors. They can operate in any setting like religion, science, research, education, etc. Though no matter which field they operate in, nonprofits share one main problem and that is the problem of funding. As mentioned above, a nonprofit organization may be able to earn a small amount of money but this money is used to fund the operations of the organization. More often than not, this amount will not be enough to cover all the costs of operations. A nonprofit's existence then depends on donations and fundraisers. You can also see more on Payment Plans.
Simple Fundraising Plan Template
homesforhorses.org
Donations have been sustaining nonprofits for years now. These donations may come from the pockets of individuals or foundations, may come in the form of sponsorship from different corporations, government funding, and merchandise sales among others. Fundraising will also be more successful with fundraising sample plans. Make the outline template your own by downloading it and adding your details in it with ease. Check it out now!
3 Year Fundraising Plan Sample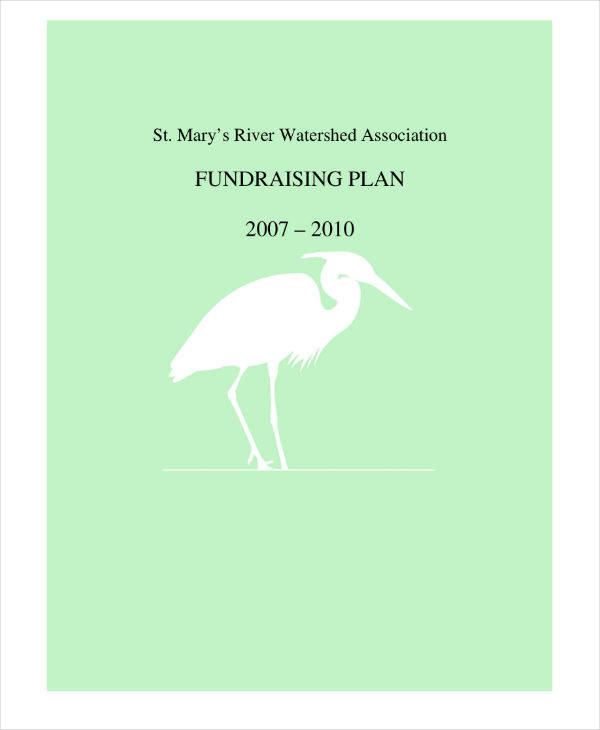 smrwa.org
Fundraising Plan
A fundraising simple plan is a document that organizes all of an institution's fundraising activities over a period of time. Usually, a fundraising basic plan is planned out for a period of one year. The general gist of a fundraising printable plan is that it usually includes campaign dates, strategies, donor-tracking plans, details on social events, and a targeted communication schedule.
The ultimate goal of the financial plan is to be able to make and keep you focused on tasks throughout your fundraising year. It helps you make the right plan format needed to save all the finances y9o need to keep your organization growing. This also helps the clients you help you increase your funds know what you are doing with them, so it is necessary that you keep them involved in the plan too. You can also see more on Fundraising Plan in Pdf.
Land Trust Fundraising Plan Sample
solidgroundconsulting.com
Nonprofit Fundraising Guide and Template
refugefriendsconnect.org
Nonprofit Fundraising Strategic Plan
reachvolunteering.org.uk
Reasons for Having a Fundraising Plan:
Like many plan outline examples that are available online, word fundraising plans exist as a guide to help the effort of an NPO. This time, that effort is geared to the fundraising activities for a nonprofit organization. As previously mentioned, fundraising activities have become essential for a nonprofit's survival. Due to the growing number of nonprofit organizations the importance of having your fundraising already planned out allows or a better fundraising effort. You can also see more on Leave Plan Templates.
1. Fundraising plans bring everyone to one page:
A plan makes it easier for you to bring your organization to the same footing. Your organization's staff, volunteers, and board members will be on the same page. That is, only if you have a plan document to show them a clear idea of your expectations on them for a certain period of time as well as the anticipated results.
2. Fundraising plans are essential to change fundraising perception:
Fundraising can be a tedious task. Furthermore, a lot of people think that fundraising is a very conservative approach to secure funds. Financial plan templates can be of great help in making the right plan needed. The documents that are involved in the fundraising process can help overturn those views. You can also see more on Non Profit Budget Templates.
3. Fundraising plans provide the way:
Fundraising plans can clear out any misunderstanding in the organization with regards to the fundraising activity. A fundraising daily plans can provide a clear course of action especially if you have a diverse revenue stream.
Overall, no matter what you do, simple plans can and may help you in figuring out what needs to be done and how to proceed, especially in your times of need. You can also see more on Strategic Plans.
Nonprofit Fundraising Strategic Planning Sample
epnonprofit.org
Non-Profit Services Fundraising Plan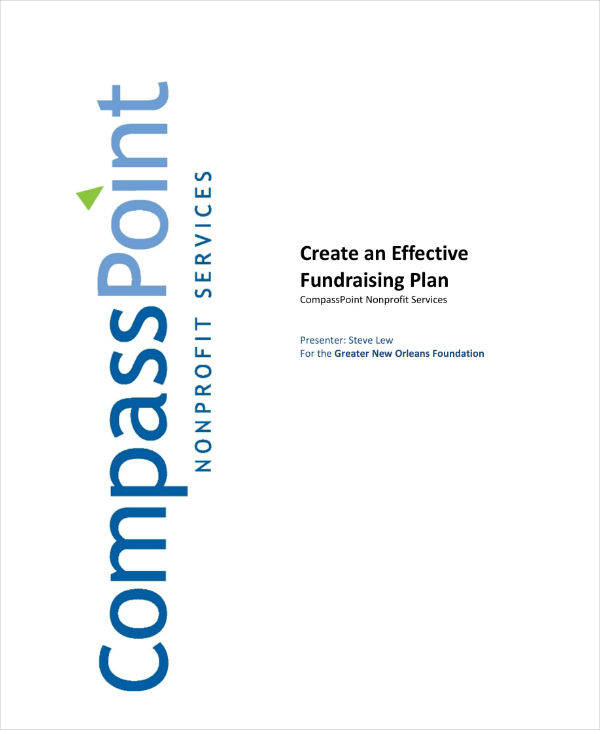 gnof.org
The Shape Funds and Fundraising Can Come:
It is easy to think that funds can only come in one shape, the shape of money. That view is expected really as this is really the things we see get raised when we first come into contact about fundraising. Money and grants are the most common results of fundraisers example. However, fundraisers are also used to raise relationships between two business entities. Once this relationship level is high enough, they might be more willing to support each other.
Other things that fundraising can take a form of are:
Major gifts
Planned gifts
Legacy gifts
Year-end appeal letters
Annual campaigns
Online giving
Volunteer fundraising
Mobile giving
Stewardship through newsletters and annual reports among others
Board member fundraising
Phone-a-thons
Monthly giving
Sponsorship
Earned income
Cause marketing
Thank-a-thons
Memberships
Special events
Volunteering
Monthly giving
Non-Profit Fundraising Plan Sample
getfullyfunded.com
Rural Housing Fundraising Plan Sample
ruralhome.org
6 Steps in Making Fundraising Plan:
Formulating your fundraising plan can be a step by step process and each step should be tackled individually at a time. It is possible to not do this in such a manner. However, proceeding so can maybe confusing and can waste a lot of time during the process. If you are just new to the fundraising process, then it is more advisable to follow the following steps in laying out your fundraising plan. You may also see strategic plans in PDF.
1. Decide on your Fundraising Goals
The first step of planning your fundraising plan is to define how much you want to earn from your fundraising and how you are going to allocate those earnings. It might be your goal to use the raised money for paying your overhead expenses, starting out new sample programs or as to pay for payments that are behind. No matter what you do, the funds you get will be for your institution's cause. If you aim to have multiple goals, it is important to sample outline separate smart goals for each.
2. Write your Plan Down:
You have to start somewhere when you plan to raise money. What better place to start by writing out your goals and projections for your fundraising year. Having a written plan can help you avoid flying from one fundraising scheme to another. It is ideal to include in your fundraising project plan the amount of money you plan to raise, the source of this money and lastly, your planned methods of acquiring this money. This plan can be revisable as you go along and when you need it as not all your plan will probably work out. A good place to start writing would be observing your current simple programs and their respective funding.
3. Estimate your Fundraising Costs:
Establishing a fundraising activity will not be free. Depending on your fundraising activity, the cost of running your fundraising event might be big or small. You should sample list down the projected costs of the whole event and see if it is worth it. Things such as postage, the cost to run a special event, personnel costs, should all be included among others. As much as possible, be cost-efficient when planning your fundraising event. Be realistic in your estimates. You may also see marketing plan samples.
A good measuring stick as to how much you should spend on your fundraising event is to make sure that it does not exceed 25 percent of your total operating budget. To put it simply, spend three-quarters of your funds in doing what you are founded to do and one-quarter for the fundraising and administrative costs. You may also see performance plan templates.
4. Develop a Timeline for your Fundraising:
As a fundraising plan is planned out for a period of one year, it will be a good idea to develop a timeline for your fundraising action plan. Sample Schedule your fundraising efforts by filling in a calendar with specific activities that can help earn the organization's money. Also, include the people who should be responsible for each activity. You can expand on the timeline concept by developing a timeline for each fundraising activity, such as a special event.
5. Identify sources for funds
It is already mentioned above that along with your fundraising goals, you should also identify the source of these funds. You must plan ahead to appeal to your potential sources of funds. Ask yourself if the current source of funds and sponsorships can be leveraged for more income. Try to simple list out which audiences are untapped in their potential and engage them. Remember that these sources will not be forever, they might not even be with you next year, as such, formulate a plan on how you can retain your current donors.
6. Evaluate
Like all the other kinds of plans, evaluation of your fundraising plan is key to your fundraising success. The evaluation will improve your results. As time passes by, you can use your evaluations as a way to refine your fundraising efforts and see which needs more tweaking. Try to do your evaluations after every few months. Sample Business Plans templates can also be of great help to you. Develop criteria that you can use for this purpose, just make sure that this criterion is consistent.
Sample Fundraising Plan
arts.texas.gov
School Fundraising Plan Example
doe.k12.de.us
Conclusion
Nonprofit organizations or nonprofits for short, depend on donations and fundraising relevant for their sustainability. Donations are less dependable than fundraisers as donors might choose to offer support to other nonprofits. As such, it is important for nonprofits to have an effective fundraising campaign to earn enough money and be able to execute what it is that they were founded for. You can also see more on Simple Business Plans.
Fundraising plans are essential to ensure the success of fundraising campaigns that nonprofits venture in. You may also see sample work plan templates. However, not all of these income sources may be stable. Donations and sponsorship may change year after year. That company that sponsored your institution this year might find another worthy cause and focus all their funding on that organization. Fundraising is an essential activity that all nonprofits do in order for them to survive. You can also see more on School Plans.
More in Plan Templates