Business
19+ Press Release Templates
A 'Press Release', as the name implies, is an official statement or information to the Press or the newspapers by a company regarding their latest release. A Press Release Templates is all about how to write an official and professional Press Release Statement. There are various kinds of Press Release Templates available online. You may also see lease templates.
Company Press Release Template in Word

Download
Printable Company Merger Press Release Template

Download
Company Award Winning Press Release Template

Download
Employee Promotion Press Release Template

Download
Press Release Company Report Quarter Results

Download
Press Release Opening a New Office Template

Download
Company Press Release for Receiving Finance Template

Download
Simple Press Release Company Has Expanded its Facilities

Download
New Partnership Collaboration Press Release Template

Download
Press Release for New Distribution Channel Template

Download
Press Release Templates Bundle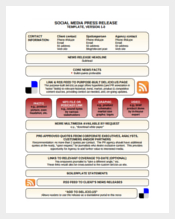 3 Press Release Templates Bundle Download
Event Press Release Template
energystar.gov
Are you up for a charity event or any other promotional events of your company? Then these Event Press Release Templates will help you toot the horn about your promotional strategies to everyone on the floor. Because we love promotion. All the templates are newsworthy. Use them to outreach your target readers. You may also see PowerPoint Newspaper Templates.
Social Media Press Release Template
shiftcomm.com
Social Media has now become an active outlet to share information related to the tech'knowledge'y. These Social Media Press Release Templates are purpose-built. You can use them for on-going updates on your product and/or your services in all kinds of social websites. Download the standalone press release templates today. Get social today.
CEO Announcement Press Release Template
baptistcareaustralia.org.au
CEO Announcements hold a high weightage for any organization. However, 'Press' it is not an easy task. This CEO Announcement Press Release templates deal with the 'upper crust'. Be it the statements from your CEO, or the information regarding the chairing of your new CEO or any other information regarding the Chief Executive Officer, the templates love addressing it.
AP Style Press Release Template
brandeis.edu
The Associated Press is considered to be the bible for media. If you want to have a career in print journalism, or you have already started working with one, you have to deal with the AP Style and that is inevitable. But how to cross-check whether or not, your Press release is following AP Style? One great way is using our templates. They are famed for their accuracy. All the letters in them are case-sensitive. They hold a correct date and abbreviations.
Book Press Release Template
vermonthumanities.org
Do you want to make your Book stand out in the crowd before hitting the stands? Use our Book Press Release Templates that are extremely helpful. They help you generate ideas, and they act as a platform to test your thoughts. Don't let them end up in a bin. They are the right way to promote your writing stuff.
Music Press Release Template
kjwagnermusic.com
Dear Bands, are you going to hit the road with your new album and you want to beat your drums about the same? Here is one news worth sharing with you. The Music Press Release Templates in this section are those few great ones. Even the music journalists can significantly benefit from this offer. Music for the ears. Isn't it?
Album Press Release Template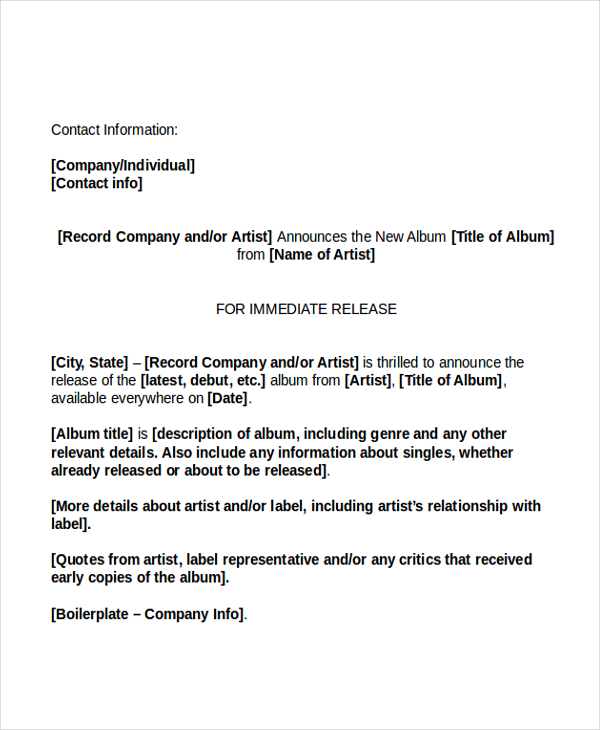 presstemplate.com
Are you still relying on blogs, hometown papers, and other local publications to promote your Albums? Keeping your audience in the loop about your album releases is a good thing. But why don't you opt for professional assistance? Especially, when it is within your reach. Our Album Press Release Templates are the easiest ways to get Press.
Product Launch Press Release Template
pressreleasejet.com
Is your company going to release another powerful product from its arsenal? Sell it before the actual sale through this Product Launch Press Release Templates. Use them to spread the news through wires. They help your creative juices keep flowing. Because Product Launches are our thing. Unwrap your next big thing with these templates.
Expert Positioning Press Release Template
chanelentrepreneur.files.wordpress.com
Expert Positioning Press Releases establish you as an expert in the market. However, these are less urgent compared to the rest of the templates in the section. The Expert Positioning Press Release Templates are for pro bono. They help you pull off the public coup. It's not an issue whether or not, you know how to release it. We help you all the way.
> How to write a Press Release?
Press Releases are the great profitability optimizers while being in line with pockets. If you have failed to make one on your own, don't worry. The Press Release Templates in this section are low hanging fruits. You can pluck them without any luck. Now say goodbye to the spray and pray method. You may also see Media Schedule Templates.
> When to send a Press Release?
Though there won't be a bad time to start a good practice, being calculative in timing helps you reach the target with fewer failures. Particularly in the case of press releases, if you have one with a __ front end, then a perfect timing would help get noticed in Google searches. On the contrary, if you think that your product is newsworthy, then you can send a press release every other day.
> Why Write a Press Release?
If you feel that your company holds something which is quite bigger than just news, then you can go for a Press Release. In fact, a Press Release is the best way to reach multiple emerging markets quickly and inexpensively. Add new customer base to your sales funnel with one perfect template.