Business
21+ Press Release Templates
Writing a press release is fun only when you have an interesting subject to talk about. Readers are always looking forward to read new stories and as long as your creativity sparkles in every anecdote you tell, your readership will definitely become big. You may also see report samples.
To write your news story faster, you should consider using the press release templates, a category of business templates designed to make your writing task easier. The following is a list of useful sample Press Release Templates for free download.
Press Release Company Reports Quarter Results Template
Press Release New Distribution Channel
Simple Company Merger Press Release Template
Company Press Release Report in Quarter Results
Award Winner Press Release Template in Word
Company Expanded Press Release Template
Easy to Edit Company Press Release Template
Simple New Office Opening Press Release Template
Employee Promotion Press Release Template
New Partnership Collaboration Press Release Template
Company Financing Press Release Template
Event Press Release Template
msktc.org
Create an awareness of an upcoming event by writing a press release about it. Distribute the news to the target audience by whichever means you deem suitable. Use this template for easy task.
Music Press Release Template
thomas-quasthoff.com
The next big music show is worth public hearing. Put the announcement about the event in the following press release template and let every reader know that there is an event worth attending.
Press Release Email Template
heritage.utah.gov
E-mail communication continues to grow rapidly, which means this is the best time to take advantage of email marketing. Get people to hear you by writing a high quality press release and then distribute the news via e-mail.
Book Press Release Template
susanmboyerbooks.com
Written a book and want people to know about its existence? Put your words into a press release and let your marketing team do the distribution for you. You can use the following press release template.
Social Media Press Release Template
shiftcomm.com
If the next social media marketing agenda is something worth hearing, why not put it at public disposal. The best way to do that is to put it all in a press release with the help of the following press release template.
Partnership Press Release Template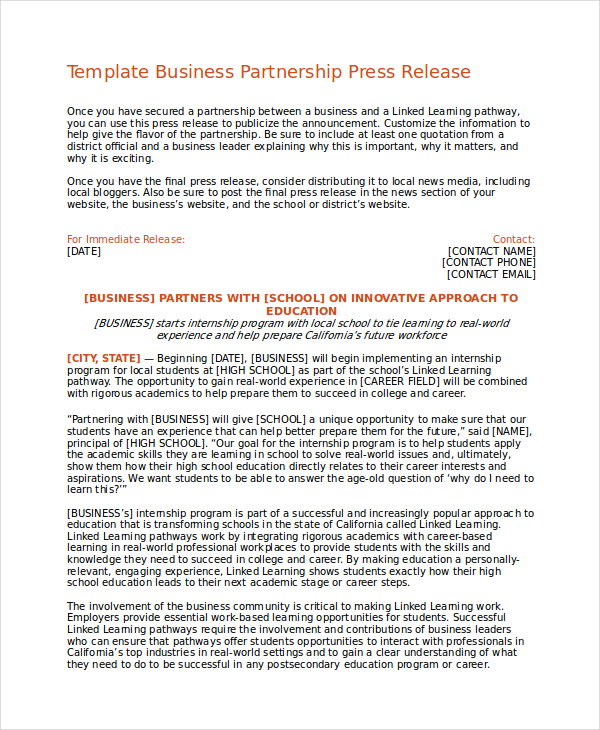 linkedlearning.org
Album Press Release Template
presstemplate.com
New Hire Press Release Template
hermes-investment.com
Concert Press Release Template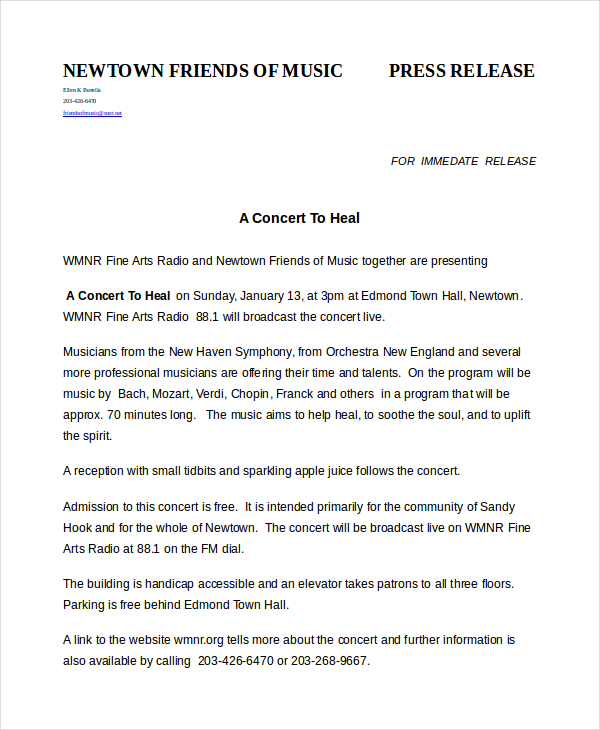 bloomfield.k12.nj.us
Theatre Press Release Template
nationaltheatrescotland.com
> What are The Uses of Press Release Templates?
Press release templates are document models which are used to tell new subjects to the target audience. Overall, a press release is news originating from a business, an organization, a new startup, or an established entity. The purpose of the news story is not to persuade a reader to make a purchase of something at all; rather. You may also see Media Schedule Templates.
It is a communication means that seeks to inform a reader about what's new, what's to come, as well as what to expect. Press releases aren't adverts per se; they are stories meant to create awareness about a function, an event, or a situation that has never been there before.
> Who is the Target Audience of Press Release Templates?
When we talk about the target audience with respect to any Press Release Templates, the overall target is a duo: a writer and a reader. The author needs the template to write their news faster. Usually, the template already features a professional predefined outline; so all an author should do is write their story, proofread it, print, and distribute the new anecdote to the targeted audience. The target reader is the individual expected to read the content of the news template. The very best way an author can grab the attention of a reader is to write an interesting story that will capture the mind of a reader.
> The Advantages of Press Releases
A press release communicates to an audience that has no idea about the happenings of an event in question. Usually, the occurrence can be current or expected. By creating the awareness, you are able to get many people involved in the process so that your event gets as many people as possible.
By creating awareness through telling new news stories, people who have no idea about the topic in question suddenly become aware. That gives you an opportunity to not only interact with people but also to do business with them for as long as you would like; you are also likely to expand your readership.
Make sure your press release reads well; concentrate on improving relevance and usefulness of the content. Most importantly, though, it should be short. A long press release will be hard to read, even if it is interesting, the reader is likely to stop reading at a certain point. So, make it short – it's as simple as that.