Proposal Templates
53+ Simple Proposal Templates
A proposal is a written offer or document sent to a potential client to achieve a certain specific job or project. A sample proposal may be solicited or unsolicited. Certain clients will request a proposal on a project based on a sales call. It specifies the product or service to be given, the wanted qualifications, and the due date for compliance. simple Proposals occur mostly in a company, business, or retail industry.
Simple Proposal Template
Are you in need of a simple proposal template that will help you address all of the important information? If yes, then you must absolutely try out this above-shown template. You can clearly state the client operations, cost summary, contract terms, and contractor service details by editing this template document on any of the available file formats.
Sample Proposal Template
Check out this sample Word proposal template that will help you frame your creative ideas and turn them into fruitful results. This professional proposal will also help you achieve your business goals by letting you form new ventures and business partnerships. It is versatile to work with as it can be edited in different file formats.
Sample Design Proposal Template
Designed by beauty gurus, our sample design proposal template is guaranteed to impress your business clients. It comes with high-quality content that can be customized to suit your requirements, on any of the present file formats. Download it now to draft your very own winning proposal!
How to Write a Proposal in 6 Steps
The main goal of a proposal is to obtain support for your plan by letting the people know certain details and by communicating them in a clear and captivating way. It will surely be a success in many fields if you know how to write a professional and persuasive proposal. You may follow these steps in creating a good proposal.
Step 1: Begin With a Substantial Introduction
Your main goal here is to make your proposal as purposeful as possible, thus making use of some background details is important. Whatever it is, always ensure what you start with a fact and not just an opinion.
Step 2: Determine the Problem
Once you are done with the introduction, you need to get into the body of the proposal. You need to make sure that all questions are being answered and always cover them with marketing research and factual information. Use reliable sources.
Step 3: Suggest Solutions
This section is truly the essential area of your proposal. This is where you describe how you are planning to address the issue, what the advantages of your methods are, and what are possible after-effects.
Step 4: Don't Forget to Add a Schedule and Budget
To persuade your readers that you're a good investment, you need to give as much information as you can. Provide an outline of the cost and include the budget information along with how you are planning on spending that amount.
Step 5: Complete It With Conclusion
This area should reflect your introduction, i.e., briefly wrap up your general message in the conclusion section. Create a summary of the benefits of your proposal.
Step 6: Never Forget to Edit Your Work
Always be cautious in writing and editing the proposal. Make revisions as necessary to make it clear and concise. After that is done, be sure to save it and print it out.
Templates, on the other hand, will always make your work much more convenient, just like our catering proposal templates, these samples will help you in crafting your catering proposal.
Sample Proposal Outline
Drafting a professional business proposal has never been easier, thanks to our sample proposal outline template that comes with pre-made content. You can easily customize this content by opening this document on any of the file formats. It outlines all the information impressively, so you do not have to waste time in doing so.
Simple Budget Proposal Template
Create an estimate for costs, revenues, and resources for a specific period by downloading this simple budget proposal template. Be able to show investors how much it's going to take to make a project successful. You can even adjust the contents of the template to handle complicated financial numbers. Apart from these, you can also quantify objectives, measure performance, and allocate funds as well.
Simple Project Proposal Template
Simple Business Partnership Proposal Template
Simple Proposal Template MS Word
Sample Proposal Template in iPages
A proposal template is an important tool you can use to save you time in constructing your very own proposal. With templates, you don't have to worry about the right format and the content. They are all pre-made and are written professionally. If you want to propose a project, download our ever-ready simple proposal templates.
Sales Proposal Template
Printable Bid Proposal Template
Editable Job Proposal Template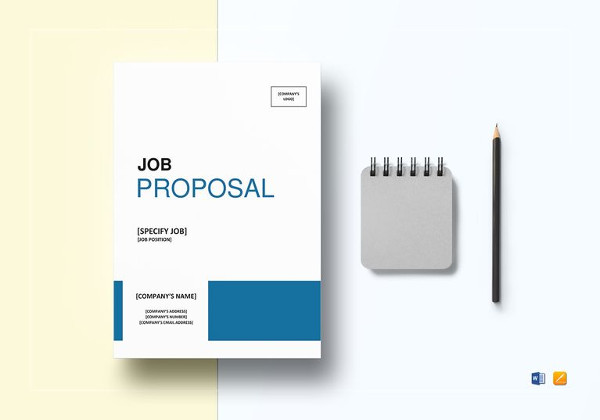 Design Proposal Template in iPages
Sample Investment Proposal Template in iPages
Service Proposal Template
Green Business Proposal Template in Word
Types of Proposals
Apart from knowing what proposals are, they have a different variation that is useful for catering to the proposal needs of certain individuals. Here are common types of proposals.
Preliminary Proposal – This type of proposal shows what the project initiator (PI) plans to do, how the PI will conduct the project, and why this project is worth doing. This type of proposal establishes a foundation for discussion.
Unsolicited – This is a type of proposal that is submitted to a sponsor that does not often issue any solicitation.
Solicited – This is a proposal should conform to the solicitation protocol issued by the agency.
Renewal or Competing Proposal – This is a type of proposal requesting the continued support for an existing project that is about to close.
Continuation or Non-Competing Proposal – This is a request for financial assistance for a second or consecutive budget period.
Supplemental Proposal – This proposal requests an increase in support during a recent budget period. This is designated for an expansion of the project's scope or to achieve an administrative cost increase.
Regardless of which of these proposals you'll be making, a proposal outline template will surely come in handy.
Budget Proposal Template in iPages
Editable Minimal Proposal Template
Printable Proposal Outline Template
Simple Business Proposal
Business Plan
calvin.edu
Sample Proposal
statit.com
Business Proposal
images.template.net
Construction Proposal Template
Residential Construction
bergmountainhomes.com
Bid Proposal
images.template.net
Consultant Proposal Template
Consultant Management
tmhcc.com
Healthcare Consulting Proposal
leg.state.nv.us
Project Proposal
conservation.org
Event Proposal Template
New Event
kalamunda.wa.gov.au
Sample Proposal
centralpa.aiga.org
Fundraising Event
deafhear.ie
Fundraising Proposal Template
Fundraising Proposal
cari.ie
Sample Fundraising
tewksburycc.org
Free Fundraising
acrf.com.au
Simple Grant Proposal
Preliminary Grant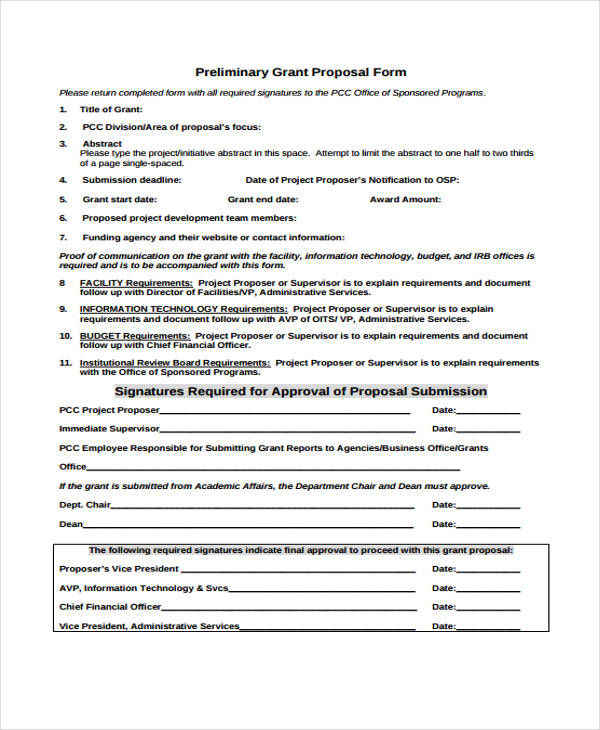 pittcc.edu
Grant Application
photos.state.gov
Blank Proposal
sugarsalem.org
Proposal Writing – What Are the Benefits?
Writing a proposal in partnership with strategic planning can produce tremendous benefits for an organization even before projects are even supported or funded. Here are some of the ways why proposal writing is beneficial to an organization or an individual.
Enhances Accuracy – Proposal writing is an integral part of your development since it is also part of your strategic plan. Also, it is a way to secure funds. It can also help boosts your role in the community and your future outlook.
Encourages Team Participation – Team collaboration is necessary when it comes to writing a proposal. The moment you start to gather the composite wisdom of your team members, you increase their commitment to new projects, thus program proposal templates are needed for this event.
Build Partnerships – a great chance to meet other organizations that will support your project and who will be willing to contribute to your strategic plans and works.
Ensure Future Success – proposal writing increases your development and ongoing strategic planning. This can be accomplished by enabling your team to reach goals and focus project results.
Templates are also important when it comes to achieving a great proposal, just like with our training proposal templates.
Thesis Proposal Template
Doctoral Thesis
users.physik.fu-berlin.de
Master Thesis Proposal
bu.edu
Sample Thesis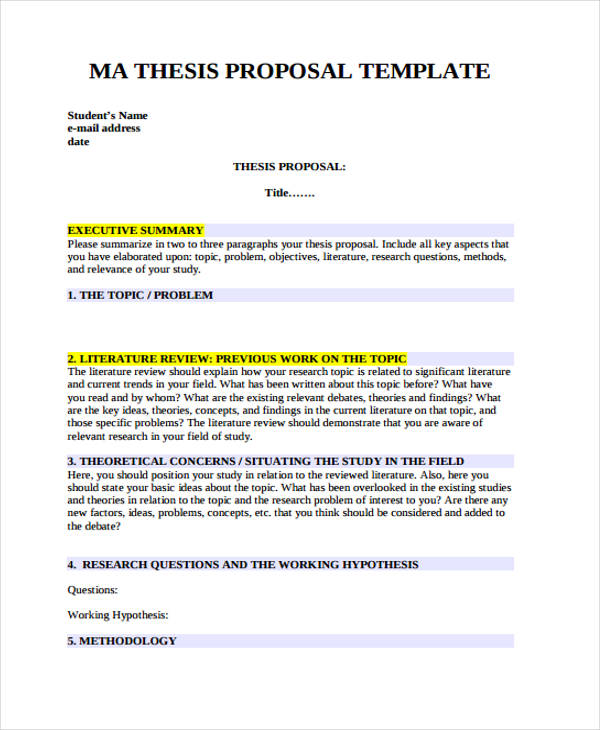 corsi.unibo.it
Program Proposal Template
Local Program
localfm.ca
Program Proposal
oia.osu.edu
Program Proposal Format
extension.slu.edu.ph
Campaign Proposal Template
Campaign Proposal
seai.ie
Advertising Proposal
tmhcc.com
Campaign Proposal Sample
markstay-warren.ca
Simple Sales Proposal
Short Sales Proposal
.cincymls.com
Sale Proposal
walton.uark.edu
Training Proposal Template
Job Training
jobsnd.com
Leadership Training
fedjobtraining.com
Sample Training Proposal
earlychildhood.marylandpublicschools.org
Website Proposal Template
Website Design Proposal
austindesignshop.com
Sample Website Proposal
carfield.com.hk
Website Development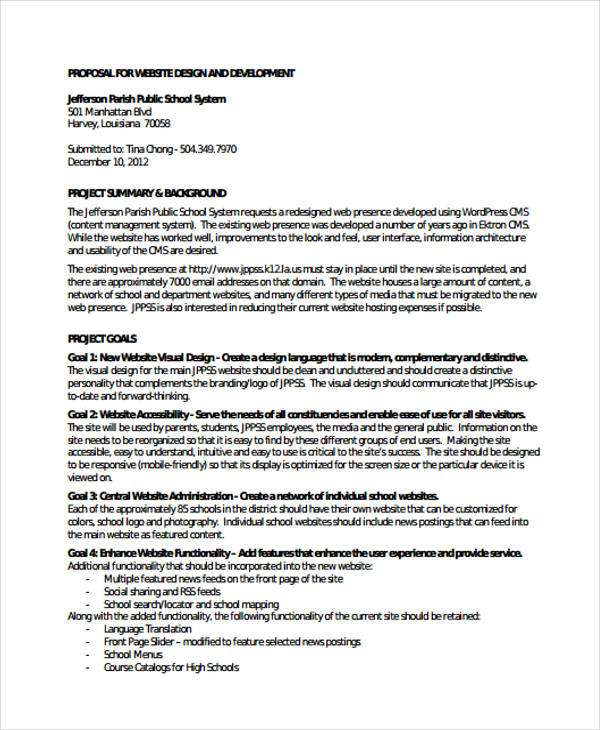 esb.jppss.k12.la.us
Simple Financial Proposal Template
Financial Services
april.ca
Types of Proposal Templates That We Offer
Professional, concise, and purposeful, these are the main qualities that a proposal should have. Here, with our selection of proposal templates, it is a guarantee that these three qualities are attained. So depending on your preference, choose which of these templates works best for you.
Simple Business Proposal Template – This is a simple yet well-rounded proposal. All details needed in a business proposal are already added to this template.
Construction Proposal Template – For writing a proposal intended for a construction project, this template is what you need.
Consultant Proposal Template – If you're creating a proposal for a consulting organization, or intended for the said organization, make use of this template for more convenience.
Event Proposal Template – Planning to have a proposal for an event? Secure a partnership with a prospective organization using this template.
Fundraising Proposal Template – This template is great for proposing a fundraising campaign. Obtain funds from potential staff, and entice their attention using this template.
Program Proposal Template – This is ideal for any proposed program. This contains the necessary information that a program proposal must-have.
These are just some of the proposal templates that we have on this page. For other variables, our contractor proposal templates are also available for everybody to make use of.
General FAQs
1. What is a Business Proposal?
A business proposal is basically a solicited or unsolicited offer that is submitted by a seller to a prospective buyer. In case the offer is accepted by the prospective buyer, a negotiation takes place for the creation of a binding contract between the two parties.
2. What Information Goes Into a Proposal?
The following information goes into a proposal:
A brief overview of the problem
Definition of the issue
Description of the solution
Overview of the personnel and their experience
Conclusion of the costs and benefits.
3. What is the Structure of a Proposal?
The structure of a proposal is as follows:
Title Page
Table of Contents
Executive Summary
Statement of the Problem
Proposed Solution (With Methodology)
Bios and Qualifications
Pricing Terms and Conditions.
4. Why are Proposals Important?
Proposals are important as they help you pitch in your ideas in writing so that supervisors can make decisions relating to the proposed project, knowing the full implications. They also help you make a logical argument and offer solutions to the client's problem.
5. What are Some Tips for a Successful Proposal?
Following are some tips for a successful proposal:
Proofread your proposal several times
Write a strong executive summary
State your audience's needs accurately
Align your solution and your client's values.