Report Templates
10+ Daily Sales Report Templates
While it could be challenging and would require a lot of work to ensure the maintenance of completing daily reports without proper tools to support you, ignoring the importance of these reports can affect a company in a catastrophic way and could cost the business a lot of money in the process. Daily reporting plays a major role in ensuring that a business can grow and succeed, that the management can enjoy tenure or longevity and that projects, as well as the teams and leaders behind them, can survive.
Reports in the corporate arena are a very valuable tool in performance analysis and tracking. Getting them well-documented will expose weaknesses and unnecessary interruptions in the core functions of a business while opening opportunities for growth and securing market gains. You may also see sales report templates.
Daily Sales Report Template
Restaurant Daily Expense Report Template
Restaurant Daily Sales Report Template
Free Daily Sales Report Template
Free Daily Sales Activity Report Template
Sample Person Sales Report

iopt.com
Sales Report Sample

easurability.ie
Daily Sales Report Template

editeur.org
Business Reports
Ideally, business reports don't serve independent contractors, freelance workers, and single owner business models since they just have to review the financial aspect of their jobs but small, medium and large businesses remain to depend on the benefits of detailed reporting. It is therefore imperative that they not only complete reports but also seek to prioritize them on a daily basis. You may also see sales report templates.
For managers and sales supervisors to monitor the amount of time spent on various sales activities and to determine whether their team are hitting the targets as well as their daily goals, it is only right to refer to what their front liner is doing daily as they interact with a prospect and existing clients. The reports gives you a better view of the lead they managed to score in a day or the number of prospects they were able to keep in touch with. You may also see weekly sales report templates.
Some potential customers are easier to win over while others need a little push by way of frequent communication like emails or phone calls. You will be able to verify the frequency of leads call depending on the type of prospects and how much convincing it would take to have them on board. You can also get a better idea by evaluating the nature of the calls that went on, and the average length they talked. You may also see monthly sales report templates.
Advantages of Business Reports
Being a sales manager would put you in charge of keeping the company executives apprised and updated with the standing of the business in terms of sales since that's the goal is to sell and keep selling. Communicating the figures and interpreting it in your sales report is a large part of their decision making such as developing new products to replace the ones that doesn't appeal to the market, upgrade the sales department in terms of people and materials so that they can improve their strategies, or even go as far as offering performance-based bonuses to motivate the sales team to perform better and more. You may also see sales report samples.
1. Control
The data found on sales reports are essential to the leader as it helps you take control and oversee success of the sales department, making the business successful in the process because sales is arguably what keeps a company in business, whichever way you look at it. It is therefore important to develop a clear, concise sales report and conveying its most important information to upper management as it's what helps them guide the company away from rough paths unto the smooth roads of growth and success. You may also see sales report samples.
As a manager, it is your job to be on top of your business' growth endeavors but it's never easy to identify the contributing factors for its success or lack thereof. There are after all, different stages of product management and sales as well as factors that plays a role in the process of selling goods and services and this is where the reports of sales should come in. You may also see sales activity report templates.
2. Leadership
Leading a sales team and overseeing the sales process is more than just the task of revenue calculations at the end of the week, every month or quarter. A big part of being an effective sales manager is having a knowledge of the process that sales involves, from how many touches is needed to cover your bases, or the amount of activities it takes for sealing a deal, the period or time frame by which a deal should arrive at the sales channel, the list is really endless as thr ticks of the selling trade evolves. Although the basic rules are pretty much the same, you have to change the game if you can't win it. You have to give competition a full ride and do what's necessary to stay competitive. You may also see sales reports.
3. Benchmarks, Goal Setting and KPI's
Without reports, departments wouldn't have an idea as to the performance of teams and the company as a whole in a quarter or for the entire year. Without that information, there wouldn't be a basis for goals to be set and areas for improvement. There wouldn't be an annual report presentation because you cannot just make one from nothing. Being able to see performance trends allows a company to set benchmarks, strategies, and goals. KPIs or Key Performance Indicators are also an important part of reports because they show performance in the most important areas of business. Prioritizing the KPIs in the reports will influence the management of all other aspects in a company. You may also see daily sales reports.
4. Planning and Decision Making
Reports are what helps the management plan carefully and make decisions that are based on strategies. The data they have in reports are useful for justifying their decisions and influences processes like hiring, termination, product development, research, evaluation of departments and measures for ensuring the company's survival and growth. For large corporaations, shareholders use the reports to keep track of their value in the market and make necessary decisions about upper management and their capability to improve the overall value of their initial investment. You may also see sales report formats.
5. Managing Risks
Business always come with risks. And sometimes, risks comes in twos, or threes, maybe even more, and you know you have to gamble, otherwise you'd be left behind. Daily reports are great allies for preventing and managing risks. When a business makes it a point not to miss a day of their daily reporting, they are able to maintain quality, foresee and avoid incurring severe costs and are safer. They are also better at making sure that the project is on the right track. If one of those are affected by failure of prioritizing reports, it can lead to lawsuits, financial damages and in worst cases, loss of the whole business itself. You may also see marketing reports.
2 Things to Consider When Creating Daily Sales Reports
1. Reporting
If you're in the middle of a big project, the last thing you want to happen is to lose the plot. Lack of efficiency does that, and maintaining your daily reports helps ensure that the project is still on the works, and all hands are still on deck. The documentation of crucial information relies on daily reports. It's also where you can find comprehensive summaries to date and serves as an accurate point of reference for updates on projects, weaknesses exposed, issues that were identified, resolutions, suggestions, etc. You may also see monthly reports in PDF.
Most of the time this is where the challenge lies in maintaining reports. For better and accurate communication of information, writing by hand will just not to do because it will make the team drop their work to take down notes and it will eventually cause delays and handwritten notes tend to be confusing or incomprehensible. You may also see sample marketing report templates.
2. Picking Which Information to Share
After identifying your target audience for the presentation of the report, the next step would be deciding which data will be able to give them a clear picture of the team's performance, in order to help them in decision-making for keeping the company on track. You may also see free reports.
Usually, reports should answer the most important questions:
Is the sales team meeting their sales goals?
What is the current revenue versus expenses?
How did the sales compare to previous periods (ex: previous quarter, previous year)?
Which products and services are popular among customers?
What is your sales forecast for the next month/quarter/year?
What are key areas for improvement? Do you need backup from upper management?
What are your team's challenges? Is it time to pull back from a project or product line?
Not all of them may be necessary for every report you have to present and develop, especially if your audience is just one department head who may only be interested in the specifics. However, being able to come up with a more comprehensive picture of sales performance is usually better than being contented with just a little information. You may also see excel reports.
Reconciliation of Daily Sales

ato.gov.au
Daily Inventory Form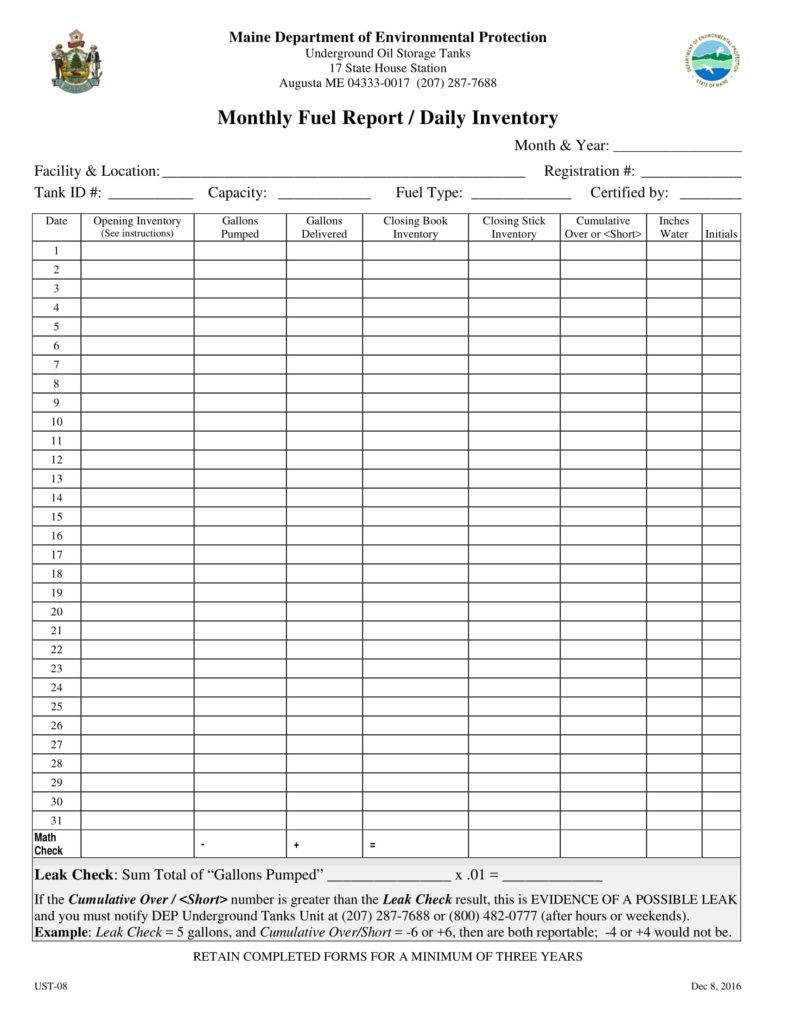 maine.gov
There are times when you don't feel like going to the meetings that your manager called for, because seeing the memo made you think of it as just another one of those meetings where he would have a presentation of very complex, hard to understand sales report littered with figures that don't make sense. You already know that you will go out of the conference room with no more an idea of the current sales team performance than when you have entered it. You may also see sample weekly report templates.
We've all been there, and it often feels like a waste of time. If you have somehow moved up the corporate ladder and are now managing a team of your own, it is important not to make the same mistake, unless you want your team just as confused as you had been, with no understanding whatsoever of where they're supposed to pick up, in terms of performance. You may also see activity report samples.
More in Report Templates