Operating a business and making profits out of it can be quite challenging, but one of the biggest challenges that auditors face while preparing your company's financial reports is discrepancies in your sales and profits. Since the world is becoming increasingly competitive, most of the business planners use Sales Report Template to keep a track on their sales statistics and company's profits. Most of the entrepreneurs strictly believe that time is money, and they don't want it waste it on these small issues. That is why, they recommend downloading and using these templates for recording, refereeing, and preparing sales reports by mentioning meaningful details. You can also see Monthly Management Report Templates.
For this reason, as a person tasked with drafting your organization's reports, you need to make more use of Sales Daily reports templates.Brevity is an important aspect of any business article. Being brief not only means excluding unnecessary information, but also finding new ways to rephrase certain sentences in a manner that they clearly retain the intended information.
Annual Sales Report Template
Monthly Sales Management Report
Monthly Sales Activity Report Template
Editable Daily Sales Report Template
Annual Sales Report Template in iPages
Printable Weekly Sales Report
Weekly Sales Activity Report in Word Format
Printable Monthly Sales Report Template
Sales Activity Report Template
Sales Call Report Template to Edit
Year End Report Template
Formal Report Template in iPages
Daily Sales Report Template
Daily Sales Activity Report Template
Sales Management Report Template
Sales Activity Report Sample
Monthly Sales Activity Report Template
Weekly Sales Activity Report Template
Annual Sales Report Template in MS Word
The Annual Sales Report Template is highly useful for business enterprise that is involved in retail, wholesale, or selling of goods or services to customers. All of these templates follow a generic format and helps you to generate self-explanatory sales reports that can be presented to auditors for analyzing business's position. The template incorporates key information, valid details, and other important points that are helpful in measuring the success of the sales effort. All of these professionally designed sales report templates  are segmented in various sections and fields to vividly show your sales data. You may also see Sales Report Templates in PDF.
Activity Sales Report Template
Free Business Sales Report Sample
Individual Person Sales Report Template
Daily Sales Analysis Status Report Template
Daily Retail Sales Report Template
Printable Field Sales Report Template
Daily Sales Report Template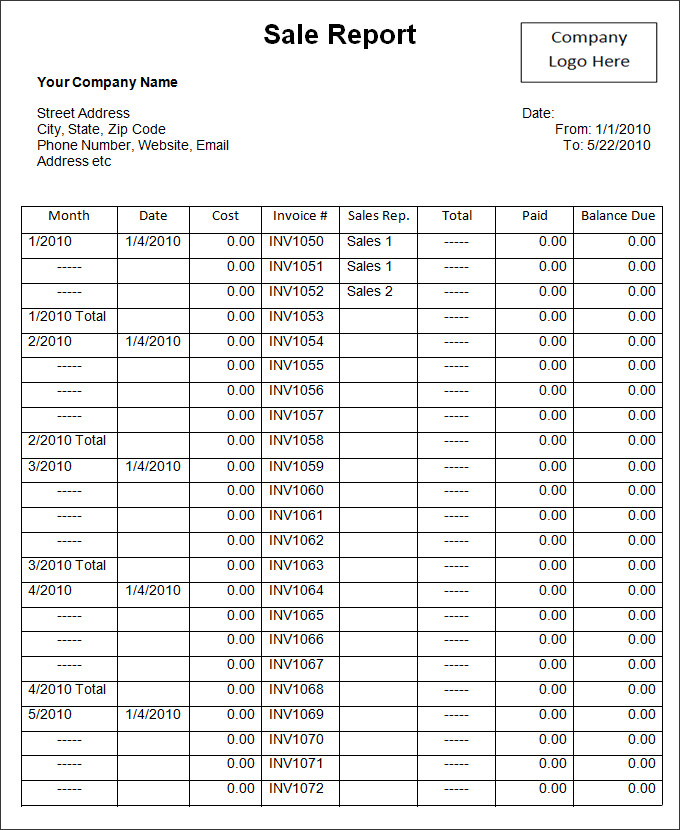 Sales Report Sample
It is admittedly hard to agree that anybody can have that mastery of language.Even after completion of school, some of these skills may take years of on-job experience to master. You can however address this challenge by getting a suitable sales report template. After looking keenly through a number of these, you will find both the skills and confidence to come up with your own. Remember however that sales business reporting templates are not an end on their own- use them as guidelines but come up with a writing that has your personal touch.
Why You Must Use These Templates?
These readymade templates generate sales reports that can help you to compare sales between weeks, months, years, or even daily basis. The final outcome of these templates enables you to study the entire business trend and helps you to perform a detailed analysis about whether the sale is increased or decreased. Apart from this, these templates contain separate space for mentioning the cause for particular issues that can be catered in near future to bring a change in current business's position. All of these templates enable you to prepare a detailed sales report using small number of steps and following some correct formulas. You may also see Weekly Sales Report Templates.
Conclusion
The Sales Report Template is an ideal solution to monitor your sales performance without spending a single dollar from your profits. All of these readymade templates are available in various versions of MS Excel to meet your desired requirements. The end product of these templates is a detailed sales report that covers all aspects of sales, mentions reasons of low sales, and provide a description about the factors that are affecting the sale volume. If no one in your sales is aware of professional writing techniques, then you can download and use these templates to create professional-looking, detailed, and self-explanatory sales reports for your business. You may also check out here Daily Sales Report Templates.
If you have any DMCA issues on this post, please contact us!