Report Templates
15+ Executive Report Templates
In a big company or corporation, an executive representative position means a higher rank, stating broad memos, business agreements and transactions that are difficult to comprehend for a mere employee. An executive report gives the reader a clear summary of all the original documents without the reader having to read them. This is where an executive sample report template comes into action and shortens up a lengthy proposal in a few paragraphs.
Executive Report Template
Report on the ins and outs of your current project to your superiors with a well-organized executive report. When you use this report template, you will surely submit this report even before the set deadline. The template mentioned above is very easy to edit and can be easily customized to suit the needs of the user. It can be downloaded on any electronic device effortlessly and can be edited as per the needs and requirements of the user. Check it out now!
Business Executive Report Template
Why waste your time and effort in coming up with executive reports when you can easily just download and edit this above-mentioned template with your details? Download this report template now and get a standard executive report that provides you with all the necessary points needed to properly showcase the state of affairs your business is currently in. You can easily customize this document according to your needs and specifications.
Executive Summary Report Template
Using this format, any reader of the abstract of the memos or business proposal will now be acquainted of what is happening in their workplace. Only critical information is listed using this format so there will be no longer tedious time to read a whole memo before getting familiar into it. Try it out now!
HR Executive Report Template
Employees indeed are what make up a good company and having an effective human resource department helps any organization build a good team of individuals for the company. This HR executive report template allows your HR department to have a standard form of reporting that tackles the important aspects from training to compensation and benefits. It also features any or all compliance with regulations and laws where the business is located. By managing the most important resource of the business, your company is sure to grow and advance to the best in the future. Try this template now!
Project Status Report Template in Apple Pages
A status report helps you cover the most important aspects of your business, so you do not miss to add any important points in it. The above-template is one such file that will be of great help to you in making the right status report for the business you run, no matter which industry you work for. This template can be easily edited and customized to fulfill all your needs and necessities. Simply edit as necessary and input data to create a professional report now.
Business Project Report Word Template
The above-mentioned template is an expertly designed template that helps you present reports professionally and pleasantly. This document uses standard business fonts, so it looks perfectly professional. It is available in many file formats, so you can easily download it in the best format you need. It can be easily edited and customized as per the needs of the user. Just replace the text inside the square brackets with your information and you are good to go. Try now.
Free Executive Weekly Status Report Template
Create an Executive Report in 5 Steps:
Step 1: Define the Issue
The first thing you need to so id define the issue you have. This way, you can grab the attention of the readers. Give an overview of your business, so that the reader will understand what you do and why you do so. Firstly, you need to understand that an executive summary is a short review of a business document. Define what are the problems that are being faced or you are most probably going to face and mention them in the executive summary.
Step 2: Provide a Solution
The next thing for you to do would be to provide a solution to the issue that you have mentioned in the summary. Like the saying goes "every problem has a solution, you just need to find it", so make sure that you give a clear statement of the problem and what you're going to do about it. If the issue is not mentioned in the report, then the solution you provide is less likely to make sense to the reader.
Step 3: Analyze the Market
You must analyze your position in the market. This way, it gets easier for you to create the right summary you need for your business. It will also help you understand what your strengths and weaknesses are, know who your strong competitors are, etc. Check summary proposal templates for more. Analyzing the market well will help you get a better idea of how you can work harder to elevate growth for your business.
Step 4: Find your USP
This is the step where you explain why are you different from the other companies that run the same business as you. Give specific solutions to the issue. Think out of the box and write the perfect solutions needed. You need to mention what specifically gives your product/service the advantage over the competitors. You need to point out why you are special from the rest of the lot. This is your unique selling proposition and what attracts the audience.
Step 5: Budget and Review
The budget plays an important role in any business document. You need t mention how much is the change/solution going to cost the company. Your business model should be quickly readable, so give more visual aids like graphs and pie charts, so that the reader can understand the report better. Divide your report into the introduction, body, recommendations, and conclusion. The conclusion should be the end of the summary, summarizing all the points together. So, keep in mind that it has to be perfect. Once you are done writing all the needed information, review your report, so you know you have not missed adding any information that needs to be added in the report.
Sample Chief Executive Report Template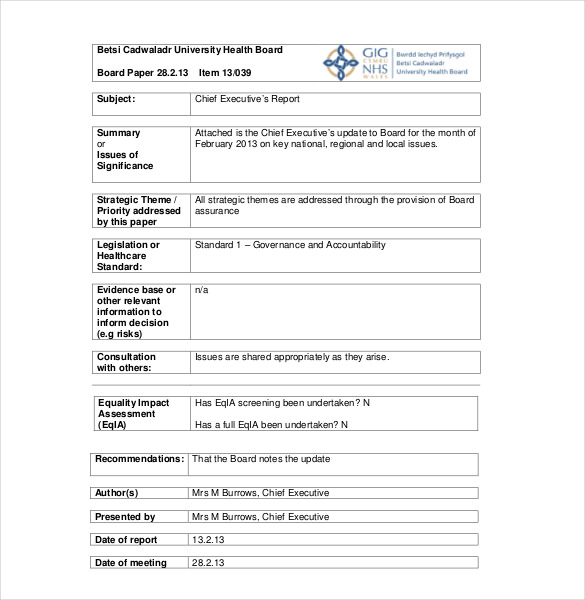 wales.nhs.UK
This above-mentioned template consists of updates to board members for any particular month. This way, they can keep a check on what happened that month. It focused on the status of important local, regional and national issues such as all the crucial topics directions done through the agreement of the affirmation of the board, governance, and accountability, etc.
Example of Executive Report Template

dti.delaware.gov
The above-mentioned template is an example of an executive report template in the form of a PDF format. It includes executive reports for major projects and objectives of these projects as well. It consists of many useful example reports such as major projects executive sponsor agenda template/sample, major project status overview template/sample, etc. It also has details like readiness status report template/sample, project Gantt chart template/ sample, major project budget projection template/sample (graphic).
Commission Report Executive Summary

9-11commission.gov
Commission Report Executive Summary template is about the executive summary of a mission or task and the report of the general findings, specific findings, operational opportunities, capabilities, management, etc from that task. It also includes a report on a lack of opportunities, problems within the community, financing, emergency reforms, and recommendations, etc.
Finch Group Report Executive Summary

researchinfonet.org
Finch Group Report Executive Summary includes the executive summary on how to expand access to research accessibility, sustainability, and excellence. This executive summary also includes a report of the working group on expanding access to published research findings, the issue, the current environment, and recommendations, what action is taken, costs and the change to do.
Executive Report Format Free Download
Executive Report National Science Teachers Association

science.nsta.org
Sample Executive Directors Report Download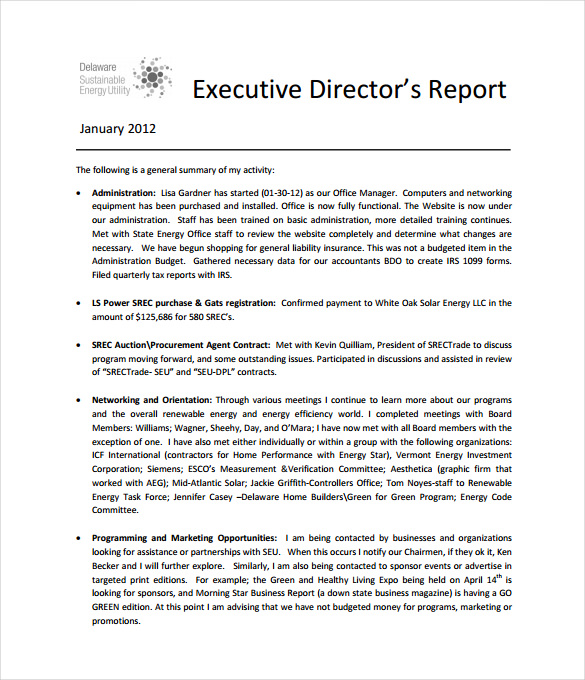 imageserv.team-logic.com
Uses of Executive Report Templates:
Executive summaries are defined as a short document that consists of business-related details. A summary gives you an overview of a business report that is long. This way, the reader can know the details without having to go through the whole document that consists of a lot of pages. It contains a summary of the problem faced, proposals and recommendations, etc.
It is never easy to prepare executive summary reports. Executive report templates will be of great help and you can use any of them mentioned above with ease and edit them effortlessly. These templates act and come with examples of all the important points that need to be mentioned in the report without fail.
Sample Executive Status Report Free Download

2a.cdc.gov
HR Executive Summary Report Example

royalwolverhamptonhospitals.nhs.uk
Who all can use Executive Report Templates?
Executive reports are communication tools in an organization. so they play very important and key roles in the development of an organization. Effective reports can create a lot of communication in any organization, and that is what keeps most of the business entities alive. Such templates include all the main points in shortened documents and summarized to make the reader more interested without missing out on the important parts such as opportunities, problems, solutions, research findings, recommendations, etc.
Executive report templates justify the target audience as to what the company they are investing in or are a part of does. Questions like how it will benefit them, the income that comes in, etc, can be seen in such executive reports. The summary in the report gives the basic idea of what the report is all about.
Benefits of using Executive Report Templates:
Executive reports guide you to give important details in the best ordered and systematic way possible. With executive report templates, you can easily create an efficient well-structured executive summary report as they come with all the step-by-step instructions. You can create a report immediately with the help of these executive report templates without wasting much of your time and valuable energy.
When you use such summary reports, the reader can easily understand what you are trying to say without having to go through the whole report. Since these reports play an important role in any organization, you must give the best information you can in them. Pick the template that suits your idea of a summary best. Download and edit it with ease.
General FAQs
1. What is an Executive Report?
An executive report is a concise document that summarizes all of the important information of a lengthier document. It is prepared by keeping the reader in mind so that he/she can stay updated with the status of a particular project.
2. What Should an Executive Report Contain?
An executive report should contain the following information:
Overview of your business
Definition of your target market
Competitive landscape of your industry
Marketing strategy
Overview of operational highlights
Sales forecasting projections and
Investment requirements.
3. When Should You Prepare an Executive Report?
You should prepare an executive report when you want to summarize a business plan to lenders. This report helps present information to the management and customers in a concise way. Apart from that, it also presents the results of multiple research studies for decision-makers.
4. What Are Some Important Tips to Remember While Writing an Executive Report?
Use these following tips while writing an executive report:
Keep the report as concise as possible
Cover all major key points
Include information that is present in the main project documents and not otherwise
Keep the report readable
Present answers to questions backed up by evidence
Have a clear conclusion
5. How Long Should the Length of an Executive Report be?
The length of an executive report depends on the size of the business plan or investment proposal you're sending. But it is ideal for your executive report to be between one and four pages long or no longer than 10 percent of the length of the document(s) you're summarizing.