As the present time progress, the internet has gone wider and influential in many parts of the world. Social media has been used by many in spreading news, endorsements, entertainment, education, etc. considering it as one of the most trending innovation today. In a business status report template, you can generate the needed outline or summary of what has been done and generated using a social media account of yours like the users visiting your site.
101+ Social Media Agency Templates in PDF, Word, Excel, PSD, Google Docs, PowerPoint, Apple Pages, Google Sheets, Publisher, Apple Numbers, Illustrator, Apple Keynote, Google Slides - START DOWNLOADING
Social Media Report Template
Produce an effective document that is used to keep track of your company's growth and improve your social media strategy. To help you with this, download the above report template. Get to create a high-quality report that presents analytics to your boss, team, or client; tracking your top metrics in a social media report that is key to growing your account. It is totally editable can be customized very easily. You may also customize the file's original suggested headlines and content to suit your needs.
Social Media Marketing Report Template
The above template is a social marketing report, that will be of great help for you – a social media marketer, to create a comprehensive report that provides valuable insight into a social media marketing campaign. This template can be used to help justify the spending of online marketing efforts as well as keeping everyone involved in the loop. These social media marketing reports can be a great way to showcase all your hard work. Get to editing it now!
Social Media Marketing Report Template
Comments and shares did, you can have it via Microsoft word, excel or PDF file. Many people are still unfamiliar with this kind of report but it will show them what benefits they can get when they have this report template in Word as they will see if they are being recognized and if there are profits being made out of it. It can determine the improvement and mishaps of your online account to make it to the top of the social media world.
Free Social Media Report Template
A report will help you know what has happened in the company at any given time. The above report template is one that is made for your company, so you can download it, edit and customize it in a way that suits your needs and requirements perfectly. This allows you to craft a social media report that monitors your social media presence and activities.
Monthly Social Media Report PDF Format Template
nielsen.com
Creating a Social Media Report in 6 Easy Steps:
Step 1: Identify Your Stakeholders
The first thing for you to do is to know who your possible shareholders are and their details have to be mentioned in the report if at all necessary. See on what basis you will receive reports – sales, marketing, management, customer support, etc. Make sure that you make it a point to mention what actually matters and interests the audience.
Step 2: Establish Your Goals
The next step would be for you to determine what is it that you want from your social media reports, and this would be your main goal and objective. This would either be to prove your success, your value or any other goal. Remember that your goals should be business-oriented and can also be developmental goals. Decide which kind of report are you going to write. You can take the help of report samples that are available online to create the perfect kind of report for your business.
Step 3: Ask Questions
It is very important for you to know what kind of questions you would be asking your audience/stakeholders. Use the SMART technique (Specific, Measurable, Achievable, Relevant, Time limited) to get a hold of questions that will give you all the information required. These elements should play an important role in the report you make. Mention any demos or newsletter subscriptions that you have. This might attract enough people to read to report.
Step 4: Time Frame and Metrics
The next thing for you to do would be to mention the time frame and the metrics you want to report on. Decide whether you want your reports daily, weekly, monthly or annually. Some measures need to be tracked more often than the others. This depends on the kind of report you are making and the measures you plan on keeping an eye on. Be wise in choosing your metrics. These could provide you enough detail with what you should put in the report. Some metrics could be – leads, engagement, audience, content, etc.
Step 5: Design the Report
Once all the elements are ready, the next thing for you to do is draft your report with all the data and information you have about everything that is mentioned in the above steps. Check incident report templates for more. Remember that if your report is boring, the readers might not even consider looking at them, so make it as interesting as you can with catchy images, headlines, and texts that can be of great help for you and also, attract enough customers.
Step 6: Review
After you are done drafting your report, review it time and again, just so that you know that you haven't missed adding any important information in it. Also, check if you have any grammatical errors. Keep the language you use as simple as you can and make sure that it can be easily understood by anyone who tries to read your report. It should not be tough to understand what you are planning to say in the report. Add all the necessary details, review it and make any changes wherever requires.
Sensis Social Media Report PDF Download
sensis.com.au
Yellow Social Media Report Free Download
Social Media Analytics Report PDF Download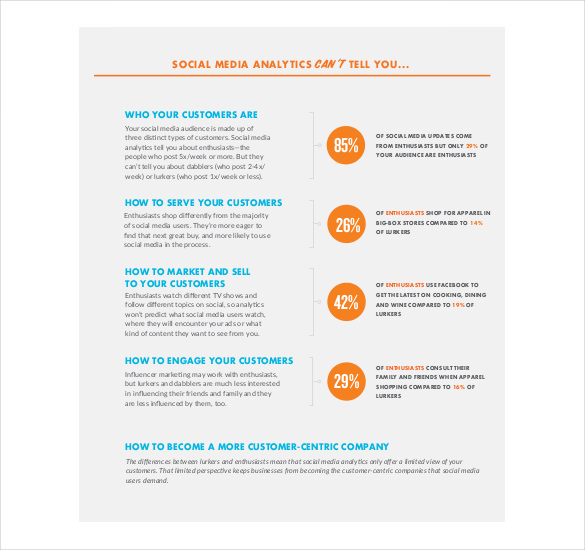 visioncritical.com
Mobile Messaging and Social Media Report
pewinternet.org
B2B Socal Media Report Template
brandwatch.com
Social Media Benchmarks Report
cdn2.hubspot.net
Social Media Intelligence Report
cmo.com
Arab Social Media Report
wpp.com
Social Media Marketing Industry Report
socialmediaexaminer.com
Conclusion:
Reports are not easy to create from scratch, so we got you here by giving you one of the best bunch of templates available on the internet. There are many report template samples available online for you to use. All you have to do is download the template that matches your preferences, edit it with your details and customize it the way you want.
Social media plays a very important role in today's fast passing and technology-driven world. It is the base for any kind of news as it reaches everyone as soon as it posted. All you will need for this is a phone that has an internet connection. It might look easy to do, but it actually takes up a lot of time and energy. Reporting plays a crucial role in social media marketing. So, you can use any of the above simple report templates to make the right report for your social media marketing organization.