Real Estate Templates
6+ Real Estate Resume Templates in Word | Pages | PDF
Working at a real estate firm needs experience. You cannot just apply for the job. Sometimes you are asked for experiences. If you want to work in any real estate firm, prepare a strong resume so that the person who will be analyzing your resume gets impressed with the detail you have filled in. Make sure to have a compelling structure as well. You can always go for resume templates so that you can prepare a good looking resume.
Table of Content
6+ Real Estate Resume Templates
1. Commercial Real Estate Underwriter Resume
Do you want to work in a real estate firm? Avail this Commercial Real Estate Underwriter Resume template to prepare your strong and compelling resume. The format of this template is well-structured hence it is perfect to impress the company personnel. You also get the option to download this resume template in Word in two different formats, therefore you have the liberty to choose your compatible one.
2. Commercial Real Estate Paralegal Resume
If you want to work in the paralegal team of the real estate firm, this Commercial Real Estate Paralegal Resume template is perfect for you. You are able to download it in MS Word as well as in Apple Pages. With these two formats you get the best structure to prepare your resume. So, hurry up and download this compelling resume in Pages format now!
3. Sample Real Estate Resume
theresabradleybanta.com
Help your friend to prepare the resume to apply for a job in a real estate company. Download this Sample Real Estate Resume. Help him prepare a strong resume with this free resume template. The template is also available in PDF format for free.
7 Steps to Prepare Resume for Real Estate
Step 1: Decide the Format
The first thing that needs to be decided is what kind of resume you want. There are three different types of resumes: chronological, functional and combination. If you want to apply for multiple jobs you might need more than one format.
Step 2: Header of the Resume
Your name, phone number, and email address are must in case of a header. Make sure you don't miss any of the three details.
Step 3: Summary
Explain your skills and experiences in not more than two lines. This will make your resume more compelling and the person who is going through your resume will get an idea of your proficiency at first glance.
Step 4: Your skills and Practical Experiences
List down your practical skills and your previous job experiences (if you have). Pick up skills and experiences that are more compatible with the job you are applying for.
Step 5: Your Educational Qualifications
List educational qualifications in the chronological order from the latest one to your first school board exam.
Step 6: Your Achievements
If you have won any kind of award or you have any achievement in your academic years or professional life mention them. This will make you look like a more promising candidate.
Step 7: Your Interests and Hobbies
Your educational qualifications and job experience are not enough. You need to mention your interests and hobbies. These help the interviewer or the person who is looking into your resume gets to know you better.
4. Basic Real Estate Resume Template
bmfcap.com
If you want to apply for real estate agent job we advice you to download this Basic Real Estate Resume Template. You cannot get these kinds of jobs easily, therefore it is better to have a strong and impressive resume that can help you get the job. With our template we promise you to provide you the structure of a fascinating resume.
5. Real Estate Resume in PDF
globalrealestate.georgetown.edu
Want to prepare a sample property manager resume to apply for the job of a manager who deals with properties? Get this Real Estate Resume in PDF online and create your powerful resume. Let your resume force the company to give you the job. Thus go for this template and don't look back.
6. Real Estate Major Resume Template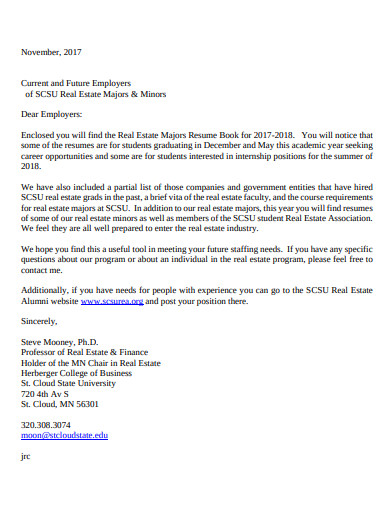 scsureaa.org
Create the best property manager resume one has ever made with our Real Estate Major Resume Template. Download this template online and frame your resume. You also get the liberty to customize this template as per your covenience as it is available for free in your favorite PDF fomat.
7. Real Estate Resume Example
elpisrealestate.com
Do you want to join the sales team of your favourite real estate company? For that, you need to prepare the sales resume to get in the sales team. How will you do that? We have the solution. This Real Estate Resume Example available here will guide you to prepare your desired resume. Don't believe us? Check yourself by downloading now.
More in Real Estate Templates