List Templates
5+ Real Estate Listing Marketing Plan Templates in PDF
Real estate listing is the process of putting all the currently available properties up for either sale or rent. The listing gives the right to the real estate agent or the broker to be in charge of handling the sale of the properties. A listing marketing plan is drafted to ensure that the sale of properties is quicker.
Table of Content
5+ Real Estate Listing Marketing Plan Templates
1. Real Estate Marketing Plan Template
2. Basic Marketing Plan Template
3. Real Estate Listing Marketing Plan Template
carolbushberg.com
A real estate marketing listing plan is drafted to ensure that the best strategy is in place to get more and more clients for the company. If you want to make this plan for your company, then you can download this real estate strategic plan template. This template is readily available for download in PDF format.
6 Tips to Make the Perfect Real Estate Listing Marketing Plan
Step 1: Understand the Needs of the Buyer
The buyer is the most important part of a real estate agency. So before you can decide what to do or what not to do, you need to understand the buyer. Depending on what your target audience needs and wants, you need to create a buyer dummy. This dummy will represent your most likely buyer and help to strategize your marketing needs according to the buyer.
Step 2: Use Good Graphics
Nobody likes to or has the time to read textual matter. Visuals are what impress people. The more visually attractive your content is, the more clients you will get. Hence, you need to use good graphics for all the platforms. For the hard copies, you need to input interesting and beautiful pictures. For the digital platform, you need to use jaw-dropping images, short video clips, and other audio-visual clips. It is best if you hire a professional for all this.
Step 3: Create Interesting Brochures
The brochures are the first thing that a potential buyer comes into contact with. Accordingly, the brochures need to be good enough to generate interest in the reader. Here too you need to remember that looks are important. Include as much visually stimulating elements you can. Use innovative imagery and describe the estate with the help of a storytelling technique.
Step 4: Make the Listing Appear on Social Media
Social media is the best platform to market something. If you know how to include social media such as Facebook, Instagram, and Twitter, in your marketing strategy, you can use them to bring in more leads. Social media is a place where everyone is always available. Hence, it will benefit your agency if you put the listing right in front of the prospective clients. And social media is the best way to do this. For example, in the case of Facebook, you can create a page for your use, post ads, or post on forums and groups.
Step 5: Have Open House for Buyers
An open house refers to the property being made open to all the people to come to take a tour. An open house allows prospective clients to come and check out the property for themselves. However, before you provide this option to the buyers, you need to make sure that the property is staged properly. For this, you can either hire a professional staging company or you can have your agency itself do the work. However, it is advised that you hire someone else for the job and then supervise it.
Step 6: Follow Up on Leads
Follow-up on leads is very important. You have to keep in touch with prospective clients; you have to make sure that they are still interested in the property until the sale date. You need to keep in mind that leads will not respond to you on their own, they have to be approached. For this, you can implement different methods of communicating with the leads. Be sure to make use of multiple communication channels to ensure maximum reach.
4. Real Estate Marketing Plan Listing
tomferry.com
Is that other company getting ahead of your with more clients and more sales? Don't worry, you can do that too. All you have to do is download this real estate marketing plan template to help you make the perfect listing marketing plan. This plan will help you sell all your currently available properties more quickly.
5. Real Estate Listing Marketing Plan Example
teamschlopy.com
Are you a rookie at writing marketing plans for your real estate listings? Then we would suggest that you take a look at this real estate marketing example template. This template comes with a file containing an example of a real estate marketing plan that you can use as a reference guide to help you make yours. Download this template now!
6. Sample Real Estate Listing Marketing Plan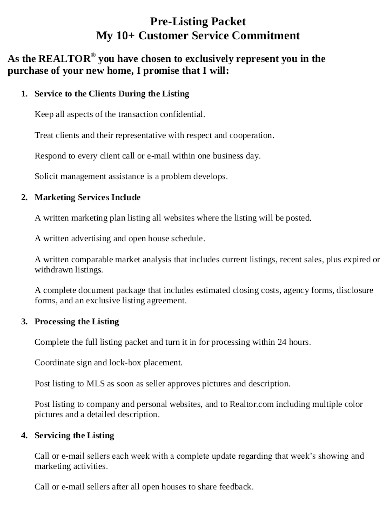 images.kw.com
Making a marketing plan for listing your properties in the field of real estate is very essential. However, this task might seem quite difficult. Which is why we are here with our professional plan template. This template has been solely designed to help you make real estate listing marketing plans that are suited to your needs.
More in List Templates