Restaurant managers must accomplish the objectives of their human resources. Hence, they begin with recruiting their team after which they orient and assign them duties. Since theirs is to manage most of the kitchen affairs, they consult with chefs to determine food prices and benefits before they edit their menus. Through regulation of portions and quantities of food preparation, they are able to maintain high quality while minimizing wastage. You may also see job description samples.
You may like General Manager Job Description Templates. In addition, restaurant managers ensure that they attain their financial objectives. They, therefore, initiate and complete action plans along with coming up with their budgets, scheduling spending, analyzing variances and coming up with correction actions. You may also like Job Description Templates.
663+ Restaurant Templates in PDF, Word, Excel, PSD, Google Docs, PowerPoint, InDesign, Apple Pages, Google Sheets, Publisher, Apple Numbers, Illustrator, Apple Keynote, Google Slides, HTML5 - START DOWNLOADING
Restaurant Event Manager Job Description Template
Restaurants that host events often require an event manager as he/she will help in facilitating a smooth series of events. Our professionally-written "restaurant event manager job description" template helps restaurant owners in easily spotting a candidate who would be best for the job.  By having this template at your disposal, you can narrow down candidates who are good at problem-solving as well as both budget and people. Hurry up and download now!
Restaurant Assistant Manager Job Description Template
Hire the perfect assistant manager for the smooth operations of your restaurant with the help of our "Restaurant Assistant Manager Job Description" template. Upon downloading and customizing this template, you can select a candidate who is able to hold the fort in the absence of the restaurant manager. Also, you can oversee vendor relations and other restaurant affairs, such as inventory and order. Try it out now!
Food Service Manager Job Description Template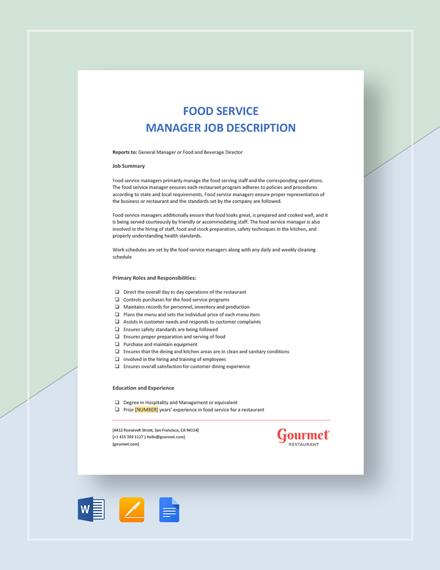 Do you want to have clear guidelines relating to the specific role of a food service manager? If so, check out our "Food Service Manager Job Description" template to be able to have a clear understanding of the obligations of this position. As the role of the food-service manager plays a vital role in the operation of the restaurant business, it's essential that you know the accurate job description of the job so that timely operation can be done at the workplace. Get this handy template now!
Restaurant Operation Manager PDF Template Free Download
mdc.edu
Restaurant operations include a host of minute details that are all to be taken care of by the manager. These templates provide you with an organized way of writing down the entire job description of the restaurant operation managers without leaving out any important aspect of the professional responsibilities.
Restaurant Floor Manager Job Description Example Template Free Download
clovelly.ca
The roles of the restaurant floor managers that include hiring, training and supervising the hotel staff can all be presented in a comprehensible manner in these templates which would make it much easier to follow up on the given responsibilities. Easy to access and use, these templates are a very useful tool for ensuring a smooth flow of work.
KFC Assistant Restaurant Manager Job Description Sample PDF Free Download
vgtc.org.au
An assistant manager at KFC is the second in command and the responsibilities are huge. Managing the staff, taking care of the inventory as well as customer service includes the part of the responsibilities which can all be reported in a meticulous manner with the help of these templates.
Restaurant Event Manager Job Description Example PDF Free Download
desertwindwinery.com
Restaurants often hold events which could be press conferences. Music shows or product launches. Such events may go haywire if not managed by an able professional. To list out the responsibilities of the manager in every crucial detail these templates are extremely useful.
Bar Restaurant Manager Job Description PDF Format Free Download
qjumpers.co.nz
Hotel Restaurant Manager Job Description Example Word Free Download
cookingdistrict.com
Fast Food Restaurant Manager Sample Job Description Free Download
Front of House Restaurant Manager Example Job Description Free Download
outlaws.co.uk
Assistant Restaurant Manager Job Description PDF Format Free Download
lewistonsilo.com
Restaurant Coffee Shop Manager Job Description Sample Word Free Download
whitehallgardencentre.co.uk
> What are the uses of Restaurant Manager Job Description Templates?
The templates are a perfect way of documenting every detail pertaining to the responsibilities of hotel management. Recruiting hotel staff and assigning them with respective responsibilities gets much easier with the help of these templates.
The templates will make the role of a manager clear which in turn will let the applicant understand clearly if he's suitable for the job. Therefore, a state of transparency can be maintained with the help of the restaurant job description templates. It is the perfect tool for recruiting hotel staff and making sure that the right candidate is chosen for the job.
> What are the Benefits of Restaurant Job Description Templates?
People who are looking for staff for their restaurant business would need to post advertisements for vacancies mostly on the online job portal these days. Making a comprehensive list of requirements from the candidates that can be uploaded with the best results becomes a lot easier if the recruiters have these templates that are designed specifically for requirements of the restaurant businesses. The freely downloadable templates can be filled in with particular requirements and easily uploaded on the job portals which makes it easier to filter the right sort of candidates for the job.
> Who can use the Restaurant Job Description Templates?
These templates are specifically designed for the restaurant industries. Therefore, anyone who is associated with the business, be it restaurateurs, hotel managers, or the human resource department of the hotel – anybody would find these templates extremely useful. Not only the recruiters but the applicants will also find the templates useful because they allow a person to write an application for a job at the restaurant industry in a very organized manner without leaving any important aspect out.
It is safe to say that the restaurant job description templates are beneficial to both restaurant business recruiters and the applicants. A perfect bridge between the recruiters and job seekers, these templates are easy to use, easily available and very helpful. An essential item to the smooth running of the restaurant business, these templates definitely make the job a lot easier.