Sheet Templates
23+ Overtime Sheet Templates
I know employees as the most committed people in any working environment. They do not just work hard for the pay. Usually, the first target is to meet the visions (objectives) of a company or business within a specified period. You can see also sheet templates.
In other words, as long as they are on the pay slip, they will always make an effort to do the best they can to make the company a better place, not just for themselves but also for the future employees. You can see also timesheet templates.
Overtime Sheet Template
Overtime Worksheet Template
Overtime Sheet Template
Professional Timesheet Template in iPages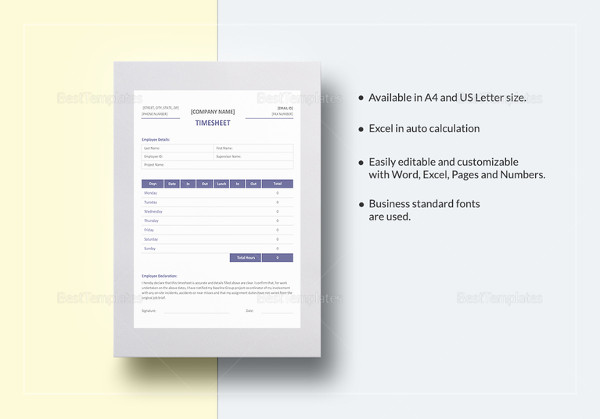 Weekly Timesheet Template
Monthly Timesheet Template
Daily Timesheet Template
Hourly Timesheet Template
Timesheet Template in MS Excel
Daily Overtime Sheet Template
Free Weekly Overtime Sheet
Free Monthly Overtime Sheet Template
Overtime Approval Sheet Template
Overtime Sheet Sample Download in PDF
The Standard Overtime Sheet Template with Breaks is one of the easiest and convenient ways to analyze your employee's overtime details along with the entitled or taken breaks. It can help you analyze the exact duration for which an employee has done overtime and deduct the break time automatically to ensure that you only pay overtime for the productive hours.
Employee Overtime Sheet Template Download in PDF
Overtime Sheet Template Download in PDF Format
Excel Timesheet Template with Formulas
utsc.utoronto.ca
Overtime Sheet Template Download in MS Word Format
ucl.ac.uk
Overtime Sheet Format Download in PDF
As the name suggests, the Hourly Overtime Sheet Template is one of the common ways to calculate the overtime expenses that a firm requires to pay to its employees in lieu of the work they've done for the organization, apart from the fixed business hours. You can easily customize the template to track weekly or bi-weekly working hours and overtime of a particular employee.
Microsoft Word 2010 Overtime Sheet Template Download
adelaide.edu.au
Overtime Sheet Template Download in Excel Format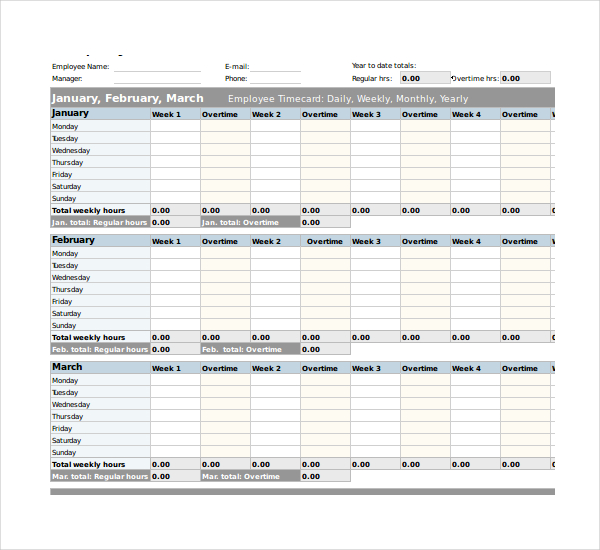 The Weekly Overtime Sheet Template enables you to record clock in/out times of any employee to ensure that the employee has served overtime for completing the business targets or not. If yes, then the sheet will use its in-built timesheet calculator to present a low-cost timesheet report to calculate total hours worked.
sph.emory.edu
Team Member Overtime Sheet Template Download in PDF
Monthly Overtime Sheet Template Download in PDF
The Monthly Overtime Sheet Template comes quite handy while paying off the overtime amount to an employee along with the monthly salary. Since it includes a monthly overtime calculator, you can easily use the timesheet to analyze how much time an employee has given to the organization and appreciate such an effort by paying an employee a little extra from their routine salaries.
Downloadable Overtime Sheet Template in PDF Format
There are instances where some employees work overtime. It is always a good habit to keep this in mind. The Management team must understand that the overtime spent by an employee at the place of work could be spent elsewhere, and so appreciating such an effort is necessary.
Companies can make use of the already made overtime sheet template to record the extra hours put in at the place of work by every employee. The template is a great tool the business can use the template repeatedly to keep as many records as possible, of employees who put in a little more extra time to working for the company.The sample overtime sheet templates do contain a section where you can write the name and the number of hours worked overtime by the employee.
If you have any DMCA issues on this post, please contact us!