A Catering Letterhead plays an important role in any catering business. It is a legal document that represents the primary details of the company such as its name, logo, address and contact details. With the help of the letterhead templates, make the best first and lasting impression on your clients.
Make An Impressive Letterhead in Just 6 Simple Steps
Step 1 : Create a Rough Design
Creating a rough design of your letterhead will help you get clarity in placing the necessary details in proper format. This will avoid any scope for confusions or complications in the later stage of the design planning. Sketch an outline and make a list of contents that need to be added in the letterhead with help of a blank document or a piece of paper. Once you are comfortable with the way it looks, you can then proceed with the real designing of the letterhead.
Step 2 : Choose a Background
Choosing the right background is mandatory as it reflects the theme of the company or organization. Pick a background that is pleasant, professional and not too loud. You can try various free letterhead templates to customize or edit existing templates. Go through a variety of options for your background before you finalize the best one.The background also helps in deciding a suitable business font for the letterhead accordingly.
Step 3 : Fill in the Details
With a clear picture of the background theme and format, you can now begin filling in the details of the catering services. The name of the catering company, address and contact information should be placed at the top of the sheet. These are the details that should compulsorily included in your letterhead apart from the others you would like to add. Keep your letterhead minimalistic without adding unnecessary info.
Step 4 : Add Visual Images or Graphics
You can include your catering company's logo in this step. Decide on how you would like to separate the contents of the page by including borders wherever necessary. It is essential that the information looks put together and organised. There are many corporate letterhead templates which can be used to come up with an impressive catering letterhead. It is important to bring your own unique and personalized touch to the letterhead while also staying true to the services it has to to offer
Step 5 : Review and Finalize
Once the details are properly arranged in order, review the letterhead and check for any possible errors or mistakes. There are certain legal details that have to be added in letterhead, so see to it that you do not miss out of any of those details. Go it through a couple of times before you finalize your letterhead.
Step 6 : Print the Letterhead
Once set, save the file and go to printing options. It should be made sure that the quality of the paper in which the letterhead has to be printed is of high quality. That can add more value to all your handwork. After its printed, you can send it to your clients for further business interactions.
7+ Catering Letterhead Templates
Catering Letterhead Template
Food Catering Letterhead Template
Catering Services Letterhead Template
Food Catering Letterhead Template
Download
This template can be used to create a business card for food catering purpose as well as in creating a personalized letterhead template. High resolution photos along with original artwork and logo designs are included in this template. It is looks pleasantly stylish and is suitable for commercial printing.
Catering Letterhead Design Template
Download
This catering letterhead design template is well organised in every aspect. It can be easily edited and customized. It looks very professional and adds a modern touch to it. The contact information of both the client and the company are presented appropriately. Download this template as it designed to suit all kinds of business.
Caterer Business Letterhead Design
Download
With its contemporary and unique sense of design, the Caterer business letterhead template cannot be overlooked or missed! It is a must-to-download template if you're looking to make a strong good impression on your clients. It is customizable and can be downloaded from the professional letterhead templates. It has the right color combinations that can be incorporated in your letterhead without making it too loud or too subtle.
Catering Company Letterhead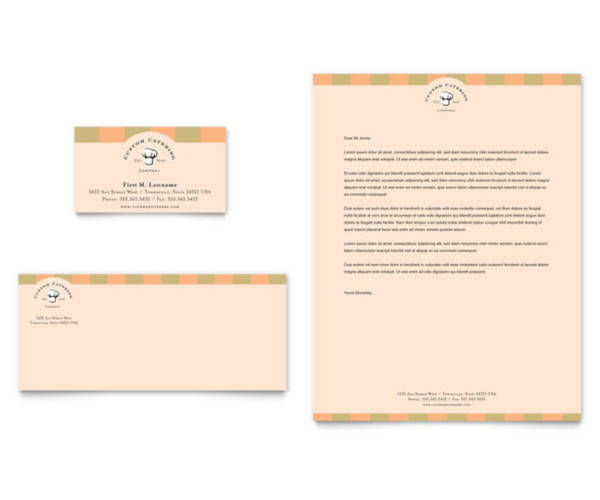 Download
If you're looking to have an appealing design for your letterhead, then you can download the Catering Company template. It can be edited and customized to suit the requirements of your letterhead. The logo can be placed at the very beginning of the sheet as clearly show in the image. Some of the best suggested fonts for this template are Arial, MrsEavsBold, Engravers' Gothic and MrsEavesPetiteCaps.
Wedding Catering Letterhead Sample
Download
The Wedding Catering Letterhead sample gives a gist of the template which can be used for catering services during wedding occasions. It looks beautiful and pleasant in its design. Make the best of what can be offered using this template. One can edit the letterhead templates in Word easily.