Have you ever noticed that small description at the top of the page from a recognized institution or organization? Well, most of us tend to ignore it but the letterhead is, without a doubt, significant. It usually contains the logo of the company, the name, contact details and other important details in the description. Even prescriptions by doctors contain letterheads. A letterhead is usually used in an official letter by a representative of that particular company. You can also see Free letterhead Template.
Modern Letterhead Template
Business Letterhead Format
Corporate Letterhead Format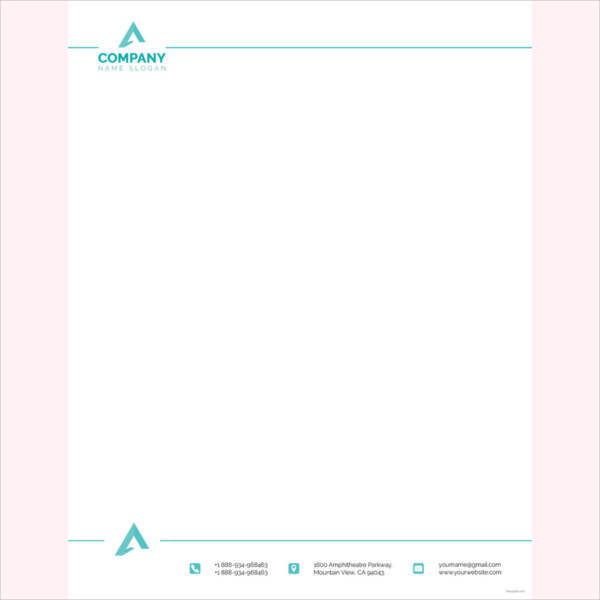 For example, if you are offering a job to someone, you need to hand over an offer letter to them on writing, with the letterhead.A letterhead must be professional and well designed. It is the first thing people notice about you. While judging a book by the cover is wrong, there is no denying the fact that the Word Letterhead Template you use creates an impression on the minds of the recipients and as they say, the first impression is the last impression. For that, you can always take the help of letterhead template samples found online.
Doctor Letterhead Format
Non-profit Organization Letterhead Template
Microsoft Word Modern Letterhead Template
Free Download
Business Letterhead Free Download MS Word Format
Corporate letterhead in MS Word Format
Free Download
Printable Letterhead MS Word Template
Download
Frozon Yogurt Shop Letterhead Word Template
Download
Personal Letterhead Word Format Template
Download
MS Word 2010 Format Formal Business Letterhead Template
Design Letterhead Template Word Download
Download
Stylish Letterhead Word Doc Template
Download
Rehab Center Word 2010 Format Template
Download
Bold Letterhead Template MS Word Format Download
Download
Printable Design Letterhead Free Word Format Template
Download
Stylish Design Letterhead MS Word Template
Download
Customizable Letterhead MS Word 2010 Template
Download
MS Word Smartphone Repair Business Card Letterhead Template
Download
Sophisticated Green Letterhead Template Free Word 2010
Letterhead With Invoice Template in Word Format
Download
Unique Letterhead Template Word Format Download
Download
Word 2010 Format Effective Corporate Letterhead Template
Download
Types of Letterheads
There are several kinds of letterheads. and the most common ones are-
Standard letterhead– This kind of letterhead is generalized and is targeted at everyone. For example, a letter by a company executive would contain such a corporate letterhead. It has a standard pattern and format.
Specialized letterhead– A specialized letterhead will be from a specific department of a company. For example, the marketing department of a company will have a Distinct Clinic Letterhead, while the sales department will have its own letterhead.
Executive letterhead– This kind of letterhead is even more specific than the specialized letterhead. They usually come from one individual. For example, if you were to receive a sample letter from the CEO of a company, his letter would contain a executive letterhead.
Custom letterhead– This kind of letterhead resembles an executive one in many ways, however, it is usually used as a memo in the corporate world Custom Letterhead.
Why Should You Use Letterhead Templates?
Now that you know how important letterheads are, you need to understand that it is always better to leave it to the professionals when it comes to creating one. That is precisely why you should always opt for great letterhead Free Templates for Word available online. These have been custom made, and you can edit them to suit your needs. Irrespective of the type of letterhead, you will find an endless collection to choose from, thus, you can make an informed decision while you download letterhead templates. You may also see Best Business Letterhead Templates.
Tips While Creating Letterheads
A good letterhead can alter the face of your business. That is why you need to keep the following in mind while creating them- You may also check out here Examples of Free Letterhead Templates.
First, you need to decide what you want in the letterhead. Do you want just the name of the company? Or do you want other details like contact numbers, designations if MS Word it is for a particular individual and so on?
Once you have decided the content, you need to decide the type. If you want a specialized or custom letterhead, you can narrow down your search for samples accordingly.
The logo of the company must be at the top. Even if it is a specialized letterhead, the logo of the institution is necessary to make the letterhead valid. You may also see Company Letterhead Templates.
We Are Here to Help!
If you have been looking for amazing letterhead templates in ms word, then you must visit template.net today!