Flyer
13+ Restaurant Fundraising Flyer Designs & Templates – PSD, AI
Restaurant advertising does not solely have to be done for the benefit of your business. If you want your restaurant business plan to succeed without losing your sense of social responsibility, organizing a fundraising event is a good business strategy plan you can follow. You can also see more on Volunteer Flyers.
Restaurant Fundraising Flyer Template
Pizza Fundraiser Flyer Template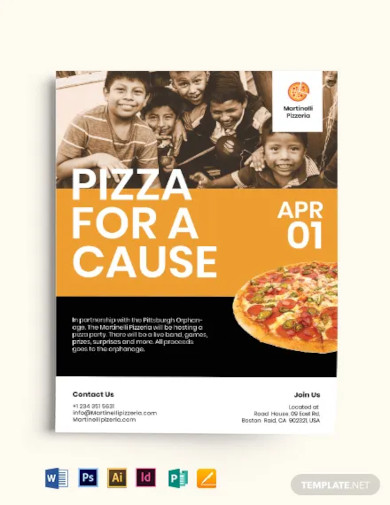 In this article, we provide various examples of restaurant fundraising flyer templates that any restaurateur can use to successfully execute any fundraising drive. Also discussed in the article are various ways charity fundraising events can be advantageous for a restaurant business. Read on to learn more. You can also see more on Fundraiser Flyer.
How fundraising events can benefit your restaurant business
Listed below are various ways a fundraiser event sponsored or held at your dining establishment can help your business. Read through them carefully so that you can know what is in it for your business.
1. Increase restaurant recognizability
Aside from the obvious philanthropic reasons for organizing a charity restaurant event, restaurant fundraisers will also undeniably help increase your brand's recognizability. One way or another, fundraising events can be used as advertising vehicles. And, with an increased presence in different print and online advertising spaces, the word about your restaurant will simultaneously spread.
To illustrate, if your restaurant is planning to use print advertising for your restaurant fundraising event, you may use restaurant templates to create promotional flyers. These printable flyer templates can then be customized to include branding elements like logo designs and mascot designs that will help customers identify your restaurant.
2. Promote your restaurant
As mentioned earlier, hosting fundraising events at your restaurant can help promote your business to your core market without being too overt about your advertising strategy. This type of advertising can also be a good way to create a new image for your restaurant brand. It is especially helpful for restaurants that have experienced bad press or those that are undergoing a change in management and image.
In terms of creating printable promotional materials for your restaurant (like restaurant brochures and flyers), restaurateurs can generate more customer leads since attending or just donating to a charity event can help customers feel good about themselves and their community.
3. Connect with your community
Another important way that fundraising events help restaurant business is the way it connects the restaurant to the community it serves. Maintaining a good reputation within the community you operate in is a good yardstick for measuring customer patronage. Locals tend to be more loyal to dining establishments that make themselves useful and truly of service to their community. You may also see pizza flyers.
Big restaurant chains will greatly benefit from community-based fundraising events if they want to eliminate the image of different harsh and profit-driven corporate practices often associated with these firms. Check this article for more information on building a sustainable marketing strategy to benefit your community. You can also see more on Minimalist Flyers.
4. Increase profits through a good cause
Customers will find it hypocritical if a restaurateur says he or she is only doing a restaurant fundraiser to purely help the needy or to support whatever charitable causes he or she likes. Restaurateurs should realize that consumers are more well-informed today. This is why, when restaurants are more transparent about the details of a fundraising event they are sponsoring, more people are likelier to participate and donate. This will then lead to an increase in restaurant profits while still having a significant portion of the raised funds going to a benevolent cause. You may also like restaurant flyers.
5. Gain loyal customers
An upside for hosting fundraising events at your dining establishment is that it introduces your business as a responsible corporate citizen. Doing this can help establish a good restaurant image for locals and other customers that can ultimately lead to continued and loyal patronage. As a business owner, this is what you should aim for. However, you should make sure that your restaurant still delivers in terms of food quality and customer service.
Embedded below are 15 different examples of restaurant fundraiser sample flyer templates that restaurant owners can use for inspiration when creating an advertising flyer for their own local fundraising events. Simple Note that these templates may be available as download files in Adobe Photoshop (PSD), Adobe Illustrator (AI or EPS), Microsoft Word Format (DOC), or Microsoft Publisher (PUB) file formats.
Colorful Fundraising Invitation Flyer Template
Choose the Colorful Fundraising Invitation Flyer Template (featured below) if you want a cheerful simple flyer template design for your restaurant's fundraising event.
This is a multipurpose flyer template since it can be used by any person, business, or organization that wishes to advertise their fundraising events. With this template, you can replace the toy and food icons on the template with the icons that specifically match your restaurant's specialty.
This outline template download file will include files in PSD, INDD, AI, EPS, DOC, and PUB file formats. The flyer template also prints out on paper or cardstock measuring 4 inches by 6 inches.
Barbecue Restaurant Fundraising Flyer Template
Barbecue restaurant owners will find the Barbecue Restaurant Fundraising Flyer Template (embedded below) extremely useful if they are planning a fundraising event. Using pre-made templates like this will definitely help make a restaurateur's life easier since they no longer need to create a promotional flyer design themselves.
This simple outline restaurant template includes a dark red background color, but you may change this to match your restaurant's official color motif. The template also measures 8.5 inches by 11 inches with a pre-made printing bleed.
To make this flyer template more memorable, do not forget to include your restaurant sample logo. If you do not yet have a restaurant simple logo, check out this article for useful tips on logo designing.
Multipurpose Restaurant Charity Fundraising Flyer Template
The Multipurpose Restaurant Charity Fundraising Cool Flyer Template (shown above) suits most formal restaurants who want to increase awareness of the different charitable causes that they support. For optimal printing results, use paper or cardstock measuring 8.5 inches by 11 inches when printing these templates.
As with most pre-made flyer templates, this template is fully editable. The colors, text, and other graphic design elements may be changed. Downloading this template set also gives you access to AI, PSD, PUB, and DOC file formats. You can also see more on Webinar Flyers.
Bake Sale Fundraiser Flyer Template
The best fundraising events are the ones that manage to get a lot of people to contribute to the cause. Even a simple bake sale can draw a huge crowd if it is advertised effectively. Try out the Fundraiser Bake Sale Flyer Template shown below if you want a lot of people to support a great cause.
This modern flyer template is available as a vector file download, so make sure that you have Adobe Illustrator (or any compatible image editing software tool) installed on your computer before purchasing this sample outline template.
As a vector illustration, you may resize the template to fit any print size. This template will also work well if your bakery or restaurant already follows a rustic design theme. The text, cupcake vector icons, and bakery creative logos on the template may be changed or recolored depending on your preferences. You can also see more on Email Outline.
Restaurant Dinner Fundraiser Flyer Template
Most formal fundraising events are held during dinnertime. If you want your restaurant to host an event of this magnitude, you should prepare a fundraiser flyer template that is equally captivating. An excellent example is the Restaurant Dinner Fundraiser Flyer Template shown below.
This restaurant dinner template suits Italian-themed restaurants, pizza parlors, and spaghetti houses as its design features spaghetti and garlic bread illustrations. The template also follows a red and green color scheme which makes the event appear more festive. You can also see more on Diwali Flyers.
All the text elements in the template are fully customizable since they have been created using layered Photoshop files. The templates also follow the CMYK color model and have a 300 DPI resolution. Printing is also made easier since the template already contains a pre-formatted 1/8-inch bleed area.
Upon downloading this template, you will get access to one Adobe Illustrator file, one EPS file format, one PSD file, and one PDF file format that will contain instructions.
Fish Fry Restaurant Fundraiser Flyer Template
Need a fundraiser flyer design for a family-friendly seafood restaurant? If yes, try out the Fish Fry Restaurant Fundraiser Flyer Template embedded below.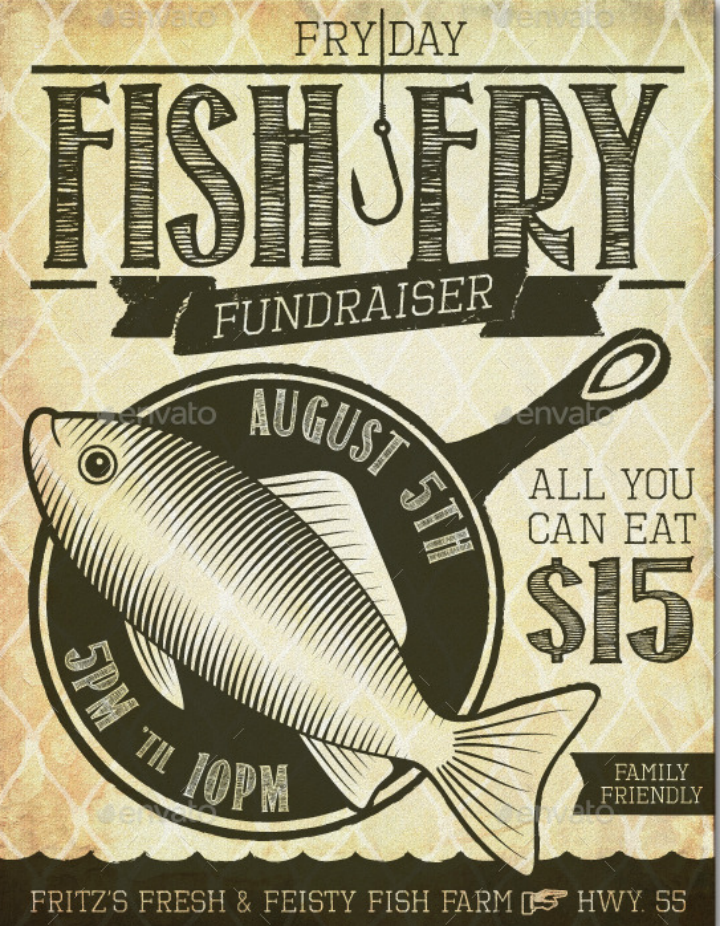 Choose this printable restaurant template if you want to emphasize your dining establishment's seafood specialty through a fundraising event. Remember that some customers may be willing to pay more for food or services if the price allows them to help other people. Use this to your advantage so that you could introduce your restaurant to more people.
This is a layered PSD template with original fish illustrations that you can edit to your preference. Use glossy paper or cardstock measuring 8 inches by 11 inches to print out the template.
Tip: When customizing this template, make sure to include your restaurant's social media profiles and the physical address of the restaurant.
Restaurant Race Night Fundraising Flyer Template
Do you have a bar, pub, or bistro where locals gather to watch a game in the company of their friends while drinking and eating? If yes, planning a race night fundraising event may be the advertising plan you are looking for. To execute that sample plan, use the Restaurant Race Night Fundraising Flyer Template (shown below) to spread the word about your event.
As mentioned above, this template works best for restaurants that wish to promote a race night charity event. The sample flyer design features images of a horse race, but you may change this into any sporting event you like.
This elegant flyer template set allows users to choose among three design variations and two print formats ( 8.5 inches by 11 inches and 8.26 inches by 11.69 inches). All templates also include a pre-formatted 0.125-inch bleed area. You can also see more on Freelancer Flyers.
Tip: To make your fundraiser flyer more enticing, do not forget to include all the charity event details (like price, meal inclusion, time, place, rules, etc). Also, remember that this template set's download file do not include the font styles and photos shown in the mock-up design. You will need to use your own photos and download the free fonts that will be used for the template. You can also see more on Handyman Flyers.
Bakery Opening Fundraising Flyer Template
Need a more impactful advertising strategy for your bakery's launching? If yes, try out the Bakery Opening Fundraising Flyer Template shown below.
The Bakery Opening Fundraising Flyer Template is a restaurant grand opening flyer template that can also double as a fundraising flyer template. By having a charity event at your restaurant, you can establish a reputable image in your community. In turn, this can increase business recognizability and lead to having more customers. This template works best if you want to create a fundraising flyer that will match the retro modern look of your restaurant. You can also see more on Grand Opening Flyers in Psd.
As a customizable template, you can choose among six color variations (pink, purple, blue, green, yellow, and gray). The typefaces used in the template are all free fonts that can be downloaded after purchasing the template.
Tip: Include graphic design elements that will help distinguish your restaurant from other restaurant flyer in pdf designs.
Why should you use restaurant fundraising flyer templates?
There are different ways to create advertising materials for a restaurant's fundraising event. The most common one is through the use of flyers that restaurant employees can easily distribute within their community. And, before a printed flyer comes to life, a flyer design is first created by a graphic artist.
However, not all restaurateurs have access to nor the budget to hire a professional graphic artist. The next best option then is the use of pre-made printable flyer in illustrator templates.
If you are still on the fence about using them, read on because we have listed below the different reasons why you should consider using restaurant fundraising flyer templates.
1. Easy customization
Just like any kind of printable template, pre-made flyer templates are customizable to some degree. This allows the end-users (restaurateurs in this case) to make adjustments to the colors, font sizes, and details indicated on the flyer template. The ability to edit a flyer template also gives restaurateurs the creative freedom to make something that is truly unique for their brand without having to learn everything about image editing and formatting. You can also see more on Friendship Day Flyers.
2. Cost-efficiency
Another important reason why restaurateurs should consider using fundraising flyer templates is the amount of money they will save compared to other types of print advertising. For example, when you hire a graphic artist to create a flyer template design, you will need to pay for the artist's time and effort spent on the project. This rate is usually higher compared to using a pre-made template. With a pre-made template, you only pay for a base template rate that may range between a few dollars.
This factor is especially important for businesses that do not have a huge advertising budget or those that are still starting out.
3. Time savings
When you use restaurant flyer templates, more than half of the template design is already done. All you have to do is fill out the text placeholders and replace them with your event's details. Most restaurant owners can do this themselves without disturbing their business schedules. Restaurateurs also do not have to learn how to create a flyer template design from scratch since this aspect has been taken care of by the original template creator.
4. New skills training
Using pre-made restaurant fundraising flyer templates can also be a good way to learn or hone new skills like photo editing and desktop publishing. Some people may have learned about the basics of Adobe Photoshop at school and they can continue to learn more about the subject without feeling guilty about neglecting their own businesses. You can also see more on Big Sale Flyers.
After all, if you learn enough Adobe Photoshop skills, you can start creating your own restaurant templates without even relying on graphic artists. This will save you time and money along the way. Plus, you will have all the creative control. You can also see more on IT Flyers.
5. Stress relief.
It is a proven fact that any creative endeavor helps relax the brain and the body. For restaurateurs who enjoy doing arts and crafts, creating digital art in the form of flyer template design is a good way to de-stress for you. If this benefit is your primary reason for using flyer templates, you do not have to require yourself to use your finished projects at work. It is important to enjoy the creation process in order to achieve the stress-relieving effect of creating digital art.
But if you are really pleased with your work, then perhaps you can begin using them for your business. But remember to never force yourself to make art just to earn more money or for another ulterior motive.
So, those are the different advantages of using restaurant flyer templates for your charity event. Let these tips help you make an informed choice for creating the best marketing strategy for your restaurant. Check out this article for more tips on how to market your restaurant. You can also see more on Restaurant Planners.
Bakery Place Fundraising Flyer Template
For those who are running small-scale food businesses but wish to attract more customers through a fundraising event, you may like using the Bakery Place Fundraising Flyer Template shown above.
This outline flyer template is available at Zazzle.com and is sold in sets of 25 flyers. Customizing the template's text is done through the site. You may also choose between different flyer print sizes and types of paper used for printing.
Reminder, this template prints out on both sides and will measure 4.5 inches in length by 5.6 inches in width.
Cute Bakery Fundraising Flyer Template
Restaurant Pizza Fundraiser Flyer Template
Use the Restaurant Pizza Fundraiser Flyer Template shown above if you want your flyer template to show all the event details with one glance at the template. This template makes use of bold typography fonts, so be careful when changing the font colors as this may destroy the flyer's effect. As a flyer template, it may be resized to any paper size depending on your preference. You can also see more on Kids Flyers.
What restaurant fundraising flyer template should you choose?
Choosing a flyer template design can be a tricky business if you are not clear about what you are looking for. If you are looking for a fundraising flyer design for your restaurant, you should make sure that the template design will include the necessary graphic design elements that will reflect the type of event you have in mind. You can also see more on Work from Home Flyers.
For example, if you are planning a dinner fundraiser for your fine dining restaurant, it makes sense to use an elegant and formal flyer template design. And, if you do not find a template design that suits your taste, choose a printable event flyer template that allows for customization. This way, you can make the necessary additions to make the template truly stand out before printing it. You can also see more on Small Business Flyers.
More in Flyer