Budget Templates
5+ Budget Tracking Templates
For an organization or a start-up to run well, it is important that the expenses and the income are tracked. While budget tracking is always done for companies, it is also important to track the inflow and outflow of money that takes place within. A budget tracking spreadsheet is often made by startups and organizations to keep a track of the expenses and the income. It is important to make a yearly budget templates and check if it goes in accordance with the planned budget if the organization is to run well.
Printable Budget Tracking Template
Yearly Budget Tracker Template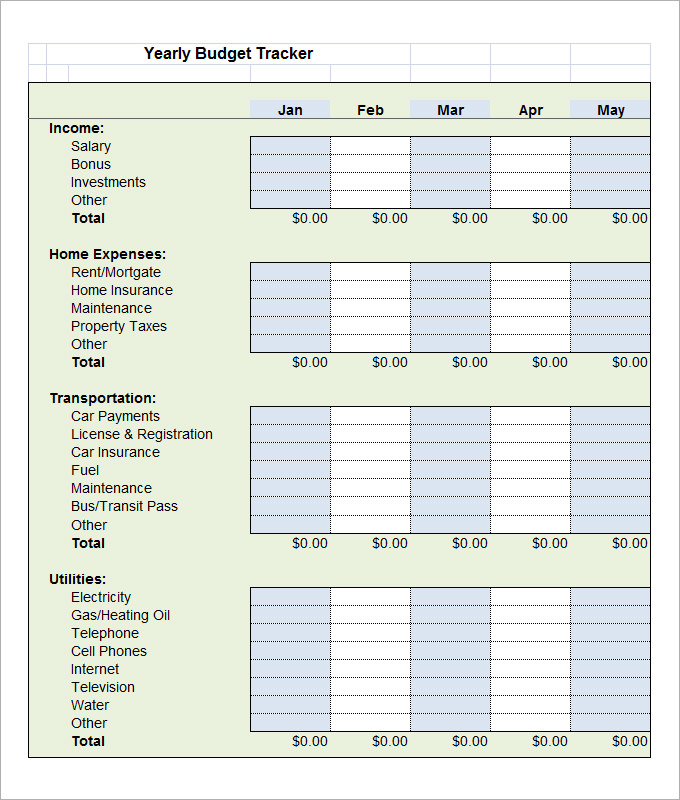 The Yearly Budget Tracker Template is one of the easiest and quickest solutions to manage your business's salaries, analyze the maintenance and investment costs, enlisting bonus, recording property taxes, filling up car insurance details and other valid information. All of these templates can be of great use while deciding annual amounts for fuel, utilities, and other vital things that are essential for ensuring healthy lifestyle.
Monthly Expences Budget Tracker Template

The Monthly Expenses Budget Tracker Template assist you to define budget and outline estimated expenses that related to housing utilities, household items, groceries, and transportation. All of these readymade templates can be customized to enlist budget figures for expenses related to personal, eating out, entertainment, safety, insurance, children expenses, savings, debt payments, and others.
Free Budget Tracker Template
Personal Expences Budget Tracker Template

practicalspreadsheets.com Leading a healthy and successful life is quite important to minimize the stress level, hence, the Personal Expenses Budget Tracker Template assist you to list down all the personal expenses that can enable you to lead a healthy life. You can use these templates to list down expenses related to shopping, grooming, eating out, entertainment, fuel and transportation, overseas journeys, and other important activities.
Budget and Expences Tracker Template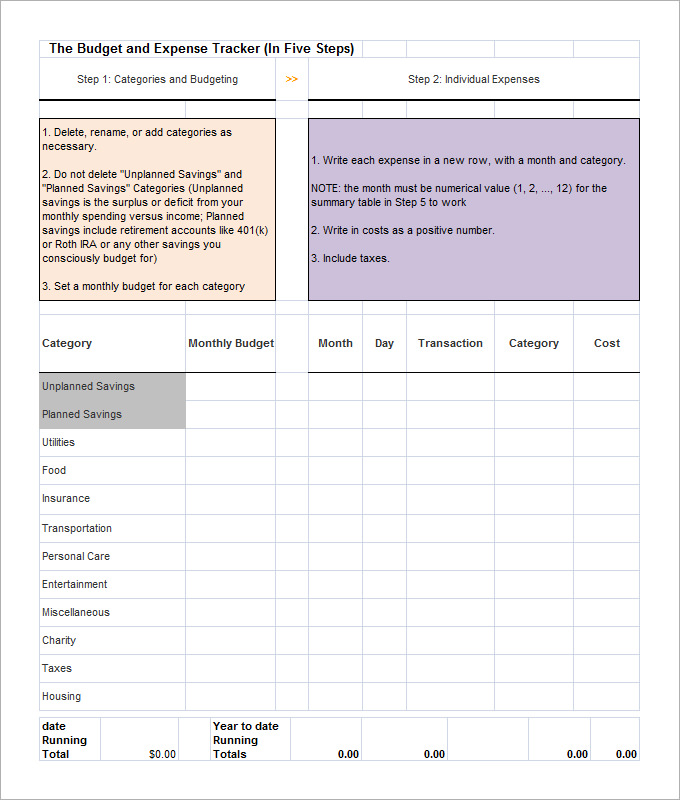 The Academic Club Budget Tracker Template helps you define the estimate cost of all the activities, programs, and trainings that are required to be conducted in order to achieve the common goals. Defining a budget at the beginning of the year enables you to manage the operations and strategies with ease by keeping a track of club revenue and expenses on a single document.
What does a Budget Tracking Template usually consist of?
A budget tracking plan is designed based on the project and the company's necessity. Before you download one of the sample budget tracking plan templates that we have got for free, you should know what a plan such as that is usually made up of. Here are all the components of a budget tracking examples listed out.
The project is firstly described.
A chart is made in which a record is made for all the expenses that take place on the project and all the inflow of the money that comes with the project.
We have collected some Sample Budget Tracking Templates, hope these templates will help you.
Daily Expense Tracker Template Personal Budget Worksheet Tracking
What All a Budget Tracking Template Must Have?
One of the most basic and common objectives behind creating a detailed budget tracking template is to ensure that you never overspend and gets billed accurately. All of these budget tracking plans are specially designed to cater diversified requirements of a project, business, function, event, individual, or even a home to ensure that all the essential things become available in adequate quantities.
The ideal budget tracking template should have serial number, item or description of expense, estimate amount of the expense, the allowance bracket to which the expense can be extended, and the final limit of the particular activity or project to ensure that you never end up paying more than you have or have decided for a specific function. All of these detailed budget tracking templates enable you to define various processes, activities, items, and functions that requires expenditure in future.
You can easily customize these templates to create a detailed record of all the expenses that are planned to happen, and then compare them once they're borne to calculate the actual saving or overspend amount. These already made templates can be customized as per one's preferences and specifications to produce desired results in no time. If you have any DMCA issues on this post, please contact us!