A church budget template is a simple and effective tool that can be used by big and small churches. These church budget templates can be downloaded and used in Word, PDF or Excel file formats. From the many templates available, a worksheet template will best suit the budgeting activities as the church often holds its meeting on a weekly basis. For church example, although communion is an event that might be conducted twice every month, a weekly budget will help adjust the finances accordingly.
88+ Church Templates in PDF, Word, Excel, PSD, Google Docs, WordPress, InDesign, Apple Pages, HTML5, Google Sheets, Publisher, Apple Numbers, Illustrator - START DOWNLOADING
Church Budget Template
If you in charge of the budgeting affairs of the church, then you can take a look at our church budget templates in Word that lets you note down details relating to income, expenses, and summary details in an orderly manner. It also allows you to present a visual representation of the information towards the end of the document. The advantage of using this template is that it is easy-to-edit and print-ready in nature. You can feel free to customize this template in any of its available file formats.
Small Church Budget Template
You can now easily maintain a tab on the finances of the church by downloading and using our small church budget sheet example template. You can jot down information such as the crucial role salaries, subsidiary role wages, and funding amount in an organized manner. You can also insert a graph towards the end of the document for visual representation purposes.
Church Budget Worksheet Template
Instantly download our premium and ready-made church budget worksheet template in order to create a financial document that will help you in keeping track of income and costs made by your church. It is fully customizable, and also includes graphical representations for easy understanding of the finances. It is not only printable but can also be shared digitally among church members. Use with any compatible file formats such as MS Excel and Word, Apple Pages or Numbers.
5 Steps to Follow to Create a Church Budget
Step 1: Figure Out Why You Need the Budget
The first step to do while creating a church budget is to understand the reason behind the making of the budget. Are you looking to reach a particular goal? Or to ensure that the church continues its duties and activities? Knowing this will give you clarity on how to go about in making of the budget. You may also see our report samples.
Step 2: Sources of Income
Once you have an idea of what you want to do, make a listing of all the income that the church receives. The sources of income can come from anywhere such as donations, offerings, facility rentals, stakeholders, investments, etc. Considering these sources will determine how you are going to set your budget goals. Try to cover all possible sources as even missing out on a single one will affect your budgeting decisions.
Step 3: Analyze the Income Sources
When you are done making the list of all the income your church is expected to receive, the next thing you can do is look at which of them are routine and unpredictable. While there are some sources that will surely bring in income within an anticipated period of time, there are those that may or may not present you with any even after reaching their expected date.
Step 4: Check the Expenses
After noting the income details, take a look at the total amount of expenses. You can view the expense reports from previous years so that you will have an idea as to what to incorporate in your current budget sheet example. Include important expenses such as staff payment, debts, facility maintenance, etc.
Step 5: Review Your Entire Budget
Now that you've got a list of your estimated expenses and revenue, place them as per the in a flexible order. If you notice that the income is higher, then consider what should be done with the additional amount. If it's the opposite, then consider what expenses can be cut or what other sources of income there is that you can include into the budget.
Baptist Church Budget Template Sample
Do not miss out on this budget template in Google Docs as it will be just perfect for your baptist church. It lets you have a document that can keep track of the church's budget along with the costs and income. Ready-made in terms of content, this budget template is highly customizable and editable in nature. You can open this document in file formats such as MS Excel, Word, Apple Pages, or Numbers.
Printable Church Event Budget Template
If you're looking to create a budget document for your small church, then you can make use of our ready-made template that will help your church track the money that is coming in and out. The template is print as well as digital-ready and can be edited and customized in file formats MS Excel and Word, Apple Pages or Numbers. Replace or insert information wherever necessary in terms of role salaries, subsidiary role wages, and funding amount.
Sample Budget Report Template
Correct budgeting is the key for an organization to run successfully, which is why we present to you our premium sample budget report sample template which will help you determine the possible cost of products and services that are to be used. Designed by our business gurus, you can be sure of saving more time and being efficient by just doing minor alterations to the contents presented that are presented in the document.
Monthly Budget Worksheet Template
Check out this ready-made worksheet template that you can use to craft a well-formatted monthly budget worksheet for your church. With this, you can create a report that helps you reach the church's spending and saving goals. It permits you to work out a proposed budget by entering your sources of earnings, projected expenses and then calculating the necessary costs and expenditures. You can use this template in all versions of MS Word, MS Excel, Apple Pages, and Numbers.
Monthly Budget Worksheet Template in iPages
Are you having budgeting problems? If so, then make use of this helpful monthly worksheet financial budget template to be able to keep monthly tabs regarding the expenses of the church. It is a highly editable template that comes with standard business fonts in A4 and US letter sizes. You can easily open and edit the contents using your chosen application that supports MS Excel, MS Word, Numbers, or Pages file formats.
Simple Budget Proposal Word Template
Build a compelling budget proposal with this easy to download simple budget proposal template. It contains viable information about the amount of money available or required for a particular purpose relating to the church events. The template makes sure your stakeholders maintain their trust in your organization. It is designed to be highly customizable so that you can easily edit to suit your preference.
Expense Sheet Template in Excel
Ensure that the finances of the Church are operating smoothly with this expense sheet template. This easy-to-edit expense sheet contains standard business fonts that come in A4 and US letter sizes. You can conveniently edit or modify it on any preferred software application that supports MS Excel, MS Word, Numbers, or Pages file formats. Make use of this opportunity and grab a copy of this highly useful sheet now.
Free Church Budget Template
Catholic Church Budget Planning Template PDF Free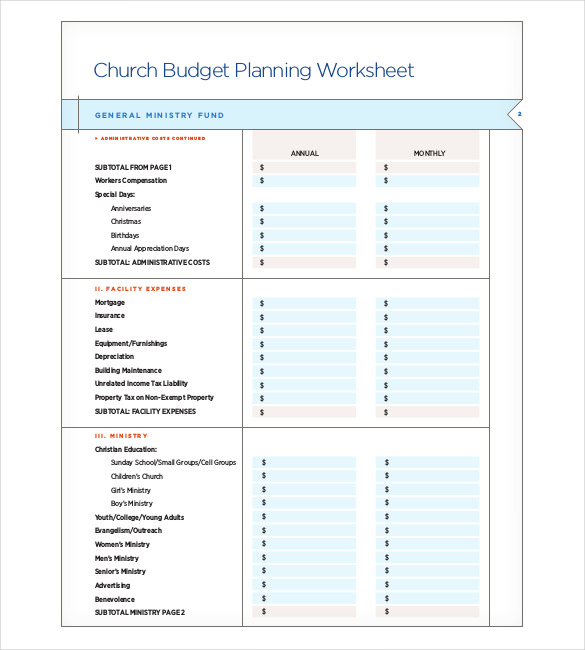 cepnet.com
If your church gives meals to Sunday school kids every Sunday, you need to make sure the meal is planned for on time. Therefore, a budget template will help you put every financial need of the church in proper order.
Sample Church Budget Template Free Download
lifeway.com
Example Budget for The Episcopal Church PDF
extranet.generalconvention.org
First Baptist Church Annual Budget Report PDF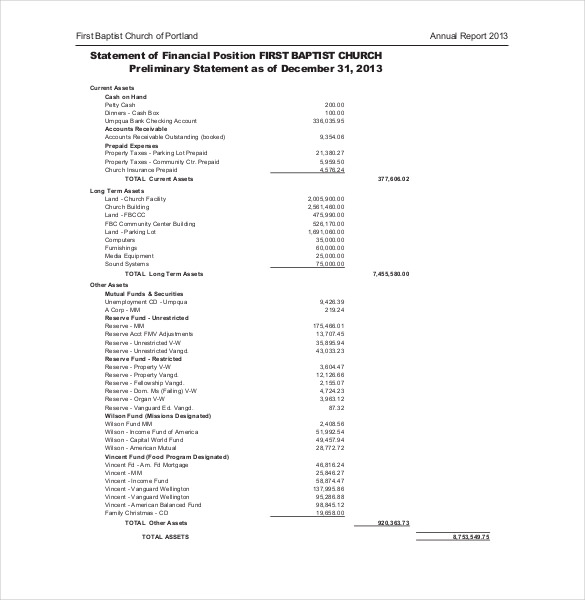 fbc-portland.org
Free Church Budget Template PDF Download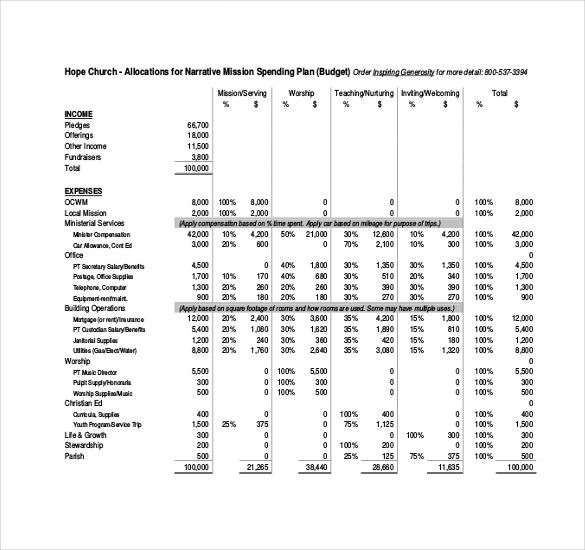 d3n8a8pro7vhmx.cloudfront.net
Sample Church Budget Spreadsheet Download
crcna.org
Free Church Budget Template Excel Download
ds.bgco.org
Small Church Budget Example PDF Free Download
elfiphc.org
Sample Church Budget Template Download PDF
flgadistrict.org
Free Baptist Church Budget Template Word Format Download
sweetgumgrovemissionarybaptistchurch.org
Our templates are created in such a way that they lessen the burden of the user by providing them with ready-made content that can be easily edited and customized in a way that they prefer. So, hurry up and get started on the budgeting activities of the church right away.
If you happened to have any DMCA issues on this post, please do feel free to contact us!