Students have tons of expenses that nee to be taken care of: allowances, school fees, tuition payments, project expenses, and so on. It is imperative that there should be a comprehensive way in budgeting all of these costs. That is why having a student budget sample note is ideal. It helps students in estimating their budget properly.
Simple Student Budget Template
Weekly Student Budget Template
Printable Student Budget Worksheet Template
To guide you in your proper budget planning, we have student budget templates that you can make use of. These are absolutely great for your expenses budgeting. You will be able to handle and manage your expenses in an easy and balanced manner.
College Student Budget Worksheet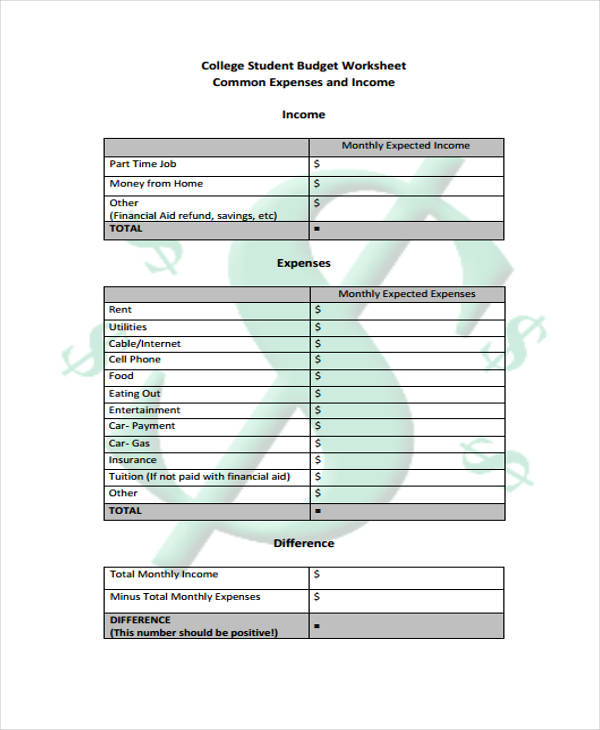 Student Semester Budget
Student Expense
Student Budget Planning
Student Organization Budget
Samples of Our Student Budget Templates
These are some of the student budget samples that you can make use of. Go ahead and choose the one that matches your preference.
College Student Budget Template – If you're in your college years and you want to have a realistic budget note, this template is what you need. We all know how tough it is when it comes to budgeting your expenses, especially as a college student, but with this template, you don't have to worry!
Student Semester Budget Template – Looking for a concise and comprehensive way of budgeting your semester expenses? Something that you can also use in recording all estimate costs in a semester? Well then, this template is exactly what you need. Complete with necessary details that are ideal for you to use to manage your budget.
Student Organization Budget Template – This is a template designated for student organization budget purposes. If you want a budget note that can help you and your organization's expenses, then download this template now. Pack with details such as total organization budget, items or equipment requested that are needed for the organization, additional calculations, and so much more. If you need to advertise your club or organization, we have marketing budget templates available as well.
Budgeting Worksheet for Student
Annual Student Budget
Student Loan Budget
Budget for Post Secondary Student
Sample Budget
Some Helpful Tips for Student Budgeting
Although student budget templates are there to aid students, much like business budget templates can assist businessmen, you might want to read the following tips we have for you.
Adding up your income. This is where you will add up and record your income such as student loan, sponsorship or scholarships that shows you're eligible for money for your parents. Or any savings.
Then time to take off your necessary expenditures. Examples are tuition fees, accommodation rent, any house bills, and credit or debt repayments.
Whatever is left, this will be the amount that you'll send on other stuff. Like for example, books, household supplies, clothes and shoes, things to be careful of. Remember to avoid cash machines that will charge you with extra expenses.
There might be some stealing in your place, so you also need to be watchful when keeping your budget. There's usually a risk of this in student areas, so it's ideal to get an insurance.
In case you are renting a house with other students, it is also ideal to divide home insurance between them.
With these guidelines and templates, the only thing you need to worry about is acing that class.