Business
3+ Charity Marketing Plan Templates in PDF | DOC
Charitable organizations always struggle to promote their activities and mission to a wider reach. Having a marketing plan is necessary, even for a charity so that they can continue with their work without any financial hassles. Preparing a marketing plan will ensure that the staff and board of directors are made aware of the goal. A good marketing plan influences the image of the organization in the minds of the people. You can use plan templates to grow your non-profit supporter base.
Table of Content
How to Prepare an Effective Charity Marketing Plan?
Step 1: Set Your Marketing Goals
The first step in planning your strategy is to set effective and realistic goals and objectives for the organization for the particular year. Consider questions like How will you reach the intended audience? What will be your message to them? Make a list of the desired turnout of the year and make them your short-term and attainable goals.
Step 2: Determine Activities
After you have determined the organization's goals and objectives, now you need to look for the activities which can help you achieve these goals. In any marketing strategy, you need to include proper media help like television, radio, web advertising, public and internal relations, so on.
Step 3: Prepare the Marketing Budget
While preparing an estimated budget of the entire year, you need to be a little conservative since charity depends on other companies and the government. Therefore, you need to come up with something that is both practical in reaching your target and within the affordable reach.
Step 4: Set Deadlines for the Active Plan
Deadlines are important to determine the probability of achieving the fixed goals for the organization. Make a list of the activities and decide the ones of priority which needs immediate attention. Use the calendar to set attainable deadlines for each objective of your organization.
Step 5: Develop Short Tactics
When you have set deadlines for each task, you need to figure out a few tactics to acquire them. Some of the major tactics of development you can try are fundraising for the donor, annual and planned giving, direct or indirect mails, events, bequests, grants and so on. The individual strategies for each tactic should not be the same to avoid any confusion.
Step 5: Assign Staff Responsibilities
For each tactic and strategy, you need to make sure that there is someone to take responsibility to carry out the fundraising plan. List down your staff members and volunteers and assign them tasks with a deadline to enhance productivity. Take time to make your staff understand and support the goals to implement the plan.
Step 5: Get Approval
The final step left before implementing your plan is to get approved by the board of directors of the organizations. You need to go through every detail with them and clear out their doubts for running the plan. Once they have approved, get the signature of each member at the end of your document to make it official.
Call to Action – How to Engage Customers?
After preparing a solid plan, you can't expect results without the appropriate implementation of the plan. Implementing the plan, in broader terms, means engaging the public. Your marketing strategy and plan must reach your audience, only then you can expect success. There are a few things to keep in mind while you put your plan to action.
Work with various channels together for promotion. Over the telephone, you can ask your donors to try online and send them a personalised e-mail. Always make sure to have a two-way conversation.
Try to be accessible, promising and supportive to your donors at their convenience.
Test different segments of newsletters and pamphlets for separate supporters based on their contributions and the way they support your organization.
Last but not least, ask your supporters and donors to spread the word about your organization to get a personal outreach to your target audience
3+ Charity Marketing Plan Templates in PDF | DOC
1. Charity Marketing Plan Template
eprints.bournemouth.ac.uk
This Charity Marketing Plan Template in PDF format has been prepared by our team of professionals to provide you the ease of getting your audience engaged. Plan the perfect strategic plan for your charity with the help of our plan templates which are available for your access and download. Enjoy the compatibility of our templates and create your strategic plan in no time!
2. Charity Marketing Strategic Plan Example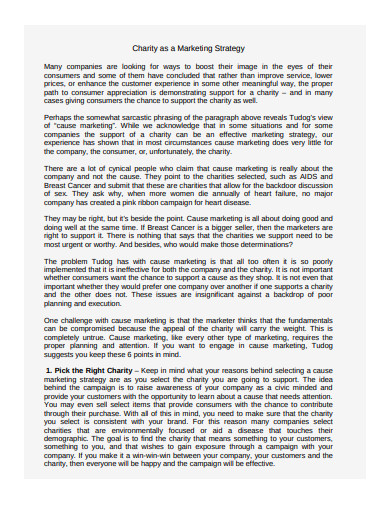 tudog.com
If you need to sort out a charity event marketing plan with immediate effect you can try and use this Charity Marketing Strategic Plan Example from our website. It is quite adaptable with any portable device so that you can easily make plans as it will serve the best purpose of your organization. You may even like to explore our other range of plan templates in MS Word, ready-made and available to print right away!
3. Charity Marketing and Fundraising Plan
activatefundraising.com
It's quite difficult to formulate a proper plan for a non-profit organization that is largely dependant on the public for support. Our Charity Marketing and Fundraising Plan gives you the perfect base where you can start without many efforts and get your plan done with assured results. We have many other sample plan templates that are ready to be downloaded so get started today!
4. Formal Charity Marketing Plan
student.brighton.ac.uk
Getting ready for the upcoming event but still confused with the charity marketing plan? No worries, you can get this Formal Charity Marketing Plan on your device instantly which gives you the opportunity to add your marketing ideas on a pre-built framework and even change part of the given content at your convenience! You can also explore our handy and usable plan templates in Pages format for Apple devices.
More in Business