Professionals out there are smart these days in the sense that they prefer w211623nal to do the renovation project for you, then it has to be a contract. You can use the renovation contract template to get your contact done within the shortest time you have on hand for the job. Here are two things you need to keep in mind when getting your contract ready. You can also see Remodeling Contract Templates.
Renovation Contract Sample Template
Basement Renovation Contract Template
Simple Home Renovation Contract Template
Simple Home Remodeling Contract Template
Sample Home Kitchen Remodeling Contract Template
Simple Home Repair Contract Template
Sample Renovation Contract Template
Basement Renovation Contract Template
Maintenance Contract Template
Simple Roofing Contract Template
Plumbing Contract Template to Print
Printable House Renovations Contractor Agreement
nyshcr.org
Home Improvement Contract Template Sample Free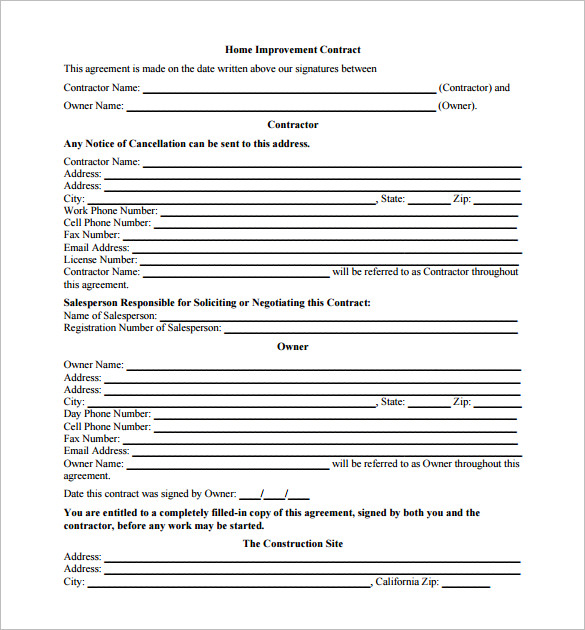 construction-forms.net
Simple Renovation Contract Sample Download
You need to specify how long the project is going to take. Every con tractor wants to work on a project with a time scope. If you fail to define the time specifics clearly, you are more likely going to disappointed. Most contracts have a minimum time limit of 3 months to a maximum of ten or more years. If you are just getting started with working with the contractor in question, the best thing to do would be to start with a short period.
Your blank contract template should clearly indicate the terms of payment of the project in question. If this is going to long term business contract, you want to make sure that you remunerate the person in question well. Hence payment terms should be clear and precise.