In every company, there are company policies that consist of rules and regulations that serve to protect employees. However, there are still instances wherein employees, even though they have already taken the extra precautions, still manage to find themselves in situations that endanger others or the company itself.
So, in these instances, those who are in charge of investigating these incidents will be required to make a thorough report which outline its details. This article will discuss how you are going to create an incident report which should contain all the information that you would need to determine how an incident in the workplace came to happen.
General Incident Report Template
Workplace Incident Report Template
IT Incident Report Template
Employee Incident Report Template
Construction Incident Report Template
Free Incident Report Template
Incident Form Template
Marine Incident Report
Insurance Incident Report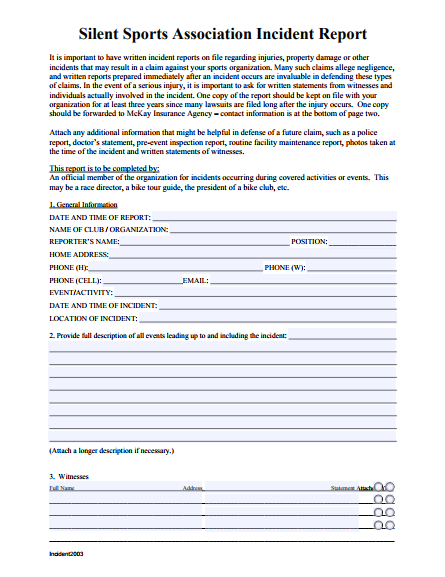 Hazard Incident Report Form
How to write an incident report
If you are the person who is tasked to do an incident investigation, then writing up a detailed and accurate investigation report is an important part of doing your job correctly. A good investigation report is one that is able to thoroughly go through everything that has happened without leaving out any of the important facts as well as not including information that is not relevant to the incident. So, if you want to create this type of incident report, be sure to follow these steps:
Obtain the proper forms from your institution
Every company or institution has their own set of protocols that people must follow if they want to create and submit an incident report. You need to learn yours if you want to make sure that yours is accepted the moment it is submitted and received.
Follow the instructions that are placed on the forms that you have to fill up. Every organization has their own format so you have to go through the instructions very carefully to ensure that you do not miss anything.
There will be cases when you will be the one who is held responsible for filling out an incident or accident report form by your institution. Then, there will be other cases when you will be the one who is required to type and write up the report on your own. No matter which you are tasked to do, just be sure that you include all the pieces of information that one needs to know all about the incident being reported.
If it is possible, you should write up your incident report with the use of a word processing software. The reason for this is because the report will look so much cleaner, and  you will be able to use spellcheck to see if there are any errors that you have to clean up. If you decide or are required to create the incident report by hand, then you will have to write clearly and not in cursive. Doing so will ensure that anyone will be able to easily understand what it is you have written, and not confuse certain numbers for letters or vice versa.
Create the report as soon as possible
If it is possible, create the incident report on the same day as the incident took place. Do this immediately while the memory is still fresh so that you will be able to give as much detail as you remember. If you wait for two or three days, then there is a huge chance that you may forget some really important factors that took place before, during, or after the incident. You should write down the basic facts that need to be remembered  as soon as the incident occurs.
Provide the basic facts
When you are given an incident report form, there would be some blanks that you should fill with information regarding what happened during the incident. If you are the one who is tasked with creating the report from scratch, then you should start the report with a sentence that clearly states the following basic information:
The time when the incident took place
The date when the incident happened
The location of the incident (be specific)
Names of the people who were involved in the incident
Names of the people who witnessed the incident
Include a line about the general nature of the incident
Describe what brought you to the scene of the incident. If your attention to the incident was brought up because you received a phone call, then you should describe the details about the call such as the name of the person who contacted you and the time when the call took place. Write an objective and factual sentence describing what happened:
For example, you could say that you were called by your co-worker to a certain address where another one of your co-workers was found seriously injured due to a collision accident.
Take note that you should not write about anything that you think has happened. You want to write down facts and not opinions. Just stick with the facts and remember to be objective about the whole thing.
Write a first-person narrative of everything that happened
If you are going to do this, then you have to do everything in chronological order so that you can point out what happened in the right sequence.
Use the complete names of every person that you have to include in the incident report. Identify all of the different people the first time they are cited in your report by listing their first, middle, and last names. You should also include other important information such as their date of birth, race, gender, and reference any government-issued identification number. In subsequent sentences, you can just refer to these people by using their first and last names. For every action that a person has done, you have to create separate paragraphs for them. So, while writing these paragraphs, you have to make sure that you are able to state the who, what, when, where, and why of what happened. This will ensure that those who read the investigation report will understand everything that has happened, or at least be given all the details to figure out exactly what happened.
If possible, try to make sure that these reports include direct quotes from the people who were involved in the incident or from anyone who managed to witness what happened. Just be sure that you get everything word for word if you are going to include the quote.
Include an accurate description of your own role in the course of what has occurred. This is assuming that you were involved in the incident in any way so, if you are, then be sure that you include the details of what you did. For example, if you had to use physical force in order to detain someone, do not gloss over it. Be sure that you include it in the report and not leave any of the details out. So, if the person you had to restrain was injured during the process, then you have to mention that in the incident report.
Remember to be thorough in your report
Make sure that you include as many details as you can remember. The more details that you are able to include, the better it is for the report. You want to be sure that you put in all of the necessary information that you can recall in the right order so that people who read the report will not misunderstand it or will not be confused by what you have written down. Do not worry about the report being either two wordy or too long. All you have to do is to make sure that you are able to paint a complete picture of the things that occurred during the incident.
Remember to be accurate
If you are not exactly sure that this particular thing took place during the incident, then you should not be mentioning it in the report. There is no real reason for you to put that in the report as it will just jeopardize the entire investigation.
For example, if a witness told you that he or she saw someone who tried to sneak past security during office hours, then you should clearly indicate in your report that this information is based off of a witness' account. Point out that this is not yet a proven fact, but something that a person claims to have witnessed. It is best that you put that in the witness statement so that people who read the report will not confuse it for fact.
If you are reporting what a witness has told you, then you should write down anything that you have noticed about the witness's demeanor. The reason for this is because in the event that their statements cause controversy later on, then your incident report will prove useful. For example, you can point out that the witness was strangely excited about giving you his or her insight of the events that occurred. Information such as this can help figure out if the information that was handed out could be trusted, or if the witness is withholding information that could be potentially important to the investigation of the incident.
Make your report as clear as possible
If you are going to create an incident report, then do not make use of flowery words or confusing language to describe what took place. So, all you have to do is make sure that you use short, to-the-point, and fact-oriented sentences that do not leave room for any other form of interpretation.
While this cannot be said enough, you have to make sure that your writing is both clear and concise. Make sure that you do not leave anything out, and you have to be sure that everyone can easily understand what it is you have written.
Additionally, do not use any legal or technical terms in your report. For example, if you are going to write about a vehicle in the report, then you should jot it down as "personal vehicle" instead of P.O.V. (personally owned vehicle). The reason for this is because, again, you want to make sure that everyone understands what is written in the report. There is a huge chance that people who read it might not understand a lot of technical or legal terms, so keep things as simple as possible.
Use short, to-the-point sentences that emphasize facts and do not leave room for interpretation. Making the sentences too long will make the readers wonder if there is more to it than just that, so you want to make it short enough for people to read and, at the same time, give all the information one could use to understand the context of the situation.
Be honest in your report
You do not want to lie about any information that you include in the incident report. So, even if you are not particularly proud of the situation, it is best that you remain honest during your entire recollection of the events, or when writing down whatever information that you have been able to gather. If you write something that is not true in the report, then there is a huge chance that it is going to surface later and put you and your job in serious danger, as well as cause problems for those people who were involved in the incident.
Double-check the basic facts
Check to make sure that all of the basic information (the spelling of the names, the addresses, the dates, etc.) match everything that you have written in your incident report. Even one wrong piece of information will make your report invalid for use. So, be sure to go through your report and see if everything is accurate.
Do not try to make sure that statements in your report match those of your colleagues. Having individually filed reports should guarantee that more than one account of the incident survives. Incident reports can appear in a court of law if they are required. So, if you alter any information that you have placed in your report just so it can match the information of another, then there could be unfavorable consequences.
Edit and proofread your report
Go through your entire incident report to ensure that everything can be understood and that it has everything that you should include. Look for any gaps in the report that you need to fill in.
Review the report to see if there are any grammatical or spelling errors that you have to fix. If you like, you can have another person help you go through the report so that it will be easier to spot any mistakes. Just be sure that the person who is helping you check is someone who is involved in the investigation.
If you see that there are any words that will make your report sound subjective or judgmental in any way, then you should remove them straight away. Having sentences like this will make readers questions the validity of your incident report, so make sure to change these types of sentences as soon as possible.
Submit your incident report
Find out the name of the person or the department where you should submit your incident report. Usually, it would be the company's Human Resource department, but it is best that you know who or where you should send it so that it will easily be received. Whenever possible, you should submit the incident report in person and make yourself available so that you will be able to provide answers to certain questions that will help provide further clarification on how the incident came to be. In situations where an incident report must be mailed or emailed, follow up with a phone call within 10 days so that you can guarantee that your report was received.
Incident Reporting Tool
Health and Safety Incident Form
Injury Incident Form
Employee's Report of Incident Form
Incident Memo Report Free
mnsure.org
Sample Incident Report Letter Word
chfs.ky.gov
Robbery Incident Report Sample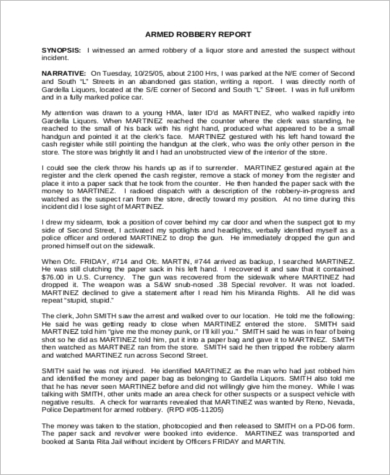 laspositascollege.edu
Incident Information Report
scouting.org
Incident Management Report
ok.gov
Accident Incident Report Form
Tips on how to create a good accident or incident report
Remember that an accident or incident report must include all of the necessary information that one would need in order to determine how, when, where, and why an incident took place. So, here are the steps that can help you create a report that will include all of the necessary information:
Set the right sequence of events
Based on all of the facts that you have managed to gather during the investigation, you should be able to determine the sequence of events revolving around the incident. In your report, describe this sequence in detail, including:
Events that led up to the incident. If you are reporting about the person who was directly involved with how the incident came to be, then was the person running, walking, sitting, standing, or even just sleeping, prior to the incident? You need to point out what was taking place before the incident occurred as this can be used to see if there was a culprit or if the incident was all happenstance.
Events that occurred during the incident. Talk about all the different people or objects that were involved in any way. Was there any person that got hit during the incident? If so, then you have to point out if there was a weapon involved and if there was another person who was the cause of the employee getting hit. Information such as this can determine whether or not the incident was an accident, or if it was intentional on someone's part to cause harm to other people.
Events immediately following the incident. If an employee was seriously hurt after the incident, then what did the employee immediately do after? Did he or she start limping or try to suppress the bleeding? Your report should also point out how his or her co-workers or any people who were available after the incident responded to it. Did any of them immediately call for help? Did one of them apply immediate medical care? Did they move the victim at any point? These are all things that you must include in the report.
The incident should be described in the report with sufficient detail so that any reader can clearly picture what happened. You can even consider creating a diagram to show, in a simple visually effective manner, the sequence of events that are related to how the incident occurred and attach it to your incident report. If you have any photographs of the scene of the incident, then you should also include these in the report. This will help readers easily understand the sequence of events
Analyze the findings
Think of this as an analysis report wherein you have to be very thorough about the cause of the incident. These causes include:
The primary cause of the incident or accident (If the main reason was because of a slippery surface which has caused an employee to fall and get injured, then put that down in the report.)
The secondary causes (i.e. the employee was not wearing the appropriate safety attire or did not have the right safety equipment or the employee was carrying too many items that blocked his or her vision)
Other contributing factors such as a burnt light bulb in the area or faulty wiring
Recommend corrective actions
Recommendations can include immediate corrective actions as well as long-term corrective actions such as the following:
Employee training on the different risks of the workplace and how to avoid and prepare for them
Preventive maintenance activities that keep all of the equipment in good, operating condition
Evaluation of job procedures with a recommendation of changes in the event that they are needed for further improvement
Conducting a job hazard analysis to evaluate the task for any other hazards and then train employees to effectively deal with these hazards
Instituting changes that are needed to make tasks safer or making administrative changes that can include changing the ways how certain tasks are supposed to be done
Every single one of these tips is helpful in ensuring that everyone understands how an incident or accident took place, and what can be done to help guarantee that it never happens again, or at least help people prevent or prepare for them should they actually happen.