Business
Job Description Template – 635+ Free Word, PDF Format Download!
Are you tired of writing job descriptions every time you want to recruit? A job description template can relieve you of that burden. Simply download a template today, customize it, and make as many copies as you want. Don't throw the templates away after first time use; they are often editable and reusable. Feel free to download as many templates as you, usually depending on the number of job types you want to advertise. Get the templates today and save time.
Administrative Assistant Job Description Template

Download
Sales Engineer Job Description Template

Download
Bookkeeping, Accounting and Auditing Clerk Job Description Template

Download
Marketing Manager Job Description Template

Download
Chief Financial Officer Job Description Template

Download
Writing an accountant job description from scratch is going to take much of your time, but you can save time by using job description templates. Not only will the template save you time, but also it will help you make sure no important information that should go into the description is left out.[9+ Accountant Job Description Templates]
Your company cannot do without a receptionist. Whether you are just a new startup or a company that has been in the market for business for a long time, hiring a receptionist is the best way to manage who enters and who leaves the company's offices. Download a receptionist job description sample template today to help you write the description.[9+ Receptionist Job Description Templates]
The only way your organization will find the best social worker is by writing a social worker job description. The document can help you with potential employee evaluation process, enabling you to identify who exactly is best suitable for the opened job opportunity. You can download a sample Social Worker job description template for free and use as a guide to write your own.[7+ Social Worker Job Description Templates]
Writing a Program Manager Job description for the first time can be quite tricky. There is a lot that goes into product management; a writer has to be keen to details to write the best description Luckily, you can download high quality job description template in product management line, and use it as a guide to writing the best job description for your needs.[10+ Program Manager Job Description Templates]
Busy offices often need hands, especially when the secretary is not around, or they have too much on their hands to deal with. Although they do minor assignments in the office, office assistants are by far the most active persons in a company. They always want make sure that everything in the office happens right and they are dedicated to making sure that the office runs well on a daily basis.[9+ Office Assistant Job Description Templates]
Management isn't an easy task; a manager alone cannot be able to control the day-to-day operations of a company. This is why the companies hire assistant managers to help manage business and daily operations. The responsibilities assumed by assistant managers are similar to those of the manager. They assume these roles when the manager is not around or commitment to some other assignments.[9+ Assistant Manager Job Description Templates]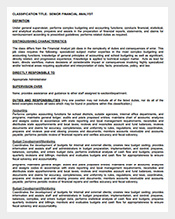 Your company needs a financial analyst. If you haven't hired one, or have been afraid to do so, this would be the right time. They will help your company to determine the costs of operation through cost standardization. They will help your company improve its financial status and identify the best business opportunities for investments. Get a free template today, and use it to write the job description.[9+ Financial Analyst Job Description Templates]
A sales representative assumes the responsibility of selling a company to customers out there. He or she ensures that they create a good image for the brand in question, convince customers to make a purchase by teaching them about the product and its benefits. They also take part in creating a good image for the company and its brand.[10+ Sales Representative Job Description Templates]
It shouldn't be hard to write a Data Entry Job description. All you need to do is identify what you are looking for from a data entry specialist, not the least of which they must be disciplined, able to work under minimal supervision and have competent skills at work. Data entry employees can work remotely or at their employer's offices.[9+ Data Entry Job Description Templates]
A Product Manager will help your company understand the market better prior to launching a new product or service. They will help the company understand market competition, and find out whether or not your product is likely to find market or not. He develops the best market research methods, so that your company invests money only on the most profitable venture.[10+ Product Manager Job Description Templates]
Project Coordinators focus on their attentions on projects; they train and coach employees on different projects to get the job done right, and to meet deadlines. They work close with members of staff to ensure that nothing go wrong at the company. They ensure quality production and work hard to ensure that customers get quality services and products.[9+ Project Coordinator Job Description Templates]
Companies need professional executives to operate efficiently. As skilled as they are, Account executives work around the clock to help the company maintain good relationship with customers out there. Reporting to the account manager of their company is also part of an Account Executive job description. A company can have one or more account executives. [9+ Account Executive Job Description Templates]
Custodians are in charge of the neatness and cleanliness of every kind of building in the institution where they are employed. They ensure safety and structures that are free from clutter. Throughout the day, they sweep, pick trash, vacuum or use industrial cleaning tools to clean floors. They clean bathrooms, surfaces and windows while watching to report repairs needs.[9+ Custodian Job Description Templates]
Landscape architects oversee the designing of diverse projects including but not limited to urban regeneration schemes, retail, road and pedestrian schemes. They establish general landscapes while maintaining the aesthetic site of nature. They conduct preliminary studies on sites, seek and prioritize the opinions of residents and interested parties after which they carry on to plan, draw and tender out given projects to contractors.[10+ Architect Job Description Templates]
Public relations officers plan for publicity strategies and campaigns in order to maintain good association between an institution and the public. Hence, they plan business promotional events. They write and produce public presentations and press releases. When need be, they respond to interviews, presentations, public enquiries and press conferences on behalf of their companies.[8+ Public Relation Job Description Templates]
Community pharmacists dispense prescription drugs to the public. They also ascertain that medications administered are compatible and of the right dosage for every patient. They manage the file of drugs under their custody for stock control and formal reasons. They can sell OTC drugs and screen for conditions like diabetes while monitoring clients' blood pressures.[10+ Pharmacist Job Description Templates]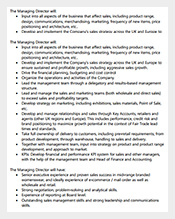 Creative directors are employed to lead their teams in designing inspired strategies and directing artistic tasks such as conducting email campaigns, radio and television advertisements, print collateral and designing websites. Apart from writing copies for the establishment of web pages, these workers are involved in casting calls, coaching, teaching, training and instructing their teams.[8+ Creative Director Job Description Templates]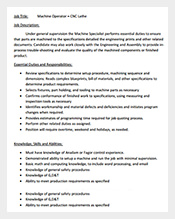 Machine operators prepare machines before work. For example, they manage all settings, test and regulate machines to ensure their functioning is flawless throughout and troubleshoot them for problems during operation. They preserve and clean machines before after use. In addition, they calibrate and re-calibrate apparatus at the start and end of every working shift respectively.[10+ Machine Operator Job Description Templates]
After researching, mechanical engineers design and put into practice modifications on cost-effective tools and equipment that will aid in minimizing injury while promoting safety and reliability. They develop, test and evaluate theoretical models in a bid to ensure that products will be efficient over long duration. Note that they also consider the effects of cost and time in their productions.[9+ Mechanical Engineering Job Description Templates]
A restaurant manager is in charge of the overall business performance of their eatery. Hence, they constantly analyze and plan the cafeteria's levels of sales and profitability. They prepare cash drawers and provide petty cash even as they organize discount schemes, marketing activities and promotional events. After every shift, they must write a report.[8+ Restaurant Manager Job Description Templates]
Since they are liable for the attainment of both short-term and long-term monetary and functional goals, COO(s) must plan and direct all institutional aspects ranging from policy making to initiatives. They direct the growth and expansion of their businesses even as they ensure their continuity and future expansion. They also propel the performance of other employees.[7+ Chief Operating Officer Job Description Templates]
Art directors conceptualize innovative solutions that enable them to succeed in passing out strategic intentions for assigned products. They therefore graphically develop a minimum of one product as demanded by customers. In addition, they associate with copywriters who help them to come up with innovative concepts, which they execute on given goods and brands.[8+ Art Director Job Description Templates]
Legal assistants are professionally bound to offering administrative and secretarial support to attorneys and legal executives. Hence, apart from keeping updated records, you will have to type out legal documents. In addition, you will pick calls on behalf of our supervisor, attend court, prepare its forms and conduct formal research after which you can create appointments with clients.[11+ Legal Assistant Job Description Templates]
Pharmacy technicians propel pharmacies since to start a day, they must turn on all equipment including fax machines, PCS, printers and scales. They sterilize scales, counter tops, all medicine measuring devices and pill counting trays to ensure that they minimize effects of possible accidents at the workplace while maintain a clean working environment.[8+ Pharmacy Technician Job Description Templates]
Data analysts typically import, clean, transform, validate and model information with the aim of understanding it prior to concluding and making decisions that impact an organization's success. They tabulate data or present it graphically or in charts. However, there are times when they have to design and develop rational databases to aid in collection and storage of institutional data.[10+ Data Analyst Job Description Templates]
Account managers are involved in multi-tasking and juggling duties such as managing an assortment of client and institutional accounts. They are involved in tasks relating to project management and they rely on contacts to establish businesses. Above all, they attend clientele meetings and deliver presentations to parties with whom they must uphold healthy relationships.[11+ Account Manager Job Description Templates]
Web developers use state-of-the-art software development procedures and practices to design and test efficient codes before writing about them. They also come up with site layouts for given websites. In addition to creating and maintaining software documentation, they maintain, scale and expand websites under their management. Finally, they integrate data from multiple back-end databases.[9+ Web Developer Job Description Templates]
Software engineers liaise with users of given PC apps and programs when they encounter operational challenges. They investigate existing applications and produce specifications to correct errors. They write manuals for operating and new manuals after testing the software to ensure that they are satisfactorily operational. When necessary, they train users, handle support and feedback.[10+ Software Engineer Job Description Templates]
A customer service representative attracts prospective clients to the company through providing adequate solutions and answers to their queries relating to the institution and their products. They open and maintain clientele accounts by recording their account details and updating and processing adjustments respectively. They also resolve any product problems in time.[11+ Customer Service Job Description Templates]
At the start of their working shifts, bank tellers collect and tally working cash. They identify clients before accepting, validating and checking deposits in form of cash and checks. They order checks and bankcards on behalf of their clients, accurately record transactions, open new accounts and resolve any problems with their customer's accounts.[7+ Bank Teller Job Description Templates]
Providing care to patients in their either homes or healthcare facilities is the core duty of a registered nurse. They can also conduct minor clinical procedures. They rely on the support of physicians to plan long-term care, administer medicine and monitor the progress of their clients. They also advise patients on their health conditions.[9+ Registered Nurse Job Description Templates]
A CEO is the top boss of a company. The main work of a CEO is to manage and direct the company that has employed him. A CEO's responsibilities are given to him by the board of directors for he answers to them. As a leader, the CEO makes decisions and directs them to the employees.[8+ CEO Job Description Templates]
Apart from processing receipts, payments and sales invoices, as a bookkeeper, you will complete VAT returns and balance accounts; an activity commonly known as double bookkeeping. In addition, you will check your organization's bank statements and repair their cash flow statements. To stop for the day, you must finalize and file financial paperwork.[8+ Book Keeper Job Description Templates]
Business development executives assist their companies to get new clients who will be their market for the current and new commodities. This they do through networking. They must identify new advertisements for sales, pitching commodities in the market and ensure they retain their clients at whatever cost. Practically, they oversee and plan marketing incentives.[10+ Business Development Job Description Templates]
Among your core duties is drafting legal documents such as interrogatories, pretrial orders, subpoenas, deposition notices and legal briefs with both the plaintiff and defendant. You cannot avoid interviewing clients because, although you will not personally interview clients with an attorney, you will have to note down the conversations that will aid in your subsequent interviews with both witnesses and clients.[10+ Paralegal Job Description Templates]
Controllers must maintain a completely documented system containing accounting procedures and policies as defined by GAAP and their respective institutions. This in turn simplifies their task of managing outsourced functions. In addition, you will have to oversee accounting activities of your department and subsidiary corporations while emphasizing on their transaction processing and control systems.[11+ Controller Job Description Templates]
Text
A property manager is the person in charge of real estates and is paid for effective management of designated properties. This manager has the authority from the owner of the estate to make all property decisions and to implement them. A property manager is also responsible for finding tenants to rent the estates.[9+ Property Manager Job Description Templates]
A substitute teacher is that person who takes over a class when the frequent teacher is not on duty or unavailable due to what we commonly call unavoidable circumstances. Mostly, a substitute teacher's work is part time because he/she does not have to attend classes all the time as the normal teacher does.[8+ Substitute Teacher Job Description Templates]
A CFO, also known as chief financial Officer, is a professional exert responsible for managing financial risks of a company. A CFO keeps financial records for management, and reports directly to the board of directors. CFO's are most qualified for this job for most of them have master's certification in business.[10+ CFO Job Description Templates]
A police officer is responsible for maintaining law and order. The job entails conducting patrols in an area to ensure security and to act as witnesses in a court of law. A police officer should be in a position to work under pressure and also posses skills in communication. Vast knowledge in criminology is an added advantage.[9+ Police Officer Job Description Templates]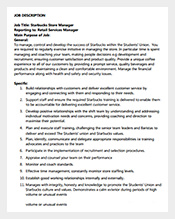 Working in dynamic environments store, these manager handles any queries and complaints, restocks the stores, and coordinates sales and budgeting. They oversee the cleaning of the stores and drafting of proposals. Additional duties include recruiting new staff and in coordination with regional managers, they establish most cost effective marketing and hiring strategies.[8+ Store Manager Job Description Templates]
Holders of this position have the responsibility of employing staff equipped with skills through training and orienting them on goals of the organization. The HR lays down the terms of employment to staff and pay them on time. It involves solving of any work complaints among the employees for positive progress.[9+ Human Resource Job Description Templates]
It is important to have strategies on channeling your products to the market. Marketing director comes in to manage marketing tasks, and oversees the firm's marketing professionals and functions of marketing procedures. He maintains communication between clients, vendors and other managers. He makes sure that budgets are concise and that every marketing task goes as planned.[7+ Marketing Director Job Description Templates]
Financial advisors are professionals with knowledge on finances. They give their clients planning and budgets concerning investments into businesses. They come very handy when clients want to retire, or making decisions on financial spending. The advisors should be able to listen and sympathize with the customers, explain complex ideas and show sense in their decisions.[9+ Financial Assistant Job Description Templates]
These enthusiastic and warm personalities are obliged to receive clients, direct them to available seats, present the menus and inform kitchen personnel on the customer's requests. They make reservations as per the customer's wishes. Other duties include maintaining the tables, courteously inform customers when tables are all occupied and assist room service when needs be.[10+ Hostess Job Description Templates]
Recruiting tasks are inclusive of advertising job openings, receiving applications from interested candidates, evaluating their qualifications and giving orientations to successful candidates. The post calls for the holder to advertise the workplace positively and nurture relationships with candidates during the selection process. Habitual follow-ups are made to ensure effectiveness at work.[10+ Recruiter Job Description Templates]
Organizing and monitoring the workflow, recruiting and training new staff and conducting appraisals are among the key tasks in this vocation. It requires the concerned person to establish and enforce organization standards employees conform to. Other obligations include evaluating new equipment, overseeing repairs of malfunctioning equipment, accept resignations and approve leave times.[10+ Supervisor Job Description Templates]
Graphic designers work in liaison with copywriters, printers, stylist, illustrators, photographers, account executives, marketing specialists and web developers to come up with creative and profitably new concepts. In addition to drawing rough sketches that portray their skills, graphic designers establish design solutions for magazines, exhibitions and corporate identity among other things that have maximum visual impact.[10+ Graphic Designer Job Description Templates]
Since sous chefs are in charge of planning and directing the preparation of foods in restaurants, they supervise the entire kitchen staff and look out for problems to prevent their occurrence. Outside the kitchen, they assist in apprenticeship and development projects that improve the efficiency of their staff. In addition, they reward and disciple the staff when necessary.[8+ Sous Chef Job Description Templates]
The main duty of a civil engineer is to manage different projects in the construction industry. The job further involves designing, surveying and assessing diverse projects. Moreover, a civil engineer undertakes market research to identify latest trends in the construction industry. Qualifications for the job include having advance knowledge of civil engineering and effective communication skills.[9+ Civil Engineer Job Description Templates]
Physical therapists diagnose then treat patients across all age groups who could be ailing from medical or health-related conditions that alter with their movement and general physical functionalities. They examine clients and come up with treatment plans that will enhance their potential to move while reducing pain, restoring functionality and preventing disabilities.[9+ Physical Therapist Job Description Templates]
A marketing coordinator is responsible for the creation and implementation of marketing ideas in a company. The job entails controlling the flow of information, supervision of junior staff and setting policies in an organization. Qualifications for the job include advanced knowledge of marketing strategies, effective communication skills and ability to work in a team.[13+ Marketing Coordinator Job Description Templates]
Law enforcers have had a lot of work to respond to crimes, so it is eligible to prevent this from happening by getting good security. A security officer patrols around the premises, answers alarms and investigate disturbances. He authorizes entrance of visitors and employees, calls for emergencies like fire, robbery among others. He writes reports on every activity that is taking place in the enterprise. Integrity, emotional control, dependable, safety management skills and report skills make the best person for this position.[13+
Security Officer Job Description Templates]
The main duty of a server is to guide patrons in selection of food or beverages and to avail the chosen items in hotels, restaurants and bars. The job requires vast knowledge in customer service, basic mathematical skills, ability to maintain proper personal and work place hygiene as well as skills in effective communication.[10+ Server Job Description Templates]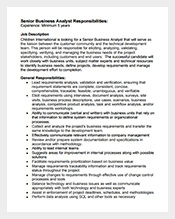 Business analyst acts as a bridge between IT and the business stakeholders. He is the type of individual who has the ability to understand the needs of stakeholders and respond to their changing business needs. They offer solution to organizational information problems and needs by analyzing, designing computer programs, recommending controls and protocols, and improving system.[10+Business Analyst Job Description Templates]
There is no company, whether big or small, that can function without an administrative assistant. Every company therefore needs an administrative assistant to help handle the general responsibilities to keep the company running. An individual with interpersonal skills, good communication, and corporate organization make the best individual for this job.[9+ Administrative Assistant Job Description Templates]
Every office needs operation efficiency; CEO's hire office managers to ensure that every task in the office run efficiently. Qualifications include but not limited to ability to work under minimal supervision, attention to details and good communication. They are responsible for implementing office rules, ensuring that employees adhere to all the office standards at the company.[10+ Office Manager Job Description Templates]
Executive assistants are responsible for the day-to-day running of the company. They are their executives' speakers, always speaking on their behalf when they are not in at work. They can arrange and schedule meetings, introduce and implement necessary changes in the organization, and make travel arrangements. They must be keen to details and have years of business experience to operate efficiently.[8+ Executive Assistant Job Description Templates]
Have you ever wondered who is behind efficient running and management of companies? We are all tempted that general managers spearhead this role whereas the operations managers are actually the ones behind the successful operation of companies. The develop company budgets, help manage finances and implement policy controls. They need to have professional communication skills and vast experience in financial management.[9+ Operations Manager Job Description Templates]
Marketing managers know perfectly well that products cannot sell themselves; even the best product needs exposure to the market or the target audience through marketing. Working closely with a full time marketing team as well as marketers on contract, the marketing managers create and implement effective marketing strategies for effective marketing.[10+ Marketing Manager Job Description Templates]
A general manager appears at the top of any organizational structure. They not only ensure that the company runs smoothly throughout the year, but also they make sure they develop strategic plans to move the company forward. They suggest organization changes, and work with all members of staff to implement these changes.[9+ General Manager Job Description Templates]
Companies and businesses in the modern world hire responsible, skilled, and experienced controller to help protect their assets through financial control enforcement. Every controller, as required by their companies, must create and deliver periodic financial records and provide statements of financial conditions through evaluation and compliance. They are also responsible for controlling the systems of accounting records.[11+ Controller Job Description Templates]
Many people need oral health care. Surprisingly, this service is extremely necessary that almost everybody needs it. Because of a lot of work in the dental care industry, a dentist cannot alone; he needs the help of a dental assistant. They help patients to get comfortable before treatment starts, and during and after dental operation.[6+ Dental Assistant Resume Templates]
A cashier must handle all cash transactions with their clients. Therefore, they scan products before making sale referrals, collecting payments or issuing refunds, change or tickets. They assist in resolving clientele complaints and advise them appropriately. Occasionally, they redeem coupons and stamps. They can also box, bag or wrap products.[9+ Cashier Job Description Templates]
A sales associate is responsible for marketing and sale of products through direct interaction with clients. The job entails provision of information about a product's benefits, uses and latest brands available in the market. Ability to work in a team and for a long period with minimal supervision and persuasive skills is highly recommended.[8+
Sales Associate Job Description Templates]
A medical assistant prepares a patient psychologically and physically for a medical examination. The job also entails preparing medical equipments, filling medical records, assisting in the admission of patients and scheduling doctor and patient appointments. Qualifications for the job include having a diploma or a degree in a medical related field as well as possessing skills in communication.[10+ Medical Assistant Job Description Templates]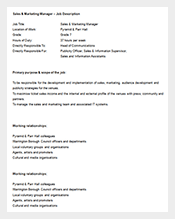 Since they are categorized in regions, area Sales Managers focus on increasing and maintaining high sales of their company's commodities and exceeding the targets set for their areas. They allocate given sectors to sales representatives, train, recruit the sales staff, compile, and analyze sales statistics. They deal with major clients and report to top managers.[10+Sales Manager Job Description Templates]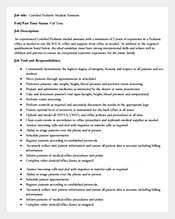 It is a thrill feeling to become a parent, but it's hard to understand children's health especially to new parents. Well, pediatricians have specialized in dealing with the ailments of children. He or she treats the physical, behavioral and mental health of children in age up to 12 years. A pediatrician has to have good qualifications, understand the health how to help and prevent diseases in young ones.[7+ Pediatrician Job Description Templates]
From inception of a project idea, gathering project resources and funding to project completion, project management requires more input than you can think or imagine; the management is even more complicated for complex project. To get the best output, companies do the best they can to find the best Project Managers who can help manage these projects efficiently.[9+ Property Manager Job Description Templates]
Although companies hire only one project manager to be in charge, having a team of project managers can put the company ahead of the stiff competition in the market. Project Manager can work with CEOs as well as with general managers and their assistants for the benefits of the company.
More in Business