Loans are important for businesses to survive and achieve sustainability. These simple loans are mostly used to purchase or rent new equipment and invest in various sample marketing materials. Loans, in a way, are similar to investments in which money is poured into the general company, but is eventually paid to the investor or financial institution with interest. You may also see proposal samples.
663+ Restaurant Templates in PDF, Word, Excel, PSD, Google Docs, PowerPoint, InDesign, Apple Pages, Google Sheets, Publisher, Apple Numbers, Illustrator, Apple Keynote, Google Slides, HTML5 - START DOWNLOADING
Restaurant Loan Proposal Template
Business Loan Proposal Template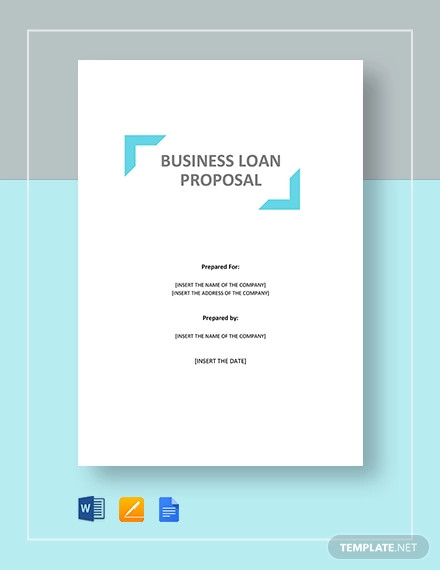 Business owners are usually the ones who apply for loans for their respective companies. Business Loans are usually obtained from banks and private lending companies as these institutions offer safe and accessible loan processing.
Bid Proposal Template
Simple Project Proposal
Basic Proposal Outline Word Template to Print
Restaurants and Hotels are no different when applying for loans. Similar to the statement above, restaurant owners use the loan money to purchase or rent new kitchen equipment such as ovens, ranges, fryers, coolers, freezers, tables, and utensils. Loans can also be used to invest in marketing materials such as creative posters, elegant flyers, and various restaurant best decorations.
Business Partnership Proposal Template MS Word
Here are some creative multipurpose loan proposal templates you can modify and use for your restaurants, best cafes, bakeries, or other food businesses. Once you get your loan approved, the money will help you replenish your daily costs as well as make sure restaurant operations continue to proceed smoothly.
Marketing Proposal Template
How to write an effective loan proposal
Generally Loan proposals are very effective when written properly. Here are some tips to help you write a loan proposal that increases the chances of your loan request being approved.
Do not forget to include your executive summary
Banks will be looking at the legitimacy of your company when you are applying for a personal loan, so include basic information about your enterprise in the loan proposal. The executive summary should include the business name, products and services, years in operation, location of office or offices, contact number, website, and other online portfolio details of your company. Banks and other financial institutions will be looking at your executive summary first, so make sure all the details are correct.
Be specific with the loan amount
The next thing that banks will be checking is your loan request amount. Your main purpose is to get a loan, so make sure the amount you request is not too big that the bank or other business financial institution will doubt your ability to repay it along with the interest fees.
Do include financial statements
Banks and lending institutions will be looking at your capacity to pay off your loan request. If your restaurant is already up and running, providing financial statements (i.e. income statements, balance sheets, cash flow statements, etc.) is mandatory as it increases the chances of getting your loan request approved. Make sure that the data you present is accurate and verifiable so you will not run into any issues. Do not forget that banks and other financial institutions have their own team of appraisers and credit investigators to make an marketing analysis regarding your loan, so make certain your records are correct.
We hope you find our loan proposal article useful for when you are about to make your restaurant loan proposal. We also included some tips on how to make effective loan proposals, so get that loan proposal request approved now!