For any business, a marketing plan is crucial to have. A marketing plan samples is a plan developed by businesses that keeps tabs on public outreach and advertisement. Having a photography marketing template helps businesses to estimate their profits and understand the needs of people through statistical research. Being a photography studio, it is necessary for you to have a marketing plan to understand the needs of your demographic seeing as you deal in the public interest.
108+ Photography Business Templates in PDF, Word, Excel, PSD, Google Docs, InDesign, Apple Pages, HTML5, Google Sheets, Publisher, Apple Numbers, Illustrator - START DOWNLOADING
5 Steps to Write a Photography Marketing Plan
Step 1: Use Clear Fonts
To have your marketing team and staff understand your vision and plans, you must assure that your fonts are clear and readable. Having clear and readable fonts makes it easier for people to understand what you are trying to express. Not only do fonts enhance the impression your content creates but also means a lot in an industry where looks matter the most.
Step 2: Minimalist and Elegant Design
Your marketing plan can have pops of colors and design of your choice, but try to keep them as minimal as possible. Minimalist Design appeals to the vision but not so much that it completely hijacks the purpose of the plan. Keep your design minimalist so that people focus on the plan rather than the design.
Step 3: Easy Language
The purpose of a marketing plan is not to over complicate the brochure with difficult language. The purpose of the plan is to make people understand how you plan on pursuing certain marketing goals using certain methods or reaching out to customers. Use easy flowing language so that people can understand your plans better.
Step 4: Use Several Subsections
To make the document readable and approach worthy, create several sections to explain every single crucial detail. Creating several subsections will not only keep the reader from being bored, but it will also keep confusions at bay. When your marketing plan is easy to skim, every reader will be able to find what they need without having to wade through hundreds of words.
Step 5: Mention the Name of Your Studio
Last but not least, do not forget to mention the name of your studio at the very start of the template. Doing so will indicate that the marketing plan you've used is unique to your business. It will also stop competitors from using your templates as their own. Try to use your logo and brand caption and enclose a list of premium clients to whom you've delivered your service in the past.
9+ Photography Marketing Plan Templates
Photography Marketing Plan Template
Printable Photography Business Plan Template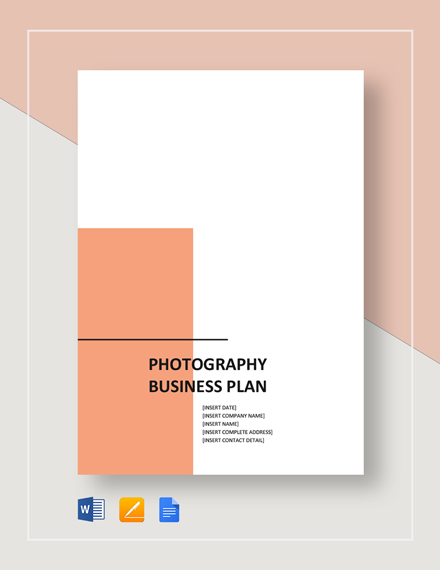 Commercial Photography Business Plan Template
Photography Event Marketing Package Sample
Download
If you are planning on handing out your marketing plan to the targeted demographic, this marketing package is for you. It is minimalist and the pictures on the template can be customized. The pictures can be customized to suit and cater to your targeted demographic. The marketing plan template is premium and comes in ZIP format.
Sample Photography Marketing Template
Download
This template is classy and elegant with pastel and soft colors surrounding it. The template's primary colors are white and black, other colors can be added through the addition of photographs. The addition of photographs can easily change the mood of this marketing plan template. Trust this elegant marketing plan template to help you make the perfect impression in clients.
Creative Photography Flyer Template
Download
Modernist and classy, this photography plan template is great to use if you are showing your marketing plans to your customers. The primary colors in the amazing photography flyer templates are black and white. The template is customizable and pictures can be added to change the mood of the template. It is a premium to download and is available in PSD format.
Professional Photography Marketing Set Example
Download
This marketing set is specific to a certain demographic. It is classy and attractive in nature. The primary colors here are white and black. Catering to newborns and their parents, the photography marketing plan template has soft and approachable tones. The template is easily customizable. This template is just awesome for photographers specializing in baby photography.
Editable Photography Business Plan Template
If you are just starting out as a photographer on a digital platform, this template is the best option for you. This photography business template focuses, particularly on digital marketing strategy. The photography business plan template is elaborate and simple to understand, covering almost every ground. The template is also free to download.
Elegant Photography Marketing Kit Sample
Download
The template is topped by cursive writing and looks beautiful. The template for the marketing plan looks efficient and classy. The primary colors here are black and white. The design used here is sure to enchant potential customers and help your business. The marketing plan sample template is premium and is available in a PSD file. Download it today and you will be able to make an impact almost immediately.
Best Photography Marketing Kit Example
Download
This kit is an elaborate photography marketing plan. As the name suggests, the kit is minimalist and class in nature, coming in primary tones of black and white. The addition if pictures in white tones will adhere perfectly to the theme imagined for the sample simple marketing plan template. The kit is a premium and comes in PSD format.
Modern Photography Marketing Plan Template
Simple and elaborate are the only two ways to define this template. The template is efficient and is specifically for your professional endeavors. The marketing plan template is detailed and to the point, making sure that everyone who reads your marketing plan gets it through and through with little confusion. The template is free to download, which makes it super special for wedding photographers looking to expand business on a budget.
Photography Marketing Plan Template
This photography marketing plan template is the dictionary definition of how photography marketing plan templates should look like. The primary colors on the template are black and white. The design here is minimal. The sample photography marketing template is free to download and is great if you want to be elaborate with your plan.