Marketing
6+ Marketing Questionnaire Templates in PDF | DOC
From knowing the perception or feedback of your target market with regards your marketing activities up to identifying the factors that can affect the potential successes of a marketing launch event, marketing questionnaires can be used for different purposes that can be very useful to your organization and its stakeholders. Make sure to check out different marketing templates so you can format a detailed marketing questionnaire effectively.
Table of Content
6 Steps for Making an Effective Marketing Questionnaire
Using a marketing questionnaire to gather data that can help you better your marketing efforts is a great business marketing strategy. Below are the steps that can help you make a specific marketing questionnaire for a particular data gathering endeavor that you must execute for your business or marketing team.
Step 1: Download an Outstanding Marketing Questionnaire Template
A properly-structured marketing questionnaire layout can be achieved if you will use templates for your formatting needs. There are numerous questionnaire templates in Word, Excel, PDF, and other formats that you can refer to depending on the particular type of marketing questionnaire that is needed by your business or organization.
Step 2: Draft All Your Marketing-Related Questions
Before modifying the marketing questionnaire template that you have selected, you first need to have a draft of all the questions that you will include in the actual marketing questionnaire document. You have to complete your draft and evaluate it afterwards to make sure that all questions, when answered, can provide you with the marketing feedback or observation details that are necessary for your marketing planning and assessment activities.
Step 3: Provide a Title and a List of Questionnaire Instructions
To start the modification of the market research questionnaire layout and content, develop a title that can help you easily identify the document. You can also include your business or organization header on top of the title if you would like to. After this, provide a list or a set of instructions that can help your target respondents easily answer the marketing questionnaire.
Step 4: Develop the Content of the Marketing Questionnaire Body
Have a standard question listing. Your marketing questionnaire should present relevant questions related to a particular marketing subject matter, purpose, and/or objective. Organize the presentation and flow of your questions so you can have a presentable and formal marketing questionnaire document.
Step 5: Write Any Relevant Notes, Reminders, and/or Disclaimers
If you want to provide more information about the marketing questionnaire, you can create a footnote which may contain reminders, results usage specifications, or any disclaimers if applicable. Make sure that the details in this area of the marketing questionnaire will not confuse or mislead the entities who answered the document.
Step 6: Produce the Approved Version of the Marketing Questionnaire
Check all the items and features within the marketing questionnaire. Remove all errors before sending or handing the marketing questionnaire to your desired respondents.
6+ Marketing Questionnaire Templates
1. Market Research Questionnaire Template
unomaha.edu
Make sure to use references if you plan to begin the creation of your desired marketing questionnaire. You can refer to a marketing research questionnaire template if you would like to immerse yourself in marketing research undertakings where the participation of respondents is an important factor that can impact your potential successes.
2. Marketing Plan Questionnaire Template
wcmarketingsolutions.com
Just like when developing a medical questionnaire, you also have to be professional when creating a marketing plan questionnaire template. You have to be careful and mindful when selecting the language that you will use for your marketing questionnaire templates presentation. All your questions must be formal and appropriate within a professional marketing environment so you can set the mood or tone of the marketing questionnaire usage.
3. Basic Marketing Questionnaire Template
facetpublishing.co.uk
A basic marketing questionnaire template is an important data gathering tool that your marketing team can use to get necessary information about a marketing process, activity, relationship, and/or transaction. Aside from having a comprehensive sample HR questionnaire, ensuring that your business has a marketing questionnaire can help you with your endeavors in relation to knowing how your operations, offers, and marketing efforts are perceived by your stakeholders.
4. Marketing Conduct Questionnaire Example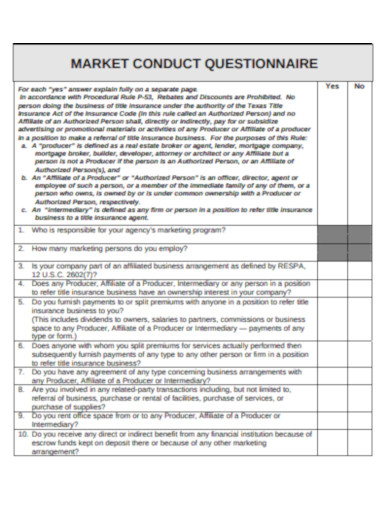 tdi.texas.gov
Your marketing conduct questionnaire example should be well-formatted. Focus on the development of the survey questionnaire layout so you can use it accordingly and easily once you are already done drafting your marketing questionnaire content. Being able to format the marketing conduct questionnaire in an impressive manner can let you have an effective output which can properly assess the quality of your marketing conducts based on the impression and observations of other entities.
5. Standard Marketing Questionnaire Template
key-dynamics.com
There are general details that are commonly seen in a basic or standard marketing questionnaire. However, you should still use a free marketing template based on the purpose that you would like your marketing questionnaire to serve and the objective that you want to achieve. You need to remember that you should always be focused and well-directed during the entire development of a standard marketing questionnaire template so you can see to it that all your specifications, requirements, and plans are properly identified and will surely be materialized.
6. Marketing Activities Questionnaire Template
phonakpro.com
If you need a comprehensive and detailed marketing activities questionnaire template tool, it is essential for you to prepare the details of the sample survey questionnaire appropriately. Use outlines and other organizational tools that can enable you to gather all the details and variables that you need to cohesively put together so you can have the marketing questionnaire that you envision.
Are you planning to create a marketing questionnaire? If you want a marketing questionnaire that you can optimize, use marketing questionnaire template samples and other references that can help you develop the content and layout of an impressive marketing questionnaire. Ensure that you will look into the downloadable template samples that we have listed above.
7. Marketing Questionnaire Template in DOC
postcardmania.com
More in Marketing