Design Templates
10+ Agency Billboard in Illustrator | InDesign | Pages | Photoshop
Have you ever heard of a new song because of a billboard advertisement? Or tried a new delectable cuisine? Indeed, this powerful and noticeable marketing tool is an effective way of telling audiences about your product and services. In this fast-paced and modern society, information is passed from one person to another in a split-second speed. Thus, capturing the eyes of your target market within that timeframe is essential for the success of your advertisement. With all the available materials you can use, there's one to consider when endorsing your business—billboards and banners. This article offers a variety of billboard or banner templates that you can use to market your commodities.
Table of Content
10+ Editable Agency Billboard Templates – Illustrator, InDesign, Pages, Photoshop
Designing an advertisement, especially for billboards, can be exhausting if you don't have a guide. So, here are some useful, well-organized billboard templates you can utilize for your business.
1. Advertising Agency Billboard Template
Are you looking for marketing materials for your advertising agency? No problem! This template is perfect for your business. The Advertising Agency Billboard Template has a colorful layout complete with bold letters for emphasis. White color over darker shades is an attractive concept. Don't wait for tomorrow and get this modern banner template now.
2. Travel Agency Billboard Template in Illustrator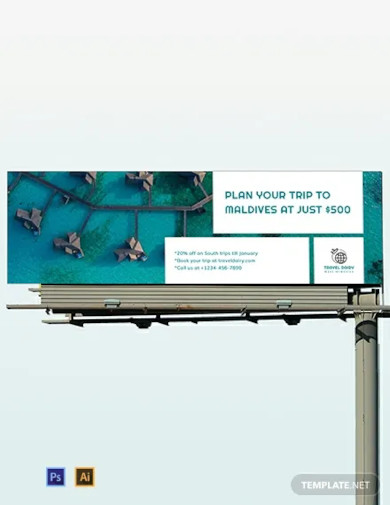 Every now and then, someone is planning a trip to another country. If you have a travel agency business, you should promote your services to the public. Whether it's a holiday vacation to Malaysia or South Africa, you need to exert effort to gain the attention of viewers. The Travel Agency Billboard Template in Illustrator has a simple layout that maximizes space for an entrancing photo of the dream location. Editable in two applications, including Adobe Illustrator, this template is very convenient. Grab a copy now!
3. Creative Agency Billboard Template
Sometimes, getting the opinion and suggestions of experts on the format or layout of a business's advertising materials is essential. If your expertise is giving out professional assessments on the creative output of other companies, then you should utilize this template. The Creative Agency Billboard Template in InDesign has a visually-pleasing format that catches the eye of viewers. Customizable in Adobe InDesign, this template is useful for occasions. So, get a copy of this sample right now.
4. Real Estate Agency Billboard Template
Even well-established companies need to have more than one marketing tool. Together with advertising posters, you should also have a billboard advertisement signage to broadcast your products and services. The Real Estate Agency Billboard Template features light blue hues that bring out a refreshing vibe. Surely a sample template not to miss, download a copy now!
5. Car Agency Billboard Template
Showcase the stylish vehicles you sell in your store using this excellent and well-organized template. The Car Agency Billboard Template optimizes space to highlight the products of the company. Spaciousness and white space is a great combination to try for your endorsement. Download this template this instant.
6. Photography Agency Billboard Template
Billboards help heighten the visibility of companies. If you're looking for ways to make your services known to the public, using sample banners will help strengthen your publicity. The Photography Agency Billboard Template takes commands of the canvass with its beautiful arrangement and easy-to-read fonts. The yellow background brings out the best of the design. Make this yours by clicking that button right now.
7. Free Fashion Agency Billboard Template
Promote your fashion agency by utilizing this trendy and sophisticated template design. The Free Fashion Agency Billboard Template proves that white space is an attractive choice for an advertisement. This template, which uses red hues to emphasize important details, has an outstanding layout. Get yourself a copy of this exceptional template sample now.
8. Free Startup Business Agency Billboard Template
Using neutral colors can be an effective way to market your product. Moreover, some people find brown and whites more appealing than brighter shades. The Free Startup Business Agency Billboard Template has a minimalist yet creative output complete with a well-arranged content. Download this banner template with a business plan template for the future of your business.
9. Free Furniture Agency Billboard Template
Light green as the dominant color for your endorsement is a great option to take. The Free Furniture Agency Billboard Template has two sections for the information about the company. This simple banner template has legible fonts for the benefit of the readers. Don't miss the opportunity and download this right away.
10. Food Advertising Agency Billboard Template
Foods, no matter how tasty-looking they are, need to have an endorsement. The Food Advertising Agency Billboard Template has an easy-to-navigate format with posh color patterns. This ready-made banner template is convenient and well-rounded, so click that orange button now.
11. Bus Stop Billboard Sample
A different orientation, such as a horizontal format, is an interesting way of promoting your goods to the target market. The Bus Stop Billboard Sample, which can be a roll-up banner, has an aesthetic arrangement complete with elegant fonts. Located in a busy street, people will get the chance to see the content of the advertisement. Download this great template right now.
5 Steps in Designing an Agency Billboard
Step 1: Filter the Information
Despite being an old medium, dating back to the 1800s, billboards are a booming ad medium in this digital-dominated society. There's no denying that it continues to draw the attention of passersby, especially when outlined with a daunting and unique arrangement. So, for the layout of your agency billboard design, filter the information which will have a place in the output. Also, make sure that you have an exceptional design idea.
Step 2: Add Photos
For your creative banner or billboard, you have to provide attractive photos. Before anyone reads the sentences in your advertisement, they will first notice the images. Therefore, you have to make the signage appealing to the audience. For instance, if you're a travel agency, you need to utilize breathtaking vacation photos to entice people to call your company.
Step 3: Include Your Slogan or Tagline
If your organization has a slogan or a tagline, it's advisable to use them in your design. You can also use another typeface, like Fonts Roboto, to make your tagline stand out from the content of the billboard design. After all, these simple phrases are also a promotional tool for your company—being something that people remember when they think of your company.
Step 4: Evaluate the Final Design
After compiling the details and editing the banner template, you can evaluate the design. Look for errors in spelling or placement of images and make sure that you can re-edit it before putting the signage up. If you think that the font is off, you can change with another typeface. Talk to your team and ask for feedback.
Step 5: Put up the Signage
When you're satisfied with the look of the banner, you can have them printed for installment. Choose locations, like buildings and parking areas, that are teeming with people. Having your advertisement placed in a crowded place is a marketing strategy to gain viewership.
More in Design Templates