Plan Templates
12+ Capital Investment Proposal Templates – PDF, DOC
Are you an inventor, entrepreneur, or an investment sample banker looking for private patrons, angel investors or venture capitalists who can help launch a start-up company or fund a fledgling business idea? If yes, you know that a well-written capital investment proposal is one of the key things needed in order to get the funding ball rolling. You may also see proposal samples.
Small Business Investment Proposal Template
Investor Proposal Template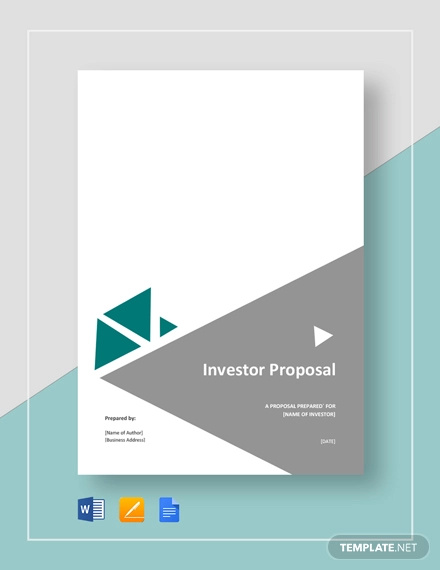 That is why, in this article, we will share to you actionable tips on how you can create the perfect investment summary or proposal and make sure that investors will come knocking on your door. You may also see Sample Proposal Templates.
Business Investment Proposal Template
Listed Below are Capital Investment Proposal Templates
Before we get into the specific details of investment proposal writing, we present to you multiple examples of capital investment proposal templates. All the templates listed on the site are available for free and you can use them as a guide when drafting your own investment proposal. You may also see Simple Proposal Templates.
Annual Proposed Capital Investment Proposal Template
mwdh2o.com
Strategic Capital Investment Proposal
moderngov.lambeth.gov.uk
What is a Capital Investment Proposal?
Capital investments are the funds or seed money provided to start-up companies or businesses in order to propel their business growth. When you write a capital investment proposal, you are basically creating a written pitch of how an investor's money can be used to develop a simple business.
Therefore, capital investment proposals are written documents that describe in great detail how a person's or an entity's money (capital) may be given or loaned to another business entity's for the latter's potential success in exchange for a share in profit later on. You may also like startup investment proposal templates.
Capital investment proposals may be created for large, medium, and small businesses. And usually, businesses who require capital investments from angel investors and venture capitalists are those from emerging industries that have increased growth potential but also have an increased investment risk.
This is where well-made simple investment templates come in. Entrepreneurs, inventors, and business owners can create their own investment proposal templates and make sure that these written pitches attract the attention of any potential investor.
These templates are pre-made documents that will contain the most basic outlines or prompts that will guide you in writing your own capital investment template. Using these printable templates does not mean that you get a pass on writing a proposal template. It will just serve as a guide and will help you cut down on the time spent in researching and formatting your investment proposals. You will still need to write the content of the actual investment proposal and adapt it to match the actual details of your own business or idea.
In the next few paragraphs, we will share to you just how to achieve that will our list of the top things to do when writing your own capital investment proposal template. Read more about it below.
Apparel Industry Capital Investment Proposal Template
occrp.org
Printable Capital Investment Proposal
limerickregeneration.org
Capital Investment Bond Proposal
collegeillinois.org
Blank Capital Investment Proposal Template
startupgreece.gov.gr
Capital Investment Funding Proposal Template
xred.co
Tips on How to Write a Good Capital Investment Proposal Template
As promised, we are sharing the top tips on how to write a compelling capital investment template below. Read each tip carefully and make sure that you internalize them during your proposal template writing process. You can also see business investment proposal templates.
1. Always show how an investor will make money from your business or idea.
A capital investment proposal's main goal is to gather funds from any kind of investor. And, of course, no investor is willing to give you money if they do not know what is in it for them. That is why if you want to create the best capital investment pitch, you need to clearly state the potential earnings of your business and how you can achieve that. You can also read real estate investment proposals.
If you believe in your company or in your business idea, you will know that you can take your business to greater heights as long as you are given the right amount of funds. You should then translate all these management and leadership skills into a smart action plan that will both benefit you and any potential investors.
For example, you can include a rough estimate of the earnings potential of your proposed business and back this with actual calculations done by an accountant or auditor along with real-time projection based on the latest market research trends. When done just right, an investor reading your proposal will almost be convinced.
2. Focus on your background if relevant to your investment proposal.
Investors are always looking for business managers, CEOs, and teams who are competent with what they are doing. Having a good management team is often one of the key things that they will look for prior to investing in any kind of business as this is a sign that you can make your business succeed. You can also see venture investment proposal templates.
However, if you (as the lead entrepreneur or company owner) do not have a solid background on the industry or field where your business is operating in, it is best to not emphasize this on your capital investment proposal. You can also read property investment proposals.
Remember, focus on the things that will help elevate the status and value of your business or idea to the investor. Check out this article for more tips on how to create an investment proposal for restaurants
Equity Fund Capital Investment Proposal Template
run.unl.pt
Proposed Capital Investment Plan Proposal Template
water.ie
3. Be honest about the amount of money you need and other business concerns.
Another important tip that business owners should do when writing a capital investment proposal is to be open as to how much funding they need and what they intend to do with the money. Honesty or, at least, transparency in your written proposal will translate to genuineness and this is something that most investors will appreciate.
Also, investors need to know that you (the business owner) are serious about managing and opening new trade opportunities for your company. This is important for them because they will also benefit when your company succeeds. You can also see stock investment proposals.
So on your capital investment proposal, you should include a section where you create a list down of how the capital investment or money will be spent on. This may include the purchase of new fixed assets like equipment and land or this may even include hiring new employees. Whatever you think will benefit your company, write this down on your capital investment proposal. You may also see small business investment proposals.
4. Write about the scalability options of your business.
In the internet age, scalability is now an important factor that most investors look into prior to investing in any company or business idea. This is happening because more and more businesses can easily be replicated in different locations all over the world and each time this is done, a business' earning potential increases. You can also read hotel investment proposals.
So, if you are pitching to an investor soon, make sure that your own capital investment proposal includes a well-thought-out section on its scalability and how you can achieve it for your own business. You may also see simple proposal templates.
This tip does mean, however, that if your business is not that scalable for now, then you should just give up on it. If this is the case, you may take time to refine your business methodologies until you develop a more scalable business plan. Or, you can go ahead and present your capital investment proposal (sans the scalability section) to an investor who is more willing to invest in a local business. You may also read real estate business proposals.
Capital Investment Funding Proposal
xred.co
Capital Investment Program Plan
transportation.bellevuewa.gov
5. Make it simple.
When people hear the phrase capital investment proposal, you would readily assume that it is something technical and, therefore, something difficult to create. But as a serious business owner looking for serious business investments, you should take on a different approach to proposal writing. You can also check simple business proposal templates.
In order to convince investors to fund your business idea, remember that you first need to make them believe in the potential of your business. And one sure-fire way to do this is to write a capital investment proposal that they can easily understand relate to. You may also read sample business proposals in a word.
You do not have to dumb down the writing style of your capital investment proposal. Just remember that not all investors are from the same industry as you are and they may not be familiar with all the terms you are using in your proposal or pitch. You can also check out proposal formats.
Avoid using jargon or excessively technical terms. Write your proposal using accurate, clear, and concise words and your investment proposal will already look and read better than others out there. You may also see investment memo templates.
The five capital investment proposal writing tips that we have written above is not an all-inclusive list. Remember this so that you will not feel disheartened if a tip does not apply to your business idea or your company. As long as you have the drive and competence to see results, you will slowly but surely succeed in the future. And hopefully, with the help of all the tips above. You may also see art proposal templates.
Sample Capital Investment Proposal Template
fa.morganstanley.com
Get Ready to Write Your Own Capital Investment Proposal
We hope that you have learned a lot of things while reading this article on capital investment proposal templates and how to write them. Remember that you may always refer back to this article if you need to rewrite your investment proposal or if you want to use any of the perfect investment proposal templates included in this article.
As always, do not forget to share the gift of knowledge by sending this article to your email list or by including this on a social media post for your friends, followers, and colleagues.
More in Plan Templates