Policy Templates
36+ Types of Policy Template Format
No matter what type of employee you may be, even you would know that the company that you work for has a set of policies and procedures that everyone has to follow. The point of these policies and procedures is to ensure the company's stability and order.
However, in the event that current policies have to be changed or if new ones have to be added, then these have to drafted in a document before these can be implemented within the company. This the reason why business owners have to make use of policy templates to help them out.
COVID 19 Work From Home Policy Template
Website Privacy Policy Template
Remote Work Policy Template
Sample Company Policy Template
Company Overtime Policy Template
Computer, Email, Internet Usage Policy Template
Sample Policy Memo Template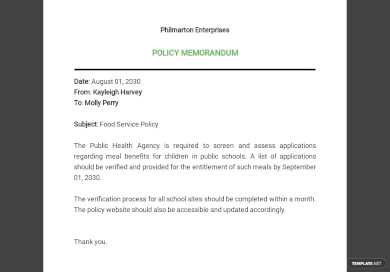 Work From Home Policy Template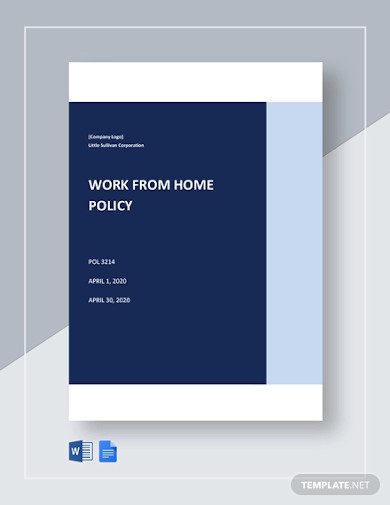 General Environmental Policy
marion.sa.gov.au
Privacy Policy Template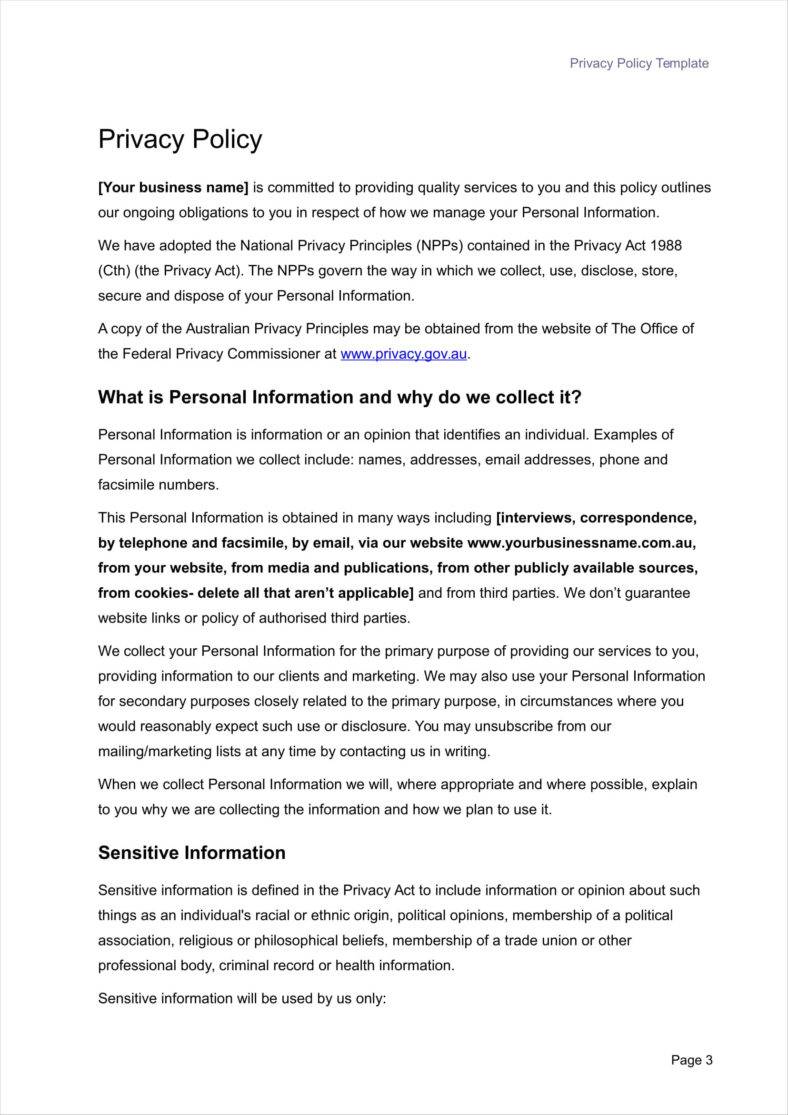 business.vic.gov.au
Company Vehicle Policy Template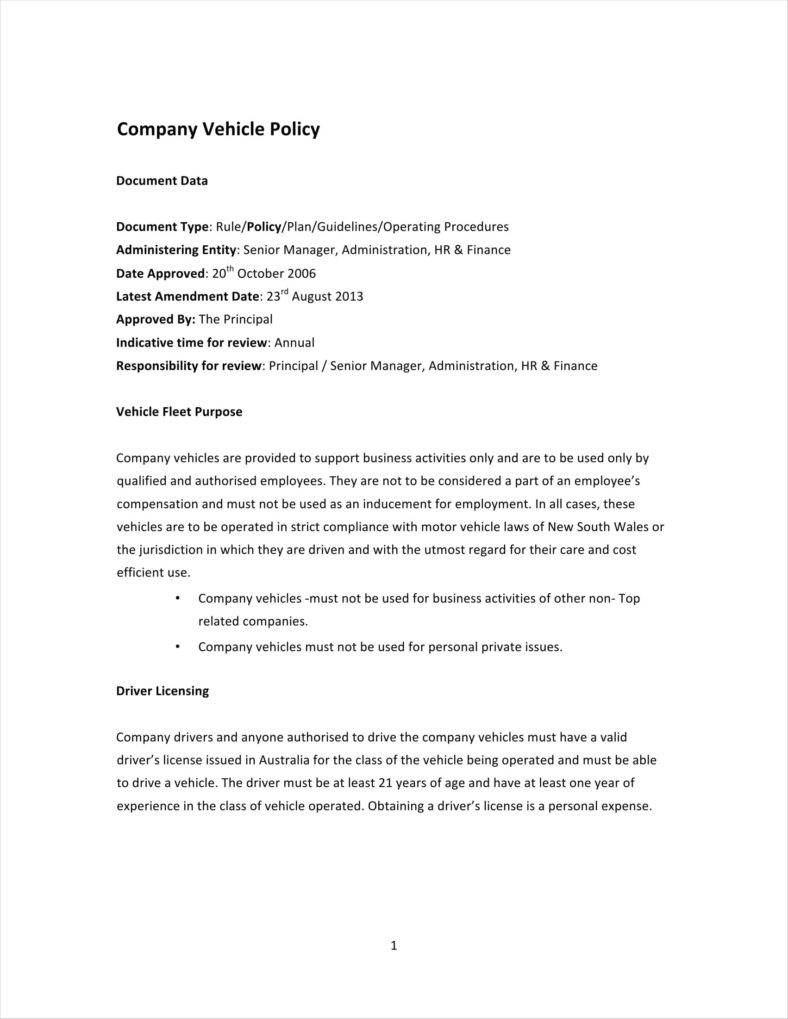 top.edu.au
Agency Social Media Policy Template
ok.gov
Corporate Social Media Policy Template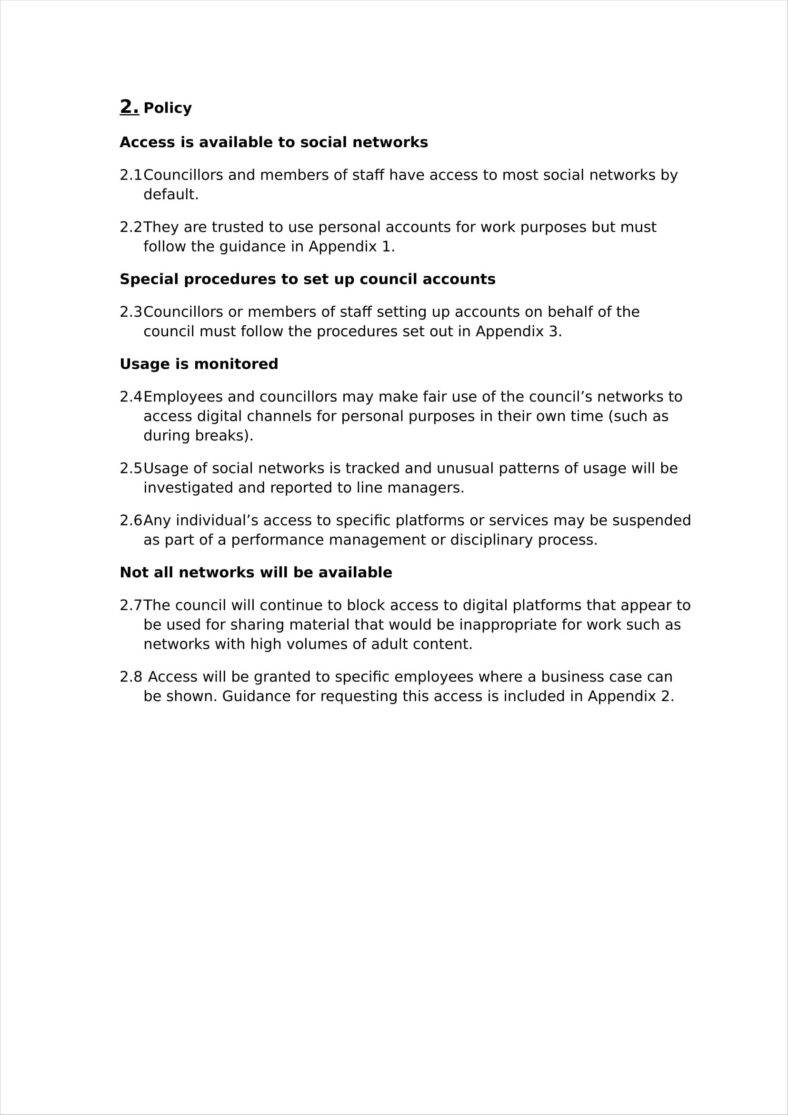 herefordshire.gov.uk
Employee Social Media Policy Template
kdla.ky.gov
General Environmental Policy
marion.sa.gov.au
Privacy Policy Template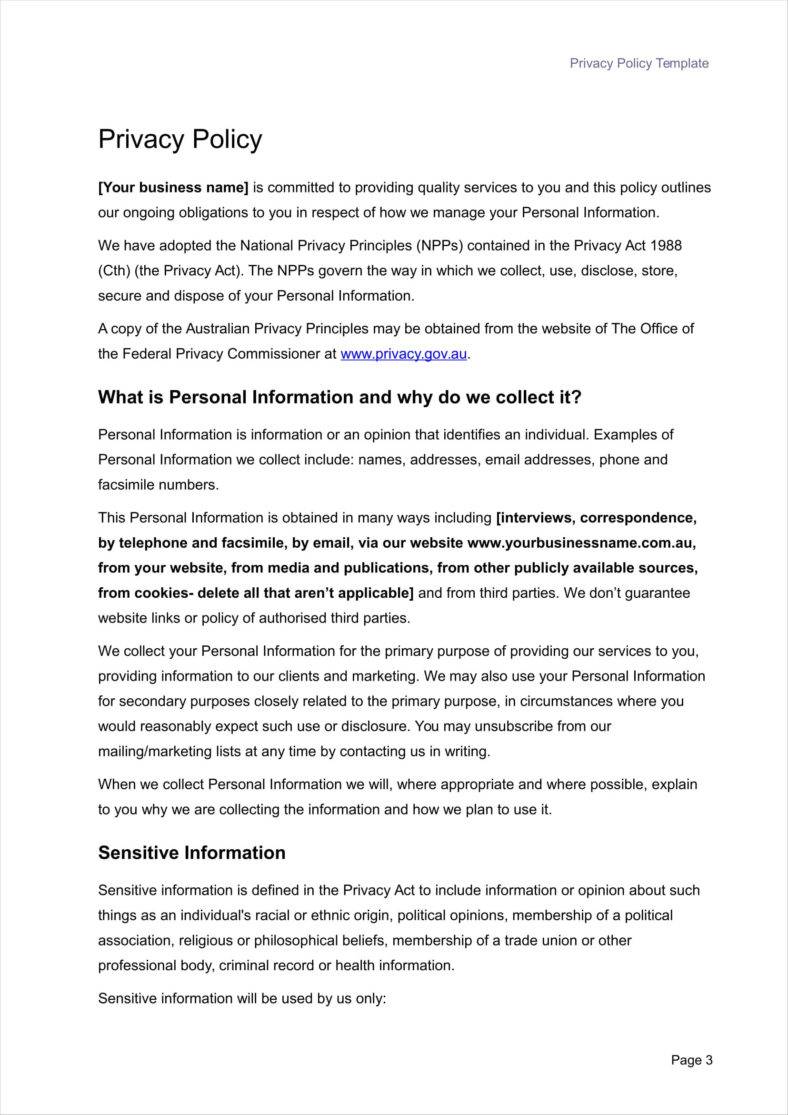 business.vic.gov.au
Company Vehicle Policy Template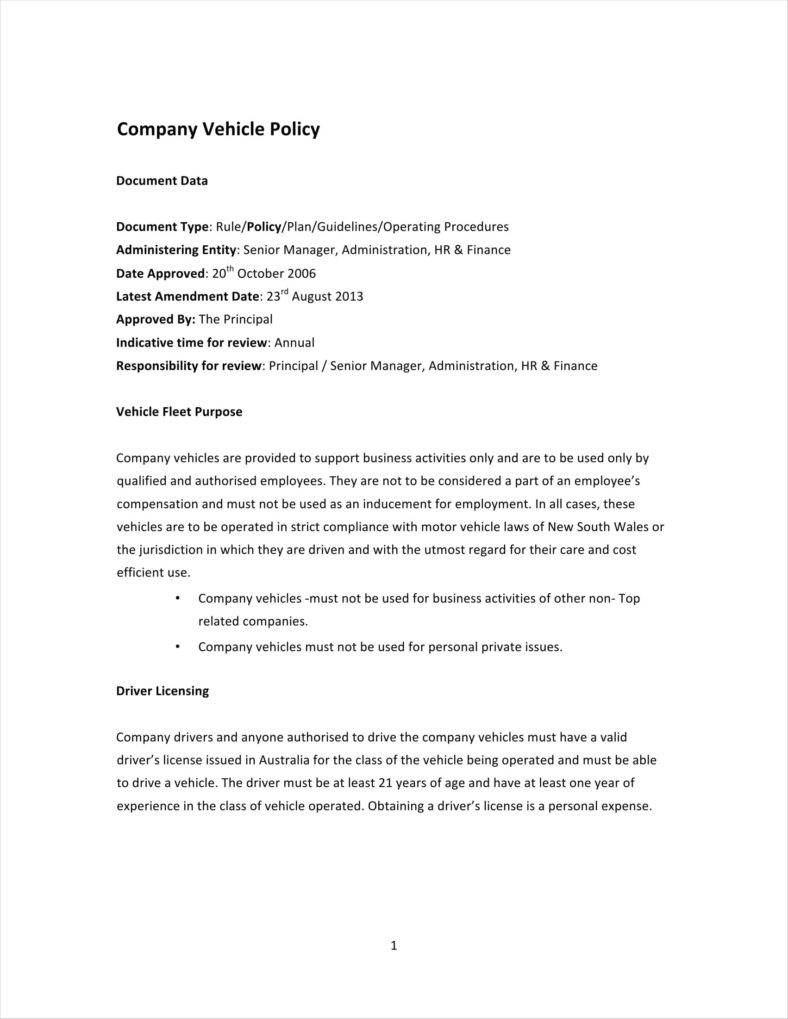 top.edu.au
Agency Social Media Policy Template
ok.gov
Corporate Social Media Policy Template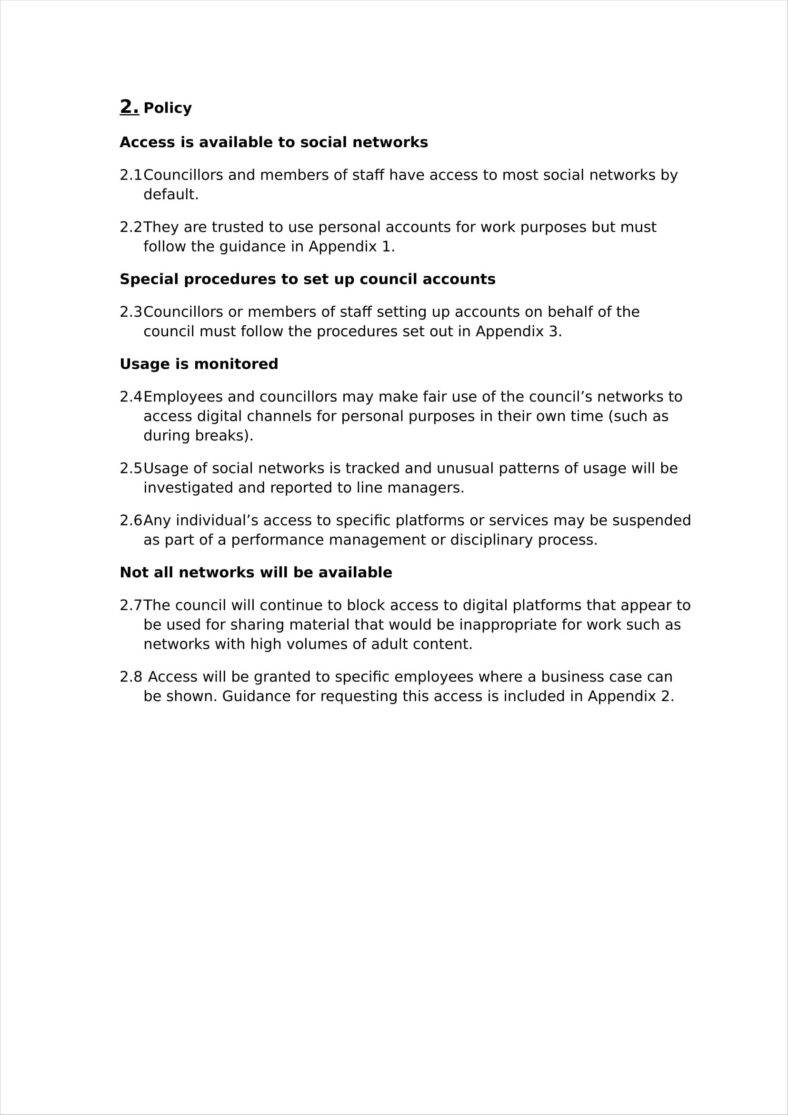 herefordshire.gov.uk
Employee Social Media Policy Template
kdla.ky.gov
What is a return policy?
Let's say that you have an online store, then you're going to need a policy that handles returns. By having a solid return policy, you'll be showing your buyers that you are dedicated to customer service as well as their satisfaction. Even if the customer isn't fully satisfied with the return, being able to handle it in a professional manner can help ensure continued patronage.
This will also help to reduce the time and money it takes when it comes to returns, minimize the number of returns, and ensure customer retention. So you're going to have to make a professional return policy that will ensure customer satisfaction without your company having to spend too much on it.
Tips for creating a good eCommerce return policy
Remember that all sales should not be final. Though you have to stand by the product that you're selling, if the customer isn't exactly enjoying his or her purchase, then you shouldn't make the return process difficult for them. The status of the product (damaged, clearance, etc.) should determine whether the customer deserves a full-refund, partial-refund, an exchange, or no refund at all.
Try to prevent customers from returning your product. The reason why people return products that they have purchased is because they aren't exactly happy with what they've bought. You can minimize a customer's disappointment by creating accurate product descriptions and using proper product photography. By having these product descriptions and photographs, then you'll greatly reduce the amount of returns since the customers will know exactly what they will be getting once they hit that purchase button.
Make sure that you're using simple terms when writing down your policy. You shouldn't be placing jargon that your customer won't be able to understand. Using terms that can only be deciphered by a legal consultant will just prevent your customers from wanting to buy your product. So make sure that you use terms that everyone can understand so that your customers will easily be able to follow your return policy.
Make your return policy easy to find. You have to be sure that your customers can easily locate important information regarding your return policy. So it's best that you place it on your business' website, on customer correspondence, receipts, and even the product package so that your customers will have every opportunity to view your company's return policy.
You'll have to make sure that there are no hidden return costs. Nothing is worse than being surprised with hidden costs. You shouldn't be hiding anything from the customer. Because if the customer is surprised by these hidden return costs, then there's a chance that he or she won't be shopping with your company any time soon. So if the customer is going to have to pay for something such as the return shipping, then you have to make sure that information is present in your return policy.
Your return policy should include a specific time frame in which your company will still accept returns. You wouldn't want to to accept a return that comes in a year after the initial purchase. So that means you're going to have to clearly define just how long until the customer has to make up his or her mind. So it's best that you place in your policy that your customer has either 30, 60, or 90 days to return the product after it has been purchased. You should also have a separate time frame for products that have already been damaged or have malfunctioning parts.
You'll have to state in your policy whether the customer can expect the item to be exchanged, receive store credit, or if he or she can enjoy a cash return. In the event of a damaged or malfunctioning product that the customer is not responsible for, then you shouldn't make the customer pay extra for anything. You'll want to do everything you can to replace the item, or give the customer a full refund.
Be sure that your staff are knowledgeable about your company's return policies and procedures so that customer service won't be a problem. Plus, it helps your company's image if your staff is able to handle return issues in an effective and professional manner.
If your customer comes to you with a problem with the product, then you're going to have to go over it to see if he or she was able to assemble it properly. This is for those items in which the customer is responsible for installing or setting up the product. Make sure that everything is where it should be and that the customer has installed everything properly before deeming the product as damaged.
There are always going to be those customers that will try to take advantage of your company by buying certain products, using them, and trying to return them while expecting a return or refund. You can prevent this by ensuring that you have a good return policy. If you would like to create one, then you can go through our available return policy templates to help you with that.
Business Management Policy Template
wates.co.uk
Business Attendance Policy Template
smcmba.com
Enterprise Business Policy Template
vero.com.au
Business Travel Policy Template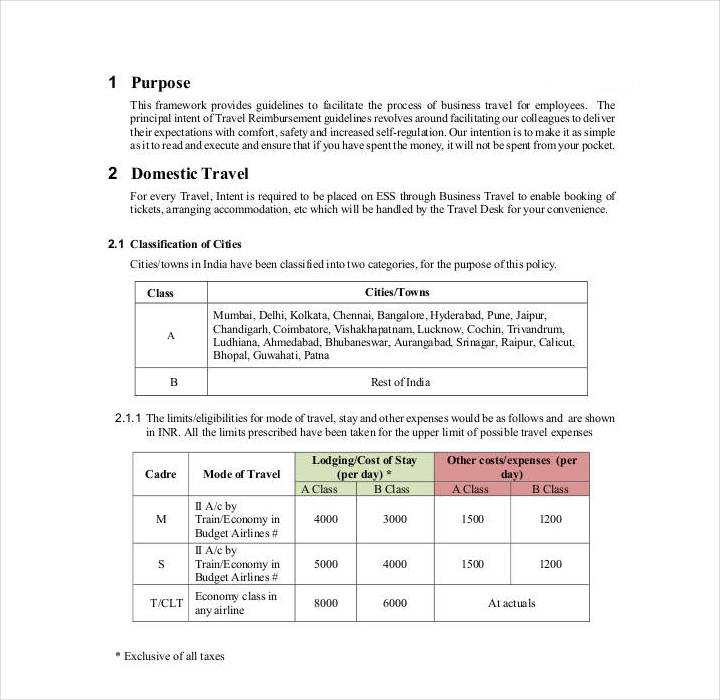 tallysolutions.com
Company Travel Policy Template
greatwest.com
Company Vehicle Policy Template
top.edu.au
Company Credit Policy Template
pmsilicone.com
Simple Company Policy Template
helvetia.com
Company Payroll Policy Template
nrc.co.za
Company Leave Policy Template
hrpulse.co.za
What is a social media policy?
This contains the rules that your employees should follow when it comes to how they should conduct themselves online. With the help of this type of policy, you will be able to protect your company's reputation while at the same time make sure that your employees are able to share your company's message in a responsible manner.
Since social media is one that updates constantly, your social media policy should keep up with it. It doesn't have to be very long. All you have to make sure of is that you're able to provide your employees with straightforward guidelines that they can easily follow.
Benefits of having a social media policy
Whether your company is one that's already established on social media, or if it's still trying to make a name for itself online, it's best that all organizations have their own social media policy. So here are some ways that your business can benefit from a good social media policy:
It will help protect the reputation of your company. Although this has already been mentioned, your company reputation is very important and has to be carefully managed. So by clearly explaining to your employees on how to best represent your company online, you can mitigate threats that could be harmful to your company's reputation. A good social media policy can also help explain to your employees the actions that should be taken in the event that they made a mistake or when someone is attacking your company via social media.
It can help defend against legal threats and security risks. With an effective policy, you can ensure that your company should have little to no legal troubles or security risks. The way to do this is by outlining all of these threats to your employees and teaching them how to avoid these threats. Your policy should also explain to your employees what they should do in the event that they accidentally put the company's reputation at risk, or in the event that they fall prey to any malicious attacks.
A proper social media policy will encourage your employees to share company messaging. By having your employees share your company's message, it will make more customers recognize your brand. So you're going to have to provide clear guidelines that will allow your employees to understand how they should promote the company's brand on social media. Your social media policy should be able to outline the best practices for sharing company content on social media as well as how the employees should comment on posts online. So having your employees share company messaging with content that has already been pre-approved will help reduce risks to your company as well as ensure that all of the information is accurate.
What you should include in your social media policy
Rules and regulations. This section is where you should outline your company's expectations when it comes to how your employees behave on social media. A good example would be having a policy wherein your employees are not allowed to use any form of profanity when it comes to posting on anything that's related to the company. You should also create policies regarding how your employees should respond to any posts that mention your brand as well as what the employee can or cannot share on social media.
Roles and responsibilities. This section should outline which of your staff is responsible for governing specific social media tasks. It's best that you create a table with two columns. The first column should contain information regarding the specific social media responsibility and the second one should show which person is responsible for governing that specific responsibility. There are other roles that you are going to have to assign such as social engagement, security and legal concerns, employee training, and more.
Potential legal risks. As mentioned before, you'll want your business to avoid any legal blunders. That means your policy will have to provide clear guidelines that will allow you and your employees to handle any areas of potential concern. Do your research and even if it might be costly, it's best that you involve legal counsel to help you out. A few things that this section should cover are how employees should include disclaimers when commenting on content related to your company, how your employees should credit original sources after borrowing from an external source, and what information is confidential and non-shareable.
Security risks. This is something that's far too common for just about every organization in the digital age. This is why every company has to make sure that they're fully protecting themselves from any threats that could affect their online presence. So long as you have a good social media policy, then you'll have no trouble when it comes to making your employees aware of these threats, how to avoid them, and how to find solutions should they occur. This policy should provide guidelines on how an employee must create secure passwords, how to avoid malicious threats, and how to respond in the event of a security breach.
Accountability. At the end of the day, every employee is responsible for whatever they post online. So you'll just have to make sure that they exercise caution and common sense when they decide to post anything on the company's behalf, or when they share company information in their own personal social media channels.
What is a travel policy?
A travel policy is what sets the rules regarding any company business that requires an employee to travel to a particular destination. So it's what's going to help you in managing the company's expenses when it comes to any company travels. While there is no one policy that can cater to every business, there are specific types that should fit a particular organization. So make sure to pick or create the best one that will help you cut costs while making sure that your company trip is a success.
Knowing the costs
If you want to make a proper travel policy, then you're going to have to see the who, what, when, and where of your spending. So here are the factors that should affect your business' travel expenses:
Who. By being able to identify which of your employees are responsible for the majority of your trips, it will help you engage with the right people as well as gain their compliance. It's also necessary that your travel policy features customized spending guidelines that's based on the department, office, or the employee level.
What. By knowing the what of your company's travel expenses, then this will give you a good opportunity to cut costs and save more money. So you'll have to look into things like the kind of hotel the employee is going to be staying in, if the employee is going to be flying coach or business, if your travel policy covers these, and much more.
Where. The expenses of both the flight and hotel costs can vary depending on where the employee is going. So the amount of expense is usually affected by the itinerary composition rather than the employees who are either trying to more or less spend carefully. If a small number of destinations account for a significant portion of the amount of total trips, then that can be useful for creating location-specific guidelines.
When. There will come a time when you'll need to conduct last-minute business travels, and these usually don't come cheap. If your employees wait until close to their trip to book their flights or hotels, then you'll want to have a policy that should encourage your employees to do advance purchases.
Priorities for travel policies
By knowing the specific priorities, you'll know what your travel policy should focus on. So here are some examples of possible travel policy objectives:
Increase advanced booking
Speed up the reimbursement process
Improve employee satisfaction when it comes to flight and hotel options
Promote the use of approved vendors
Secure favorable negotiated hotel rates
Reduce the amount of the average trip cost
There are still other priorities when it comes to travel policies, so you can look them up through any of our available articles that should contain the information that can help you out.
Corporate Travel Policy Template
jrcdms.org
Travel and Expense Policy
sqa.org.uk
Employee Travel Policy Template
wlv.ac.uk
Business Travel Policy Template
networkrail.co.uk
Travel Accommodation Policy Template
careers.adhb.govt.nz
Travel Allowance Policy Template
modimolle.gov.za
How to write the policies of your business
Although different companies will have different policies, the way policies are made should be similar. So here are the steps that should help you make a proper policy for your business:
Make a list of the policy categories. After you have considered all of the different possible issues that you want your policies to tackle, you must then come up with categories for each of them. You can use categories such as safety, conduct, benefits, pay, vacation, scheduling, discrimination, and more. Having all of your policies categorized will make it easier for your employees to go through their manuals in the event that they need to find a specific policy. It can also help you decide what is most important or how you should address certain issues in more detail.
Make use of an outline format that will allow you to detail different policies that are found in different categories. With the help of an outline, you will be able to explore the aspects of each policy or category in a deeper way while also adding stipulations and specifics as you go through them. You're going to have to use numbers to make each section or category look and feel more organized. So you're going to start with a brief outline, then go through all of the ideas you've written down after reviewing the different policies and categories. After you have done all that, you may go back and lengthen the sections accordingly.
Come up with the appropriate consequences should anyone break company policies. These company policies make sure that there's order in your business, allowing it to function properly while making sure that your employees live up to your company's expectations. So your company policy should also serve as a written document that outlines how to handle things in the event that an employee breaks a company policy. This is especially important if certain actions need to be taken.
Have clear policies when it comes to termination. Sometimes, you will be forced to terminate an employee should he or she constantly break company policies. So if you decide to fire an employee, then the policy will serve as evidence in the event that employee argues that he or she was terminated unfairly. So you're going to have to make sure that there is a section in your policy that will detail your termination process.
It's also important that you have policies regarding the hiring of employees. For example, you'll require that management does background checks before employment, or a probationary period after hiring before employment becomes permanent. So you have to make certain to properly outline and set these terms as clearly as possible.
Be sure that you use clear and active language. You have to make sure that all of your policies are clear enough for your employees to understand, as well as make sure that there are no rooms for misinterpretation. In the event that there are other ways to interpret your policies, then you're going to have to rewrite them so that there are no other ways to interpret them. Otherwise, this could lead to serious problems in the workplace.
Both employees and employers know that the policies and the procedures play very important roles in the company. Without these two, there will be no chance that a company will be able to attain success and there will be no order within the company. So in the event that you would like to create a company policy, or if you have to update your current ones, then we have the articles that should be able to help you out.
Our articles can provide you with information on how to make them, as well as provide you with the appropriate policy templates that will allow you to create the policies.
More in Policy Templates