Policy Templates
10+ Internet Usage Policy Templates in Google Docs | Word | Pages | PDF
Companies often rely on an internet connection, especially in sending emails to clients or doing research, and that is where there is a need to keep track of internet and computer usage. Computers, laptops, and similar devices remain useful to let you enjoy the benefit of the internet once connected; however, there are simple policies or agreements to settle with for every employee or internet user in a business. Limits turn relevant here before any employee gets to use the internet for personal use and not on business-related matters already. Thus, the company must create a clear and efficient internet usage policy.
Table of Content
10+ Internet Usage Policy Templates in Google Docs | Word | Pages | PDF
1. Computer, Email, Internet Usage Policy Template
It is important to specify what usage becomes tracked and not just the internet. You can also specify your policy regarding how usage applies not only to computers, but also on every laptop, tab, or cell phone. That is because numerous devices could cover internet usage. With Computer, Email, Internet Usage Policy Template, you are expected to cover each factor, so the whole document sample is understandable. Download now!
2. Website Privacy Policy Template
Simple Privacy is being covered towards policies because maybe an employee will go through different websites or make transactions online with the company name used. It should be finalized ahead to have an agreement about the Website Privacy Policy Template. Many websites use cookies for tracking all visitors on their sites anyway. Customize your own by downloading now.
3. Terms of Service Agreement Template
A common policy is through making service terms and agreements sample. This part can tackle a lot, especially on what employees are allowed to use in the business. In the Terms of Service Agreement Template, you can include internet usage too since workers get to use it. You can modify that anytime, depending on your preference too. Download it now!
5 Steps in Making an Internet Usage Policy
Acceptable internet usage policies are generally introduced to employees who recently got in the business like the ones who are in the onboarding process phase. In making the policy, you have to focus a lot on its acceptable use. That is because it tackles a lot on what is allowed or prohibited regarding internet use in the company. At work, the use of the internet should only be for work-related or professional matters anyway since productivity can lessen in using it for entertainment only. There are many facts you can learn regarding the importance of an internet usage policy for businesses so you better create it well.
Step 1: Determine the Rules
Creating a policy is not a mere guessing game because there is a need to follow the rules presented there. Start by determining why the company uses the internet to keep things clear regarding its purpose. Remember that observing those rules will implement proper organization to such company and every worker involved should be aware of it. A good example is to specify the allowed websites to use for handling internet email.
Step 2: Focus on Clarity
Policies may still not get respected whenever the whole policy is vague or not done properly. Just like in an exam, giving clear instructions is important to prevent examinees in committing mistakes. Such clarity turns important in the policy too. You can use words that you assume most readers could understand so the message gets delivered properly.
Step 3: Never Forget to Implement Fair Usage
Unfair treatment is never welcome at work because fair usage coverage is part of the deal. Complaints may be received once some employees get to use the internet by using social media or watching videos for entertainment while there are others who can get away with it. The key is to include the consequences, so workers think twice about doing the prohibitions at the workplace.
Step 4: State and Dos and Don'ts
This is easy because you need not write down the whole sentences. It becomes understandable to write in bullet form about what workers are allowed to do while surfing the net. The same goes for the prohibited aspects which employees must avoid. Putting the consequences will add greater authority for the policy like when employees can have a salary cut or perhaps termination in worst circumstances. Strictness for policies is good as long as everything is reasonable.
Step 5: Review its Final Output
The last step is to review because there might be anything misspelled from the document. This step is where you edit everything before printing it. Showing outputs to workers with numerous mistakes will bring a negative reputation on your part as someone who created it. Keep things professional as much as possible and that you also understand what's written. If you hardly understood it, then how much more for the employees who are about to read it.
4. Onboarding Plan Template
Most policies are made to serve as an introduction for workers about similar terms to allow or not in businesses. Onboarding plans get made since the new employees can finally be aware of agreements, including internet usage. Moreover, the Onboarding Plan Template can be of great help to managers to know how to deal with the onboarding process. Experience it now!
5. Restaurant Computer, Email, Internet Usage Policy Template
Restaurants have many employees, and there are agreements to make for the staff regarding their internet usage as well. That way, the whole staff will stay productive and using the internet is no longer for entertainment reasons if workers get bored. You use the Restaurant Computer, Email, Internet Usage Policy Template because its format also works on different industries. You edit that to the industry you are involved with after downloading.
6. Computer Use Policy Template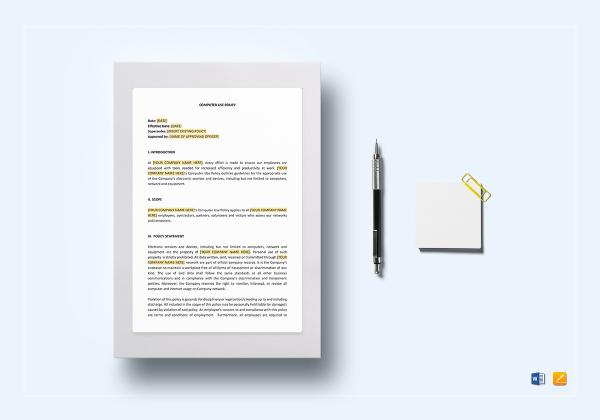 It is common for people to try to get connected through the internet while using the computer. Strict rules have to be implemented there too, so its usage is limited to the right reasons only. Computer Use Policy Template is available to ensure the output you create becomes effective at the workplace soon. Use its template now!
7. Service Contract Template
Simple Contracts serve as a great factor in making an official agreement with anyone. Once the workers sign the contract, that means they fully agree to the terms and services tackled there. In using the Service Contract Template, there is less hassle in making the rules for internet services to provide at work. Make it happen now!
8. Free Warning Letter for Violation of Company Policy
What follows after the policies will be the warning letters. These letters are when you warn an employee that he/she committed actions that are violating the company policy. That can include the violations affecting internet usage too. You mention those violations properly with the help of the Free Warning Letter for Violation of Company Policy to settle this right. Use it with your own rules now.
9. Free Service Agreement Template
Clarity is extremely significant for any agreement, and that also applies to the internet and related services. This coverage must get properly made so that any worker who reads that will finally understand the full terms. If anything seems unclear, then you edit with Free Service Agreement Template. You eventually get the hang of making similar agreements after downloading this template.
10. Internet Usage Policy
It is effective to categorize the policy by highlighting on the brief description, purpose, scope, and other considerations. That way, readers can easily identify where the important parts are. You do not expect readers to read the whole thing anyway, especially at first glance. That is why you categorize it similar to a simple Internet Usage Policy. Create your policy now!
11. Computer, Network, and Internet Usage Policy
All policies should be made formally since that showcases respect. That will observe high authority until employees really respect everything stated there. The same case is necessary for your Computer, Network, and Internet Usage Policy. You make that brief too since it is pointless to have lots of words yet there is an easy way to rephrase it. Download and use this now!
More in Policy Templates