Report Templates
11+ Clinical Audit Report Templates – PDF, DOC
Audits can be done for different departments and for various purposes on businesses and organizations. When an investigation or audit is specifically done to businesses and organizations in the health industry or those operating in a clinical setting, a clinical audit report is created. You may also see report samples.
Annual Clinical Audit Report Template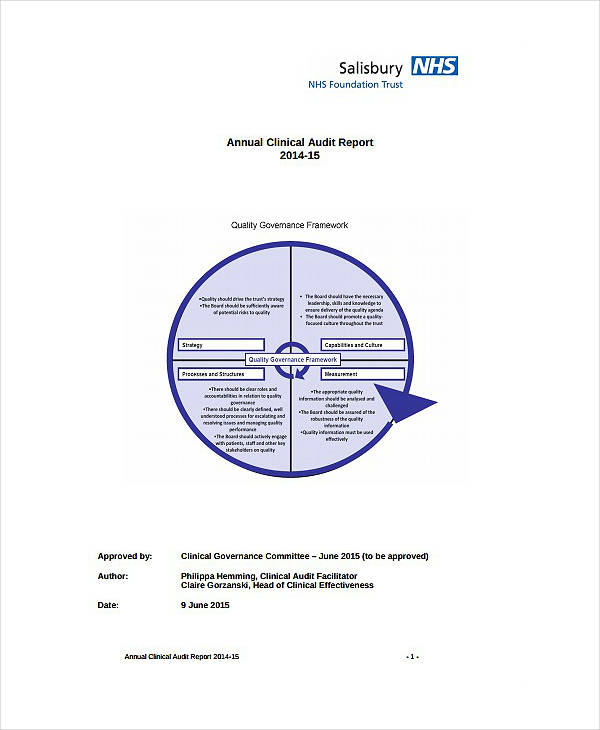 salisbury.nhs.uk
Clinical Audit & Effectiveness Annual Report
uhcw.nhs.uk
This article focuses on the creation of effective clinical audit reports using printable audit report templates that anyone may use. In addition, we have also compiled numerous tips on how to make your organization's or your team's clinical auditing process more efficient. You may also check here Report Templates in PDF.
Check Out These Clinical Audit Report Templates
As we have mentioned earlier, this article also includes multiple examples of clinical audit report templates that are used by real-world organizations and businesses. Check out all the different sample report templates below and choose the most fitting audit report template for your audit project. Also, double-check if your computer has Adobe Acrobat Reader installed on it since most of these free templates are available as PDF template file downloads. You may also check here Report Samples in Doc.
Printable Clinical Audit Report
ssha.info
What is a Clinical Audit Report?
A clinical audit report is a written document or an account of a case study, an investigation or a review of an organization, business, or department that operates in the healthcare industry. As its name suggests, clinical audits will usually deal with the assessment and improvement of any policies, processes, or personnel who are working with or for a clinician or a clinical team.
Just like other kinds of professional audit plan reports, clinical audit reports may be created from scratch or by the manual drafting of an audit report based on a clinical investigation. Another report-making method that can be applied to the creation of clinical audit reports is the use of pre-made sample audit report templates. This latter approach is preferred since auditors do not need to come up with all the verbiage and formatting of their audit reports and thus help save more time.
Of course, there are downsides and upsides to following any kind of method for creating your audit reports. What is important is that you choose a method that you think will best help you create the most useful clinical audit report for your clinical audit activity. You may also see communication audit reports.
Do not forget to check out the rest of this article for tips and sample report templates that you can use for your organization's quality management project.
Blank Clinical Audit Report Template
wsh.nhs.uk
End of Life Clinical Audit Report Template
lenus.ie
What to Write in a Clinical Audit Report
The first thing to remember when writing a clinical audit report is that a clinical audit report is considered a formal or even an academic report. This means that your audit report will not only be used for documentation purposes but it can also be used as a resource for various clinical or academic fields.
That is why you need to make sure that your clinical audit report contains all the relevant pieces of information or a set of data that clinical audit activity should have. If you are not familiar with this or if you want to refresh your memory on what this kind of audit report should comprise, we have listed the different sections or things that your audit report should have. Learn more about them below. You may also see internal audit report templates.
1. Introduction
The first part of an audit report should be the introduction. This is the part of your report where you explain why the clinical audit was undertaken and what you aim to accomplish with this audit activity. You may also see quality audit report templates.
To illustrate, your clinical audit report introduction should include a concise background of your clinical investigation or research along with a list of all the objectives of your audit. The introduction basically answers all the whats, whys, when, and hows of your clinical investigation or audit. You may also see safety audit report templates.
A good example of an audit objective is "To identify areas of concern in the given clinical setting", or "To determine compliance of a new set of healthcare delivery standards that a clinic needs to follow". Check out this article for more tips on how to write reports and proposals.
2. Audit Methodology
After the introduction, your clinical audit report should have an Audit Methodology section. This part of your report should explain, in detail, how you intend to accomplish your audit or research goals. You may also see forensic audit report templates.
The methodology should also contain information on what type of research plan method and sampling size you wish to use. There are different research methods and sampling sizes that a researcher or an auditor can follow based on the nature of the audit he or she wishes to undertake. That is why you should explain all these things on the methodology portion of your report so that anyone reading your audit report will know the scientific or academic basis of your audit plan.
Standard Clinical Audit Report Template
mps.com.au
Clinical Audit & Patient Experience Facilitator
ashgatehospicecare.org.uk
Clinical Audit Report Format
kznhealth.gov.za
Sample Clinical Audit Report Template
nice.org.uk
3. Audit Results and Discussion
After that, the next part of a clinical audit report is the Results and Discussion section. Some auditors may separate these two sections while others will just combine them. Follow the audit or research report format that you think will best suit your clinical audit report.
To further expound, the Audit Results section of your written report should only include the hard facts, observations, or findings during your clinical audit activity. Ideally, this should be written in a separate paragraph to help differentiate it from the discussions. Also, the results portion of a clinical audit report (or any audit or research report for that matter) may be interspersed with visual tools like graphs and tables to help aid reader's understanding of the subject matter.
The Discussion portion of your audit research report should contain all your commentary or analysis of your audit results. By separating these two sections, anyone reading your audit report can better differentiate the raw results from the interpretation of these results.
4. Conclusions
Typically written after the results and discussion section of the clinical audit report is the conclusion. This section is a summary of all the findings stated earlier on your audit report. And to keep your audit report reliable, always make sure to back your statements with facts or other credible research papers that other researchers or auditors have done.
Just like the results section of your audit report, it is also a good idea to make your audit conclusions as readable as possible by using bullet points and concise statements. You may also see energy audit report templates.
5. Action Plan and Recommendations
After writing the conclusions, an auditor should also write a section for his or her recommendations. This is usually accomplished by writing a list of action plans or steps that the organization or business in order to improve, correct, or eradicate any newly identified flaw in the clinical organization or setting. You may also see environmental audit report templates.
These action plans are also called quality improvement plans. An effective action plan is the one that is realistic, timely, and easily actionable. If you want help with creating action plans, check out this guide on how to create an action plan.
6. References and Appendices
Lastly, your clinical audit report should include proper citation. To do that, make sure that you devote a separate section where you list down all the references that you used for the creation and implementation of your clinical audit activity. Also, make sure to create an appendix portion where you can post all the research tools you used for your audit investigation. You may also see this article for more tips on writing a bibliography.
There are different ways to approach the creation of a clinical audit report. But the most important thing that anyone who wishes to conduct a clinical audit should learn is how to lay out his or her audit report. Remember that your audit report is the gateway to which other people will gain a better understanding of your subject matter. You may also check out these laboratory audit report templates.
Therefore, it is in your best interest to learn and apply all the pieces of information that we have shared above so that you may use them with any of the free audit report templates found in this article and then create the best clinical audit report in the world. You may also see brand audit report templates.
Clinical Audit Report Example
rjah.nhs.uk
Clinical Audit Report Template Example
moh.gov.jm
Record Keeping Clinical Audit Report Template
shropscommunityhealth.nhs.uk
It's Your Turn
Writing official reports—whether they are for work audits or for school—can be stressful especially if you do not know how to go about the entire clinical auditing process. The comprehensive list of things that a clinical audit report should include which we have shared above will undoubtedly help you in this aspect. As long as you follow all the suggested research report writing format above, you will not have a hard time in going about your audit. Also, remember that the more time you spend in creating clinical audit reports using the various free report templates that we have included here, the easier will the entire process become.
So good luck with your clinical audit activities. And may you experience how fulfilling it can be to identify areas of clinical problems and help come up with ways to resolve them. You may also see internal audit reports.
You may also bookmark and save a copy of this article so that you can refer back to it whenever you need them. Also, do not forget to spread the word about these helpful free clinical audit report templates by sharing them with your email list and social media friends, followers, and colleagues.
More in Report Templates