Sheet Templates
23+ Employee Timesheet Templates – Free Sample, Example Format Download
An employer needs to frequently keep track of the time worked for all its employees. The most simple and easy way to do that is to use employee timesheet template which records the same. In addition you can export the data stored about the employee's working hour to the payroll system, which will let you calculate your pay as per the record of hours worked by each employee for each pay period and automatically gets cleared for next period. Explore the sample examples we have to offer in numerous format options like PDF, PSD, MS Word, Excel and many more. The employees in every company are required to record the number of hours they work for their employers, so that there is no confusion while computing the salary. You may also see sheet templates.
The employee timesheet is a tool maintained by companies to record the time in and time out of their employees. The sheet also notes the number of leaves taken by an employee during a given period. Our employee timesheet template can be downloaded in Word, Excel and PDF formats for free. The employee timesheet templates available with us are designed by experts and provide a basic structure to work one. You can see also monthly timesheet templates.
Employee Timesheet Template
Employee Timesheet Form Template
Bi-Weekly Employee Timesheet Template
Employee Daily Timesheet Template
Sample of Timesheet for Employees
Employee Bi-Weekly Timesheet Template
Staff Timesheet Template
Blank Timesheet Template in Excel
Professional Timesheet Template
Timesheet Template
Simple Timesheet Template in Word
Project Timesheet Template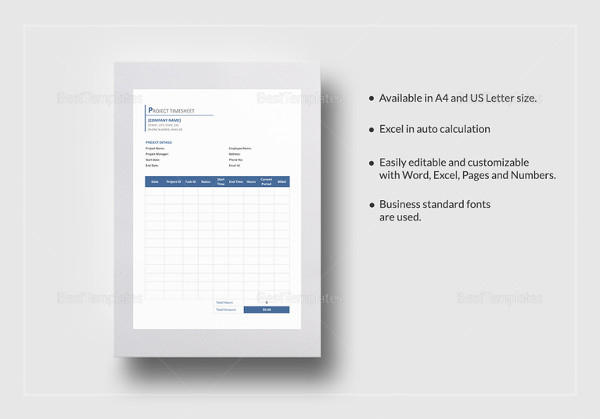 Internship Timesheet Template
Monthly Timesheet Template
Weekly Timesheet Template
Biweekly Timesheet Template in Excel
Employee Timesheet Template Download in MS Word

dovico.com
Employee Timesheet Template in Excel Format

cog-ps.com
Employee Time Sheet with Breaks in MS Excel Format

dayconi.com
> Templates Fulfilling a Wide Variety of Purposes
Employee timesheets are especially designed for employees. The basic reason behind creating these timesheets is the need to meet the requirements of the industry to have a very effective and useful tool that can help the employees as well as help the management keep the track of their timings and the production rate of the unit respectively. Keeping a track of the timings of the employees has become essentially important because the modern worker is hard to find in the first place and when you have some under your wing, they expect to get paid every single moment that they toil for the company. You can see also sheet templates.
Printable Employee Timesheet Template Download in PDF
Temporary Employee Timesheet Template in PDF Format
Employee Bi-Weekly Timesheet Template Download in PDF
For this reason it becomes necessary to know exactly how much is the worker working for the company. Moreover this is not just in the favour of the worker because if a certain employee is giving a lesser output in terms of productivity and if the effective contribution of the certain employee seems to be less, it can be very easily and readily detected reading the timesheets. You can see also employee tracking record templates. In other cases, where a timesheet won't be used, such a situation would lead the owner to suspect almost all of the workers as it would be difficult to find out who exactly is the one who isn't working right. This can lead to the rise of a rift between the employees and the owners. In these regards, timesheets are indirectly useful to make things easier.
Employee Weekly Time Sheet PDF Template Download
MS Excel Semi Monthly Employee Timesheet Template

utc.edu
Employee Hourly Timesheet Template Download in PDF
> Templates Can be Easily Created in A Seamless Manner
The employee timesheet is very easy to create and can in fact be made more user-oriented with the help of a few tools. The templates of employee timesheets on this website are available in the word. PDF as well as excel formats. Therefore they are very easy to download and editing them takes moments. Once you are done editing the timesheets, you can have the perfect timesheet just according to your taste and preference. You can see also data sheet templates.
Hourly Employee Time Sheet Template in MS Word

seo.georgetown.edu
Microsoft Word 2010 Employee Timesheet Template Download

bagg.com
Blank Timesheet Template Download in PDF
> Various Dos and Don'ts Which Need Your Attention
While creating a timesheets, care should be taken that the customization of the employee timesheet is done in a good manner. This is because of the fact that trimming some seemingly unwanted content from these timesheets that are created by experts may lead to serious loss of information which may then be realized only after a long time. Such templates come handy by reducing the amount of work that go in creating a sheet from the scratch. You can see also fact sheet templates.