Sheet Templates
18+ Volunteer Timesheet Templates – Free Sample, Example Format Download
If you are a manager of a charity organization, you may come across few times when you will need the help of volunteers. In that case, to keep your team of volunteers organized, you should have a volunteer timesheet. You can easily download a volunteer timesheet template in any format and utilize it to prepare a task schedule for the volunteers agreed to join hands in help. View the samples of the template and see how these templates save time, energy and money and also guarantee quality results. All you need to do is enter the data of the requirement as the designing part is already done.
Volunteer timesheets are used by NGOs and other similar organizations during a programme to record important data on the persons who have agreed to volunteer for a program. A volunteer timesheet records the name, contact information, task assigned and other information along with the number of hours they have worked. Downloading a volunteer template help save a lot of time and energy by providing a basic structure to follow. The users can edit the volunteer timesheet template after downloading it from the internet in any of the Word, Excel or PDF format. You can see also blank timesheet templates.
Volunteer Timesheet Template
Volunteer Timesheet Word Template
Monthly Timesheet Template
Easy to Print Hourly Timesheet Template
Simple Timesheet Template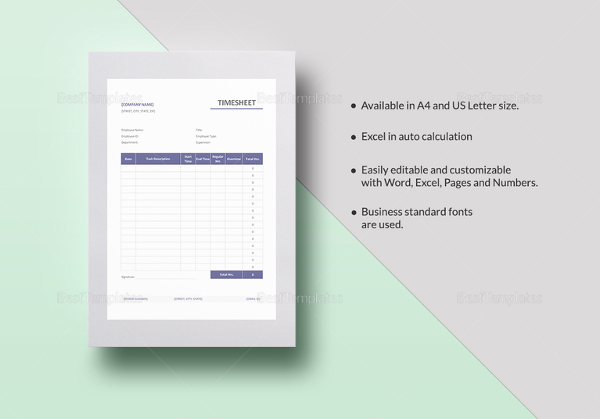 Timesheet Template in MS Word
Professional Timesheet Template in Excel
Blank Timesheet Template in iPages
Volunteer Hours Timesheet Template Download in PDF
Volunteer Daily Timesheet Template Download in PDF
Timesheet Template Word Format

solutionsforsecretaries.com
> Templates Fulfilling a Wide Variety of Purposes
The purpose of using volunteer timesheets is to fill in the information of the volunteers and record the total work that they have been assigned and the total work that they have done out of it in a specific period. Non government organizations that work for social welfare or on projects that are aimed at uplifting the downtrodden classes of the society are always in search of manpower because unless there are helping hands, the manifestation of the vision cannot be brought about in the desired manner. However even if the volunteers who have volunteered for certain work are kind of doing charity to the society in exchange of nothing, it is necessary to keep a track of the work that they have done or have been able to carry out in certain time spans. You can see also sheet templates.
Volunteer Timesheet Template Excel Format

fs.usda.gov
MS Excel Volunteer Timesheet Template Download

chilternsaonb.org
Volunteer Timesheet Template Free Printable in PDF
This is very important for NGOs because if the volunteers are not doing enough productive work they might be hampering the purpose of the activity and therefore they might, in a way, be hampering social progress. Volunteer timesheets are sometimes pretty complicated and that is only fair enough because they need to be a complex structure of all the work that the NGO is conducting, the total responsibility thrust on the shoulders of every individual and the goals that are being met after doing so. Therefore volunteer timesheets are very important for social organizations or NGOs.
Individual Volunteer Timesheet Template in PDF
Microsoft Word 2010 Volunteer Timesheet Template Download

safeplaceolympia.org
Volunteer Blank Timesheet Template Download in PDF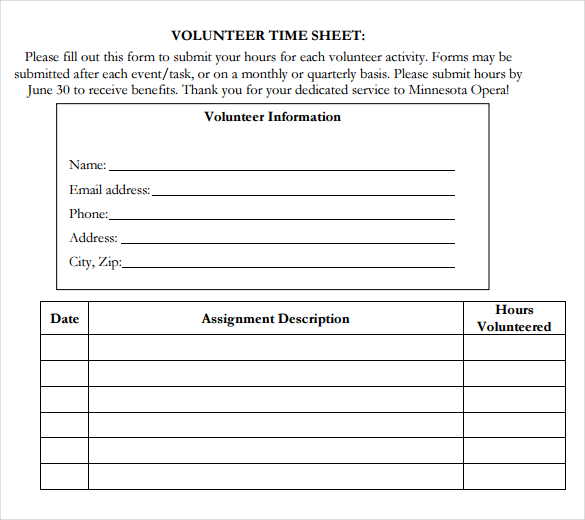 >

Templates Can be Easily Created in A Seamless Manner

Volunteer timesheets come in a very well-defined and a little rich format in terms of content. Therefore they are already pretty detailed and there isn't the necessity to work more on them. The volunteers are generally educated to certain level in such organizations and therefore it is very easy for them to fill out the timesheets. However even if the volunteers are uneducated, a little idea of what exactly needs to be filled may make them self-sufficient in regards with filling out more such timesheets. These timesheets also have many sections which only need a tick mark which makes them all the more feasible for utility. You can see also attendance sheet templates.
Monthly Volunteer Timesheet Template Download in PDF
Volunteer Monthly Timesheet Template Download in PDF
> Various Dos and Don'ts Which Need Your Attention
The volunteer timesheets have some really complex structures and may contain many inter-related sections. For this reason it is important to see that the timesheets are not meddled with and not edited as far as possible. The timesheet templates are designed by experts and are at the same time highly cost-effective. You can see also budget sheet templates.