Buttons
257+ Black / Dark Web Buttons – Free PSD, EPS, Vector Format Download!
The black or dark buttons on the music player looked amazing in earlier times. In fact if you combine the black or the dark version of grey or blue buttons, they can give a classy look. It is mostly used in the virtual DJ applications. The dark buttons can be used for better effects on the lighter colored backgrounds for more catchiness. You can also see Login & Logout Buttons.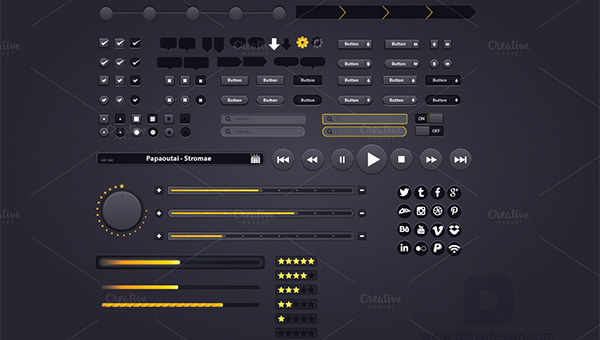 72 Dark Square Vector Web Buttons

The 72 dark square vector web buttons is a set of seventy two different types of dark square vector web buttons for those web developers who like the color black.
Dark Web UI Buttons Download

The dark web UI buttons download is a comprehensive list of buttons that goes with the dark theme. It contains the sliders, the buttons, the scrolls and the form elements.
Black Buttons For Web Design

The black buttons for web design contains a big list of different web buttons that can be used by the web developer like the home button, search button, download button, etc.
Dark Web UI Buttons For Download

The dark web UI Buttons for download is another dark Web UI that contains the buttons, the scroll bar, the sliders and the different buttons which make this UI beautiful.
Blank Dark Blue Web Buttons

The blank dark blue web button is a simple looking button layout in dark background which can be used by web developers to design the websites in the best way possible.
Dark Shiny Web UI Buttons Download

The dark shiny web UI buttons download is a beautifully created dark web UI that mimics the premium boom boxes in the market. It contains all the different multimedia buttons that are required.
Website Interface Vector Buttons For Free
Web Elements Vector Button Set
Abstract Vector Dark Web Buttons
Premium Dark Wooden Web Buttons
100 Flat UI Web Buttons Kit Download
Free Vector Dark Web Buttons
Web Design Elements Dark Vector
Dark Red Web Buttons Premium Download
There are wide ranges of the black or dark buttons which can be used. They can be mixed with the shadow effects which will respond on clicking for better effects. You can see the ideas by downloading in JPEG or PSD format.
More in Buttons