Clickable web buttons, social media buttons, button graphics, and whatever you may call them, play an integral part among web designers, graphic artists, computer programmers, and other computer-related professionals. Without them, definitely, they will not be able to create responsive websites and programs that they need to maintain their main source of living or income.
If you are set to research various 3D buttons for your current layout, the article is a great help to you. It features a number of fabulous 3D buttons such a glossy, web, metal, and vector buttons. You will be informed about the different button designs as well, such as flat button designs and three-dimensional designs.
Glossy 3D Button
Download
3D Web Button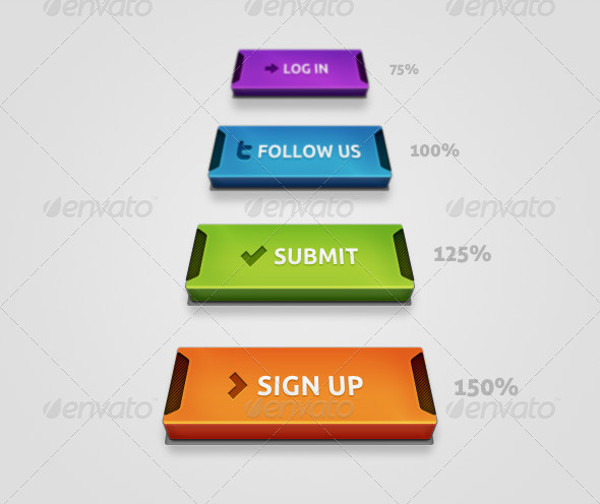 Download
3D Download Button
Download
3D Metal  Button
Download
3D Vector Button
Download
Various Button Styles in Websites and User Interface Designs
A lot of button styles are being contained in Websites and User interfaces, and the following group of web buttons are provided below:
Three-dimensional buttons, which refers to clickable ones characterized by a border, gradient, and drop-shadow, in order to be easily noticed
Skeuomorphic buttons, whose designs are patterned after the real ones. Examples are those buttons found on MSPaint, in whch every tool for painting is designed based on the actual image of it.
Flat design buttons, which do not have any visual or graphic effect that is supposed to be helpful to some users. Flat designs are different from almost flat designs because the latter exploits the use of highlights, shadows and layers.
Ghost buttons, which live by the description itself, ghost. Ghost buttons are those that are transparent and empty in nature but come in basic shapes like square, circle or rectangle.
Regardless of their respective designs, though, all web buttons are created in order for the user to have an effective interaction with the Web pages he is opening.
3D Social Media Button
Download
3D Color  Button
Download
3D Push Button
Download
3D Small  Button
Download
Basic Characteristics of a Web Button
Web buttons, be they glossy buttons or 3D buttons, come in various forms as well, and the some distinctive points are elaborated below:
Shape – Some web buttons are square in shape; while others are rectangle, circle, square and round, and so on. Some professional designers may even customize their own button shapes.
Size – Designers must consider the proper size of each button that he is to create. Based on MIT Touch Lab's research, most ideal button size for tap application ranges between 10mm-14mm for finger pads, and 8mm-10mm size fo fingertips.
Padding – The space between two buttons are called padding, and it is advised that padding should be enough so that each button will not overlap one another.
Label – Labelling a button has to be specific and concise so that users could be bale to use each of them effectively. As a rule, one has to label a button depending on it actually does.
Color – Choosing what type of color for a specific new button is described to be risky because colors have their own way in helping users interact with the page. Some designers use a contrasting color against the whole context so that uses will be prompted to click or research more.
Designers and graphic artists are encouraged to add more sophisticated buttons characterized  by other factors different from the ones listed above.