Receipts are important for both the customer and the seller since it is a written proof of a transaction that happened between the two. It can be hand-written and printed, it depends on the service provider. To make your job easier and quicker, you can just choose any with our Blank Receipt Templates. These templates are 100% customizable and easily editable so you can just edit and input any details you want. Our templates are in high quality and printable in any available formats you want to like Google Docs, Google Sheets, MS Excel, MS Word, Numbers, and Pages formats. Download now for your convenience!
What Is a Blank Receipt?
A receipt serves as proof of purchased items or services. It is important to be kept because it has the official total tally of the business transaction that happened between a customer and a service provider. The receipt is issued whenever a service, release of cash, sales, payment, and bill have been involved. When you receive a sales receipt, it should be kept for future purposes.
How to Create a Blank Receipt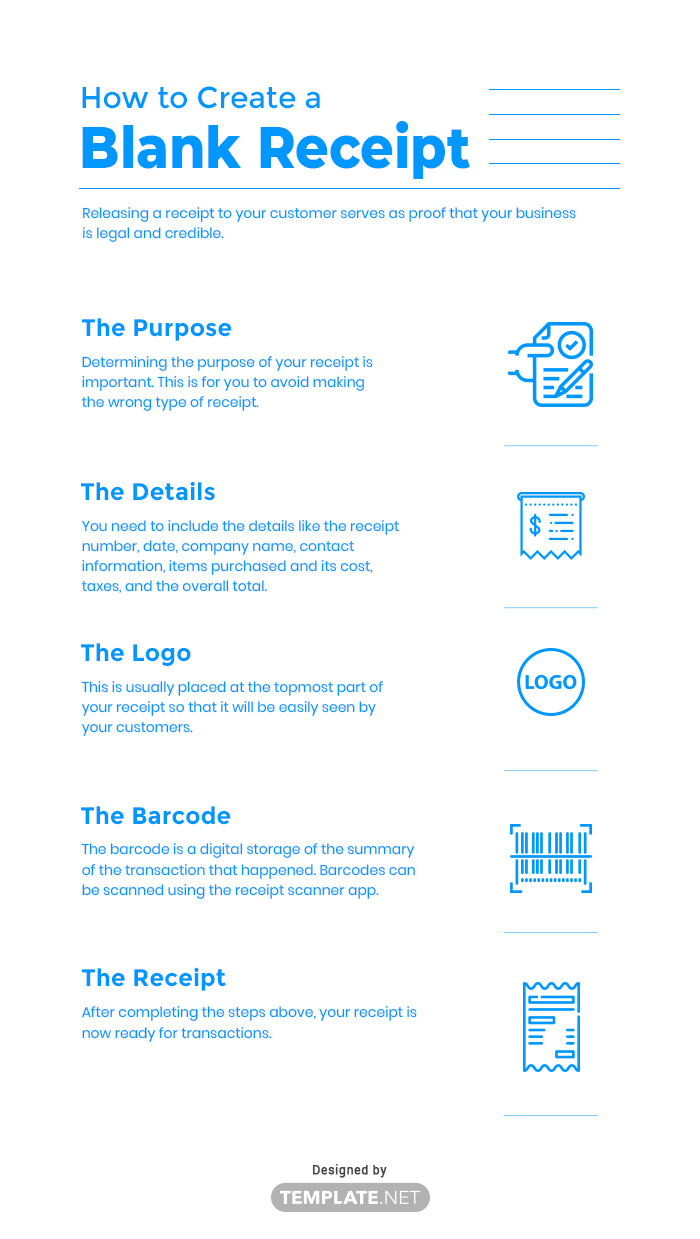 Releasing a receipt to your customer serves as proof that your business is legal and credible. The customer is not the only one who needs to keep the receipt but also the service provider needs to have at least one copy of it. It is so that when you do your inventory, it will be easier for you to track your transaction and sales that happened in your business. The simple receipt will serve as a document of your daily income since it contains all the payments and cash that was involved in every transaction that was made. There are steps below for you to follow in making your own professionally made blank receipts.
1. The Purpose
Determining the purpose of your receipt is important. This is for you to avoid making the wrong type of receipt. Your receipt should be inclined on the type of service you are providing. Also, always remember that there are two types of receipt that sometimes people have mistaken to identify. Some people are confused about the receipt and invoice. If you are planning to make a total of the purchased product and payment then it is a receipt but if you are only making the tally of purchased products, then it is an invoice.
2. The Details
You need to include the details like the receipt number, date, company name, contact information, items purchased and its cost, taxes, and the overall total. It is important because it will be the content that your customers needed the most.
3. The Logo
This is usually placed at the topmost part of your receipt so that it will be easily seen by your customers. Your business or company sample logo is important because it will be an indication that your business is still running. The logo also helps your customers to recognize your business.
4. The Barcode
The barcode is a digital storage of the summary of the transaction that happened. Barcodes can be scanned using the receipt scanner app. Customers will need this when they want to have a digital copy of their receipts. It's not only your customers who can digitally store it, but also you. You can store all your released receipts in your company computers.
5. The Receipt
After completing the steps above, your receipt is now ready for transactions. Make sure that you have all the mentioned inputs in your receipt before you start using it in every transaction of your business plan. Remember that your receipt is not only limited in the physical release but you can also release it digitally.
Read More
Earn 20% commission on every sale from your Share
Bloggers: Publish/Mention Template.net products on your website, blog, Social Media or Via Email & Earn affiliate commission of 20% for every sale