Do you want to make your brochure as luring as your food? Do it using the food brochure templates that offer colorful and descriptive designs to display your niche in the most attractive way. You can form cookbooks, Restaurant brochures, Coffee shop Brochures and any more with easy to customize layouts. They offer mouth-watering presentation and effective text synchronization aside graphic arts. Download one today in a number of compatible file formats. You can also see Restaurant Brochures.
Printable Food Brochure Template

Buy Now
Catering Brochure Template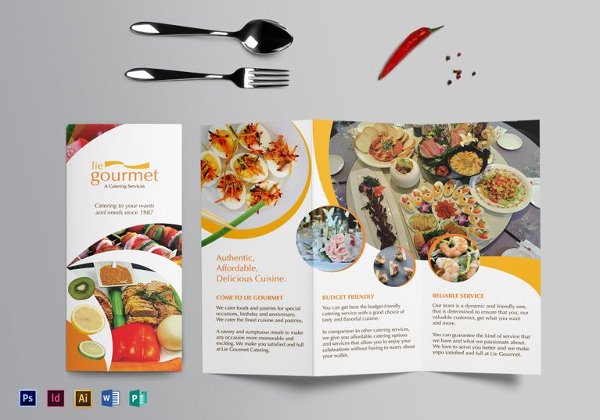 Buy Now
Restaurant Bi Fold Brochure Template

Buy Now
Cookbook Food Brochure Template
This is a cookbook template that offers 26 A4 pages with image on text presentation and graphic clip arts for beautification. It is suitable for chefs and food enthusiasts and is in INDD files. You can also see Half Fold Brochures.
Organic Food Brochure
It's an organic food brochure template featuring high-quality graphics that's perfect for professional prints and company brochures. It has a modern touch with unique graphics in IDML, INDD and PDF files.
Healthy Food Brochure
The template has animated vegetable mascots for healthy eating habits. It displays text and graphics efficiently. It is suitable for brochures and comes in 5×10" two-fold layout from Shutterstock.
Diet Food Brochure Template
The theme of this template is diet food. It features unique graphics with a great ease of customizability for amateurs. It comes in layered PSD, fully editable, high quality 6 page A4 size. You can also see Fast Food Brochures.
Restaurant Food Brochure
This is a beautiful restaurant brochure with the best fitting tri-fold layout. It has a subtle display for food images and descriptions. It comes in 300 DPI, 11.69"x8.27" page size, print-ready PSD files.
Bakery Food Brochure Template
The template features shades of brown as a perfect bakery shop brochure template. It displays mock-ups with effective text options and has a tri-fold design which has print on both sides.
Food Factory Brochure Template
This is a suitable template for catalogues and mini magazines from professional food start-ups. The layouts have been efficiently put together in 16 pages with 300 DPI CMYK color InDesign files.
Frima Food Brochure Template
A clean, uncluttered, well maintained food brochure from Frima that offers tri-fold layout with great ease to read. It comes in 300 DPI, 11.69"x8.27" page size with layered PSD files.
Vegetables & Fruits Brochure Template
The template displays fruits and vegetables in a rather minimalistic way with colorful designs. It has a green and white domination and simple vector graphic arts, perfect for flyers and brochures.
Fast Food Trifold Brochure Template
This is a hassle free solution for fast food outlets for an aesthetic appeal to their customers with a customizable tri-fold brochure that comes in 11×8.5" 300 DPI print ready PSD design.
Moving Feast Brochure Template
This is the moving feast festival brochure template that offers a fun way to celebrate and invite. It contains rural graphic art and space for text. Colored in blue and white, it comes from Etsy.
Fast Food Trifold Brochure
The template features a big photo in 70% of the page with text. It is an efficient brochure and menu for Fast food outlets. It comes in tri-fold layout with orange domination.
Foodhub Brochure Template
This is an information brochure with minimalistic design. It has a beautiful flat logo and unique art work on the cover in orange and white. It has contact info on the backcover from Dribble.
Delicious Food Brochure Template
This is a food brochure template with fancy title and colorful designs. It can be used as an advert, flyer and menu at the same time. It comes in high quality PSD files.
Food Products Catalog Brochure Template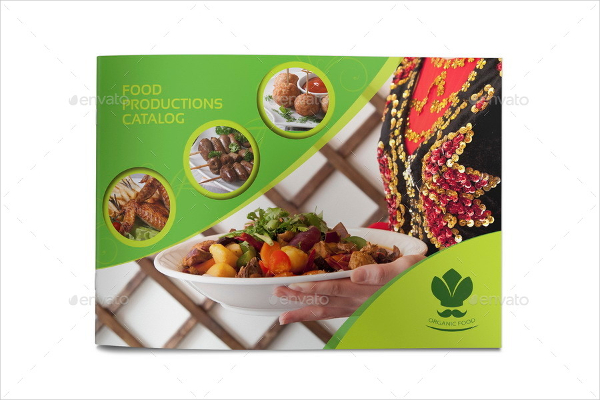 This is a complete 24 page food item catalogue booklet template. It features dedicated photos for dishes with descriptions in a neat manner. It comes in 300 DPI, CMYK InDesign INDD editable files. You can also see Pub Menu Templates.
Cafe Tri-Fold Brochure Template
Pizza Place Trifold Brochure
Bakery Brochure Template with Loaf Free Vector
The listed templates elevate your advert game to a whole new level with their eye-candy and informative designs. They are set to get you more customers and hassle free information serving with lucrative results. These are easy to download and can be accustomed to your liking with software support.