Mouth-watering dishes has the power to turn disinterested people into your loyal customers. Thus it is important to slay it to attract customers. To keep it on top, we have prepared high-quality menu templates for you. These are 100% customizable, easily editable, beautifully designed, and are printable. You can use these templates to plan your menu carefully. Since a restaurant is a place to eat, you should keep your menu attractive because this is the thing that will help you gain sales. These templates are available in Illustrator, InDesign, MS Word, Pages, Photoshop, and Publisher formats. These are also available in (US) 8.5×11 inches, 5×7 inches, 4.25×11 inches + Bleed. Don't wait any longer; subscribe to any of our subscription plans and start downloading now!
What Is a Restaurant Menu?
A restaurant or bakery menu enlists the dishes and beverages that an eatery is serving. It also includes prices against each item in the list and a short decription of the platters. It is a source of communication between the diners and the servers. Owners invest a significant amount of money for getting creative and the best dinner menu frame. If designed artistically, such documents can get a restaurant owner the right crowd that he or she wants for the business. You can make your restaurant menu card, a blank restaurant menu, a restaurant menu in PSD, and a restaurant menu brochure.
How to Make a Restaurant Menu?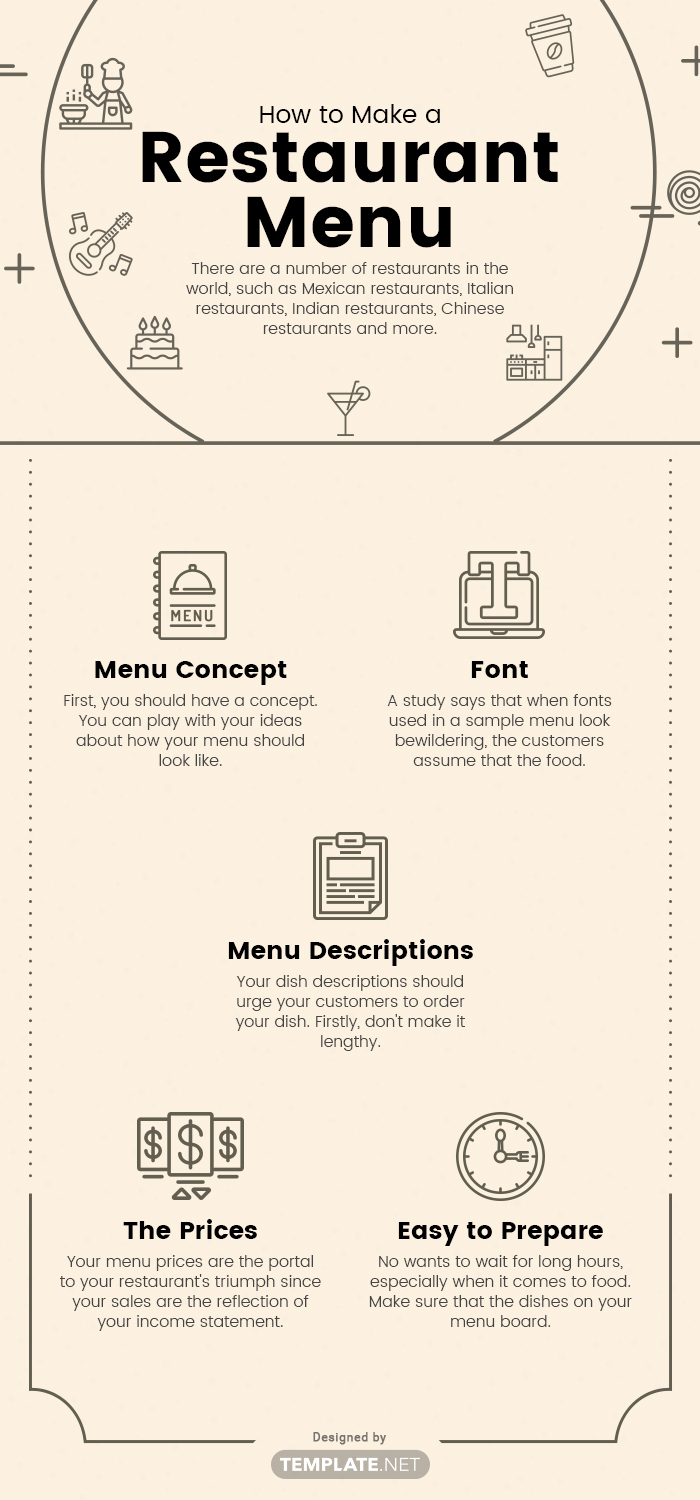 There are different types of restaurants in the world, such as Mexican restaurants, Italian restaurants, Indian restaurants, Chinese restaurants, seafood restaurants, buffet restaurants, and more. So the competition is high, and your menu should introduce your customers to the diverse food and beverages your restaurant offers. To keep your business high, you should value menu appearance to entice and lure your customers into ordering. How can you keep your restaurant in getting the customers' attention?
1. Menu Concept
First, you should have a concept. You can play with your ideas about how your menu should look like. Your food menu should coincide with your restaurant theme or ambiance. Give your list a personality, something that will tempt your customers. How tasty your dishes are is just as important as delivering your menu look. It looks matter because your menu represents your restaurant's style and quality.
2. Font
Don't use hard-to-read fonts. You can use elegant or playful fonts. It is just up to you. Your fonts should be as attractive as your offered food. However, keep it neat because sometimes some fonts look too unnerving to read. A study says that when fonts used in a sample menu look bewildering, the customers assume that the food written on that font is also as complicated as the font, which can lessen the sales of the dish.
3. Menu Descriptions
Your dish descriptions should urge your customers to order your meal. Firstly, don't make it lengthy; use words that will surely make your customers' mouths water in anticipation of tasting your food. Since you can't give a long detail on your dish, smartly use words that will represent your food. Secondly, provoke your customers' senses. Their sensations operate people, so use it as your edge, use food descriptions that will surely drive their minds. Your specifications should fit your customers. Make sure that you use the right stories for your audience.
4. The Prices
Your menu prices are the portal to your restaurant's triumph since your sales are the reflection of your income statement. Firstly, your food percentage is a piece of sales spent on food. Secondly, inspect the raw ingredient in your menu. Thirdly, calculate your price. You can examine your competitor's, and you can price your dishes the same as your competitor or lower or higher than your competitors'.
5. Easy to Prepare
No wants to wait for long hours, especially when it comes to food. Make sure that the dishes on your menu board are easy to prepare and are time-manageable.
At Template.net, we serve various menu cards and flyers with creative dishes, names, and descriptions. We have also got a cocktail menu and restaurant brochures. We assign different experts to frame each aspect of the flyer on its excellent quality. Making them is a time-taking process that you can avoid by having our ones. We assure you of our product content and artwork quality. They are potent enough to get the best crowd for your eatery. With unique ideas and frames, we have offered you different structures on many types of food stores.
Read More
Earn 20% commission on every sale from your Share
Bloggers: Publish/Mention Template.net products on your website, blog, Social Media or Via Email & Earn affiliate commission of 20% for every sale