Business
10+ Capital and Revenue Receipt Templates in Google Docs | Google Sheets | Excel | Word | Numbers | Pages | PDF
The importance of keeping and asking for a receipt may differ from one unit to another. It always depends on which entity we are talking about. For individuals, receipts are required to get the warranty and to prove the value of their transaction in the event of loss and damage. But for businesses, receipts are useful documents to fight against the financial and alternative disputes with their customers and to keep track of their business expenses. In any case, a list of printable receipt templates below can be of great help to you. See what benefits you could possibly get from us as you scroll this post down.
Table of Content
10+ Capital and Revenue Receipt Templates in Google Docs | Google Sheets | Excel | Word | Numbers | Pages | PDF
1. Receipt Format Template
Receipts are usually easy to make when you have a Receipt Format Template with you already. Get the chance to personalize this template in any of the file formats such as Google Docs, Google Sheets, MS Excel, MS Word, Numbers, Pages, and Editable PDF. To start out, simply click the download button anytime you want.
2. Rent Receipt Template
Landlords need to keep track of the monthly rental payments. With the help of this Rent Receipt Template, there's no problem recording and monitoring the payments made by your tenants. All you have to do is edit and customize the layout and the original information using Google Sheets, Google Docs, MS Excel, MS Word, Apple Numbers, Apple Pages, and Editable PDF. If you badly need this template today, download it immediately.
3. Receipt Template
To get an accurate record of payments or purchases, this Receipt Template is what you need to download. On top of that, you can edit it in Google Docs, MS Word, and Apple Pages with ease. It is also available in A4 and US print sizes, perfect for commercial as well as personal printing. What are you waiting for? Download this simple receipt template now!
6 Steps to Make a Capital & Revenue Receipt
Step 1: Legal Definition
Receipts are more than just documents issued by the sellers to their customers. Justice De Luca, in People of the State of New York v Fusaro, provided that: "A receipt (is) a written acknowledgment by one person of his having received money or property from another as will be prima facie evidence of that fact in a court of law. (A receipt is) also, an admission of fact in writing or an act of acceptance for something delivered." In the case at bar, the importance of issuing a receipt on the part of the sellers and requesting one on the part of the buyers is clearly explained and well-validated. In other words, any business establishment must always provide a receipt to their customers, and any buyer who wishes to purchase goods or services has the right to ask for it.
Step 2: Negotiability
In almost all cases, a receipt is as vital as your identification card, especially when we speak of the term "negotiability." For example, when a person wants to claim for the insurance services, the insurance company would surely ask for a copy of his/her receipt. In this scenario, a receipt serves as a valid acknowledgment that he/she has already paid. Therefore, a claimant, before filing a claim under such provision, should provide a receipt issued by the insurance company. Otherwise, the claimant could get no response concerning his/her request. The same thing goes for warranty purposes.
Step 3: Types
There are different types of receipts for every transaction. Generally, receipts can be categorized into (1) gross receipts, (2) purchases, (3) expenses, travel, transportation, entertainment, and gift expenses, (4) assets, and (5) employment taxes. You may sort them out according to these categories.
Step 4: Template
Aside from knowing the receipt's legal definition, types, and negotiability, you need also to consider downloading an appropriate template. There are different receipt templates above that are made available for you for any capital and revenue purposes. Explore them all and choose which one would better serve your business.
Step 5: Essential Details
Typical receipts must contain the following vital information: the name and address of the business to where the items have been purchased, the number of items bought and the total price, the date and the time of purchase, the VAT charged, the method/s of payment, and the returns policy. All these details are essential, and they have to be incorporated when you issue a receipt.
Step 6: Handwritten or Electronic
Receipts are issued either on paper or via electronics. While paper receipts are easy to prepare and provide, digital receipts are increasingly becoming more popular. Either way, every business establishment is required to issue a receipt to their customers, even without a formal request.
4. Acknowledgment Receipt Template
Acknowledgment receipts are usually issued to verify that the recipient already received a certain service, product, or amount. To help you draft one today, we have provided our ready-made Acknowledgement Receipt Template in MS Word and Apple Pages file formats. Download the template if you need one right away.
5. Printable Hotel Receipt Template
Every hotel is obliged to issue receipts to its customers. If you have a hotel business and you need a copy of this template, you can have it anytime you want. You only have to download and edit this Printable Hotel Receipt Template using Pages, MS Excel, MS Word, and Numbers. Secure a copy now!
6. Car Sale Receipt Template
Whether a car purchase is made at a dealership or in a private sale, this Car Sale Receipt Template can be as helpful as they are to your business. Get to create a receipt that lists the itemized cars and the corresponding payable amounts using this car sales receipt template. Edit it in your most preferred file formats. Download now!
7. Free Sample Receipt Template
Looking for a sample receipt template that you can download for free? Well, you've found the right one! Grab a copy of this Free Sample Receipt Template today and edit it in MS Word, Editable PDF, and Apple Pages file formats. Make haste! Don't miss out on this rare opportunity.
8. Free Receipt of Payment Letter
If someone is making a payment for a product or a services example, this Free Receipt of Payment Letters can help you lay down all the information needed to record and explain the transaction your customer has been made with you. Want a copy of this template instantly? That's not a problem. All you have to do is click the download button.
9. Free Receipt For Daycare Services Template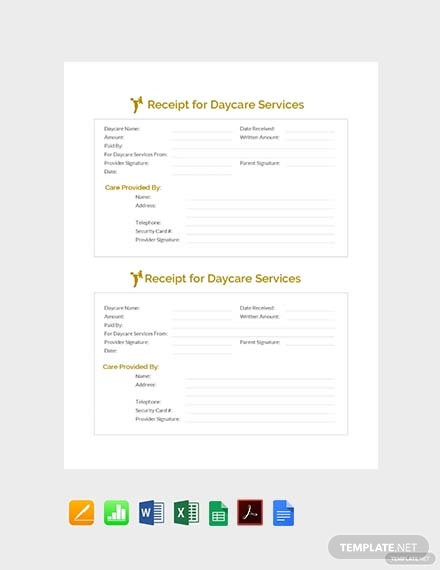 When you're running a daycare center and providing a custodial care service, a receipt will serve as the acknowledgment paper that someone has paid a certain amount for the service she requested from your office. In order to do your job right, you may download a copy of our ready-made Free Receipt For Daycare Services Template today for free. You may edit it in MS Excel, MS Word, Numbers, Pages, and Editable PDF.
10. Statement of Receipt Template
If you need a statement of receipt template to record payments, then this Statement of Receipt Template is what you have to download and personalize. It is readily available in a Portable Document Format (PDF) and printable in any letter size. To catch a glimpse of this template, consider downloading it right there and then.
11. Rent Receipts and Records Example
Let this Rent Receipts and Records Example be a guide in your receipt-making activity. The preformatted content and a layout in this rent receipt template can possibly provide insights into making a receipt right. Download a copy now in a Portable Document Format (PDF).