There is no nee sitting down on your PC and start creating an artist management contract from the ground up. Just imagine the amount of time you are going to spend doing this. It is going to take you quite long, which is why the use of template is a better way to make work easy for you. Here are three advantages why you should be using contract templates as an alternative to creating one from the ground up instead.
Artist Contract Template
Sample Artist Management Contract Template
Standard Artist Management Agreement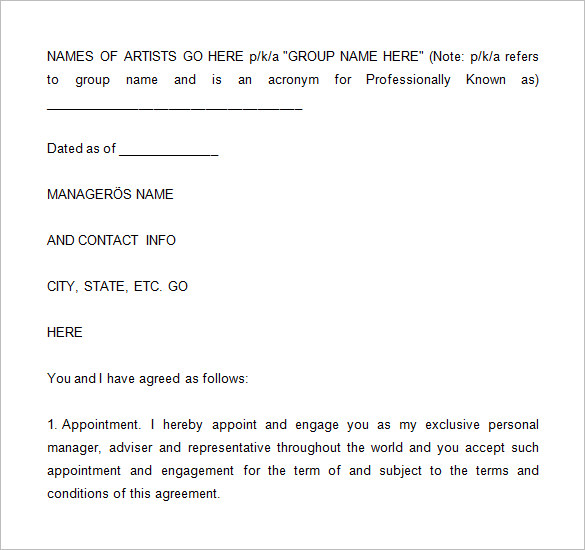 indiemusicdigest.com
Artist Management Agreement Template in Word
docracy.com
Long Term Artist Management Contract Template Example
immf.com
Free Artist Management Contract Template
musicoffice.com
Accuracy:
The first thing that is obvious about the printable contract template is that they are premade, which means the developers took time to ensure that they are not only accurate but also useful for any artistic kind of contract writing.
Sample data provided:
Some music contract templates come with sample data. You can always use the data as a reference when writing the contract. It is obvious that you cannot use this data as is, so the best thing would be to make reference and then come up with something unique.
Saves money and time:
You are going to spend the least amount  of time getting the contract ready. You will notice that the only thing you have to do is to download the template, customize it and then use for getting the contract ready.