Consulting can be defined as a job that gives expert advice to those people who work in the fields of business or any other professional field. These consultants usually provide those pieces of detailed information that the client lacks or he/she is not able to fulfill. Since they need also need contracts while working for a client, these can be made easy through the use of contract samples available online.
Sample Consulting Contract Template
Contracts are legally bound documents that act as an agreement between two individuals/companies, where they have agreed to certain terms and conditions. If you are in need of a legally-binding document to legitimize the rendering of certain consultation services then you can sue the above template. It will help you iron out all the specific details and you are also given the chance to draft the document yourself without having to start from scratch.
Business Consulting Contract Template
Business consultation can be defined as a kind of consulting that is specifically done for the people who are working in the field of business and if they are looking to open a new firm or invest in something else. The expert advises guides them correctly, making sure that there is not much loss from their end. Define your terms and conditions of a consultant to your business using this business contract template.
Simple Restaurant Consulting Contract Template
Are you in need of a consultant who can give you advice on how to run your restaurant business properly and successfully? If so, you're in the right place, because we offer you the best template that suits your needs! The above template, if used right, helps protect you and your business from any fraudulent activities. This template helps you lay out the reasonable terms and conditions of this business partnership. We help turn your tedious tasks into time-saving ones.
Political Consulting Contract Template
This template lays down all the responsibilities that a consultant is offering to the client as well as the obligations of the client to the consultant, the terms and conditions of the agreement, and many other provisions that will iron out any future misunderstanding between the parties. Since politics can be a tricky subject to deal with, it is always better to be ready for any kind of issues that might arise from nowhere. 
Simple Marketing Consulting Contract Template
A marketing consulting contract is a legally-binding agreement between a business and a marketing consultant that establishes how everyone is going to work together. It has in it all the important details of the agreement and records everything from goals, objectives, timelines, feed, etc. Use the above marketing contract template for creating the best contract. Protect ownership to intellectual property as well as any confidential information from leaking out through the use of this contract. Create a schedule of payments as well as a definition for warranties and cancellations.
IT Consulting Contract Template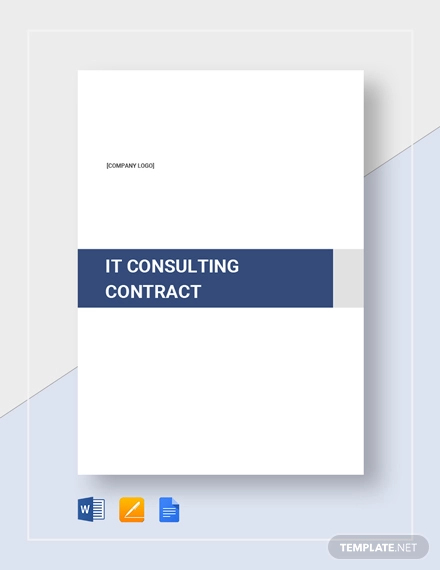 How to Create a Consulting Contract
1. Basic Information
The first step in creating a consulting contract would be to know what the contract is basically going to be about. Also, mention the title of your contract. Include all the basic details of your company, what you do, what are you planning to do, your objectives and goals, etc.
2. Identify the Parties Involved
The next step would be to identify the parties involved in the contract. Give details of the parties like the name, company name, address, contact details, location, etc. This will make it easier to know who are those who are involved in the contract.
3. Payment Method
This step would basically be to make sure that everyone involved in the contract knows how the consultant will be paid. This could either be lumpsum payment or on a contractual basis. Mention these details in the contract and also, how they are going to be paid, that is, the payment method that is being used to pay the consultant, which could be- cash, cheque, debit or credit card, etc.
4. Agreement and Termination
This is where you will mention the agreement and also, the terms and conditions of terminating the contract. The agreement would be the details and the terms the parties involved have agreed upon and the termination would be a notice that should be given to all the parties daying the contract is being terminated and why is it being terminated, briefly explain why.
5. Extra Information
This would include all the miscellaneous details. These details would be all the provisions that have to be included in the contract, including the state law, as contracts usually follow them, so as to make them legally bound. In case you need any more help, you can also check out IT contract templates on our website. Make sure that you mention all the details correctly so that there is no misunderstanding between the parties.
6. Signature
The last and final step would be to take the signatures of all the parties involved in the contract. This should be at the very end of the contract. Ask all the parties to read all of the details and information carefully, make any changes if required and then sign the contracts with the date, time and location, so that they are now legally bound in the eyes of law.
Consulting Contract Template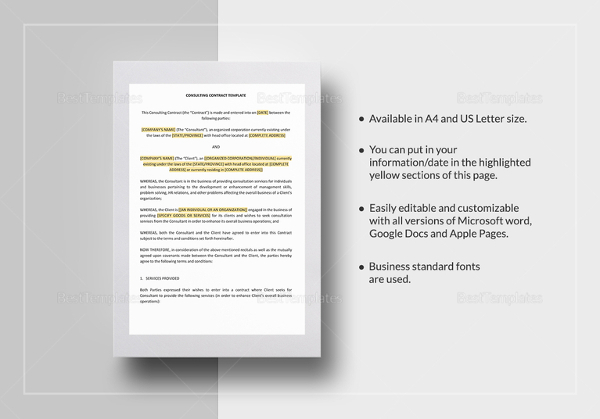 If you are into freelancing or if you are simply looking to outline the probabilities of a given service provided by a consultant, then the above template is the right one for you. This template is pretty easy to use. All you have to do is simply replace the yellow highlighted text with your necessary details.
Printable Service Contract Template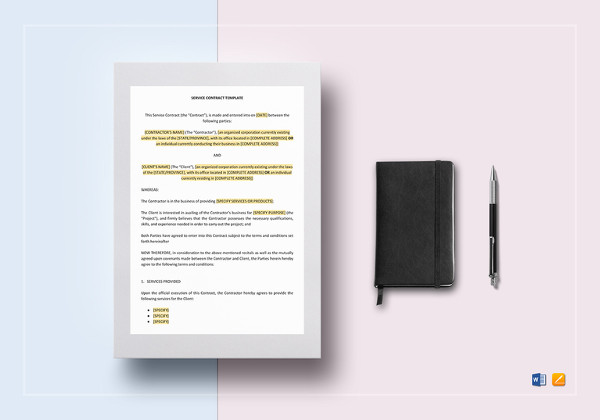 A service contract is a kind of business agreement that is signed between a contractor and customer covering the servicing of any equipment in a specified period of time. The given above template is a service contract that can be filled with the details of the contractor and the client wherever necessary. It helps note all the terms and conditions of the work that is being done.
Business Contract Template
Business contracts are not easy to make because they have to be very formal and professional. And if you are looking for one that helps you make the job easier, you are in the right place. Simply download the file and edit the highlighted information with the necessary details. It makes your job way easier than having to create one from scratch always.
Employment Contract Template
Employment contracts can be used when your company is hiring new recruits. They would have to sign contracts so that they can keep the information they get from the company confidential. These contracts are easy to edit and will help you keep the employee in the company for a given period of time he/she has signed the contract for.
Consulting Agreement Template
A consulting agreement is a terms and conditions document that has to be signed by all the parties involved so that it is easier for everyone to understand the agreement and what is it about exactly. The above-given template is a consulting agreement that is open to be edited and is also a fully customizable template.
Free Consulting Contract Template
Consulting Contract Template Free Download Example
Academic Consulting Agreement Sample Download
Sample Consulting Agreement Contract
Basic Consulting Contract Template
Professional Consultancy Contract
International Consulting Contract Template
Look at it this way, a company, a business or an individual wants to hire you because of your proficiency and professionalism in consulting. What do you do? Sign a contract. Yes, that is true.
As a service provider, you can write a contract using any of the contract templates that are available online. Unlike in an employment contract, where the employees seek employers, here the employers will be looking for you. Check out loan contract templates for more. It is, therefore, your duty to write a legally binding contract and have them sign before you start your career with a new client.
The best way to write this contract fast is by using a blank rental contract template. There are quite varieties of these high-quality consulting contract templates. You can download one or a couple and use it as is, or you could customize them to look more personalized then use them to compose your contract.