Contracts
8+ IT Support Contract Templates in MS Word | Google Docs | PDF | Apple Pages
It is important to always keep in mind that there is no field facing massive growth like Information Technology. From web texts to powerful cloud computing approaches for business solutions, there is only one assurance; technology is taking the current time ablaze and is going to be our future. Companies are in continuous search of the best IT professionals that can help them in learning contract templates to scale their Information Technology department to the next level.
Table of Content
8+ IT Support Contract Templates
IT Support Maintenance Contract Template
The above template will help you layout the IT support and maintenance services you would like your company to receive from your preferred IT service provider by procuring a comprehensive and well-outlined IT support maintenance contract like the one above. This is a professionally designed template that you can easily use due to its fully customizable layout. Use the above template to outline the terms and conditions of your maintenance services and IT support effectively.
IT Service Contract Template
Deliver IT services to your clients legally and professionally by preparing an IT service contract beforehand. The above template allows you to outline the terms and conditions of your agreement in relation to the IT services to be performed within the client's establishment. It can be easily edited and customized in the way best that suits your business organization. Try it out now!
Basic IT Support Contract Template Free Download

contractguru.org
Free IT Support Maintenance Contract Word Download

research.cs.wisc.edu
Small Business IT Support Contract Template Free Download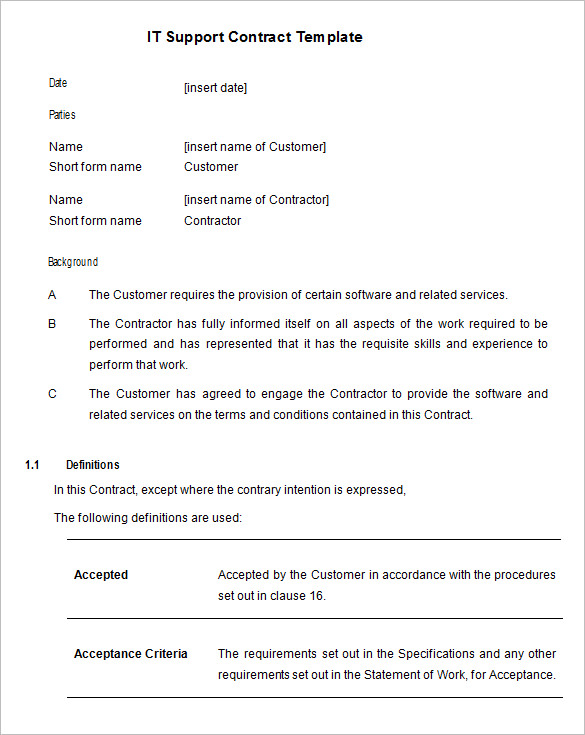 finance.gov.au
Sample Remote IT Support Contract Template PDF Download

ogl.co.uk
Software Support Agreement PDF Download

organizersoft.com.au
Example IT support Service Contract PDF Download

saq.net
IT Support Agreement PDF Download

itdonut.co.uk
Creating an IT Support Contract:
1. Choose a Template
The first thing you need to do is to choose the right template. There are many contract templates in Word you can choose from as there is a huge variety of templates available. You must choose the right template as this contract is the face of the deal. Since there might already be enough information in the template, all you have to do is enter your details.
2. Identify the Parties
The next thing to do is to identify the parties involved in the contract. It is compulsory to mention all their details without fail, it will get easier to understand the jobs given to each of the parties as well. These details would be their names, their addresses, the location, contact details, etc.
3. Resources and Materials Needed
Make a list of all the resources and materials you will be needing to finish the contract successfully. Also, provide a budget for each of the resources you ask for so that you will have a better idea of where to cut down the excess amount of expenses and where you can increase your income in a better way.
4. Terms, Conditions, and Laws
You need to mention all the terms, conditions and laws you abide by and have to follow. Mention all of them in the contract, so that the others will understand as well. This way, all the parties involved in the contract will know all the laws, rules and regulations one has to follow.
5. Review and Signatures
Once you are done composing the contract, analyze and correct it wherever necessary. After you finish the review, get them to sign it. Give all the parties each a copy. Once the paper is signed, it is a legally bound document. Unless stated otherwise, you cannot make any changes without the consent of all the parties involved. Contract templates in Apple Pages will help you create the best contracts that might be of great use to you and your business.
Conclusion:
With information technology being the next big thing in the world and many business entities are openly embracing this idea globally, it is quite the guarantee that the market and precisely, your business is going to have a good growth eventually. Business contract templates will help you create the right contracts for your business. As you are going to hire professional experts in your IT department to work with or for you, it is always better to hire them on a contractual basis.
We believe the biggest benefit with the business contract template is that they tend to make your work a lot easier, and with the sample data always provided for you in some templates it should be easy to have an idea who people use blank contract templates to write a legally binding contract.
General FAQs
1. What is an IT Support Contract?
IT support contracts are an understanding among two parties where one party provides information technology(IT) services to the other in exchange for payment. It is a legal agreement, where one party chooses to provide all technical-related solutions, software, etc. to another for money. It can be an acquired or a purchased contract.
2. What is the purpose of using an IT Support Contract?
IT support contracts highlight the services that are provided by an IT company to another individual/company. The IT company is bound to provide support to the customer as per the decided terms and conditions in the contract. Both the provider and the receiver of the services must respect their responsibilities, regulations, etc. completely.
3. What should an IT Support Contract include?
You can include the following in your IT support contract:
The outside services you hire
The response and resolution time of the issue
Support tiers
Activity outline of what has to be done
Exclusions and other services that have been canceled
Excess charges, if any
The number of hours of operation, etc
4. What are the response and resolution time in an IT Support Contract?
Response time can be defined as the time taken for the support company to acknowledge your call or email, informing them about the problem and asking for a solution. Resolution time is the time that is taken by the IT support company to actually fix the problem perfectly, without wasting must time.
5. How to write an IT Support Contract?
Write an IT support contract using the following tips:
The official definitions that are to be used in the contract
Define the parties involved
The services and support to be performed
Budget the services provided
Add warranties, promises, and other legalities
Guidelines to deal with legal disputes
Include provisions, termination clauses and signatures.