Policy Templates
37+ Policy Templates in PDF
Companies have policies and procedures that must be disseminated to the employees. This is especially important if these employees are new to the company, as knowing the policies and procedures can help them get a better understanding of what's expected of them.
However, there will come a time where these policies and procedures might need to change, or there's a possibility there new ones have to be created in order to keep order and stability within the office. So in order for this to happen, you must make use of policy templates which will allow you to make a draft of the policy that you would like the employees to follow. Once everything is finalized, it can then be printed out and implemented across your organization.
Remote Work Policy Template
Sample Company Policy Template
Company Overtime Policy Template
Computer, Email, Internet Usage Policy Template
Website Privacy Policy Template
Sample Policy Memo Template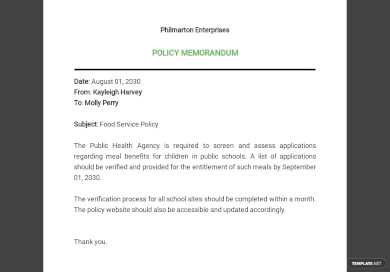 Work From Home Policy Template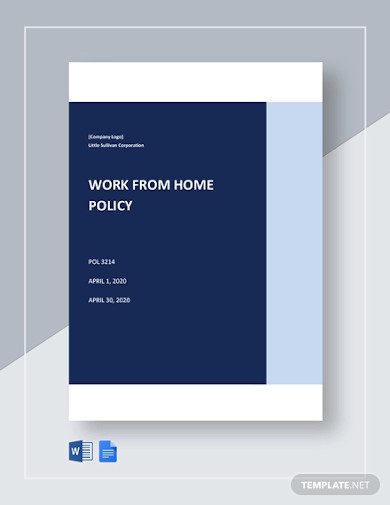 Sales Commission Policy Template
Privacy Policy Template
Overtime Policy Template
Social Media Policy Template
Business Financial Policy Template
mooresvilleoralsurgery.com
New Business Policy Template
tssa.org
Home Business Policy Template
joondalup.wa.gov.au
Business Management Policy Template
wates.co.uk
Business Attendance Policy Template
smcmba.com
Enterprise Business Policy Template
vero.com.au
Business Travel Policy Template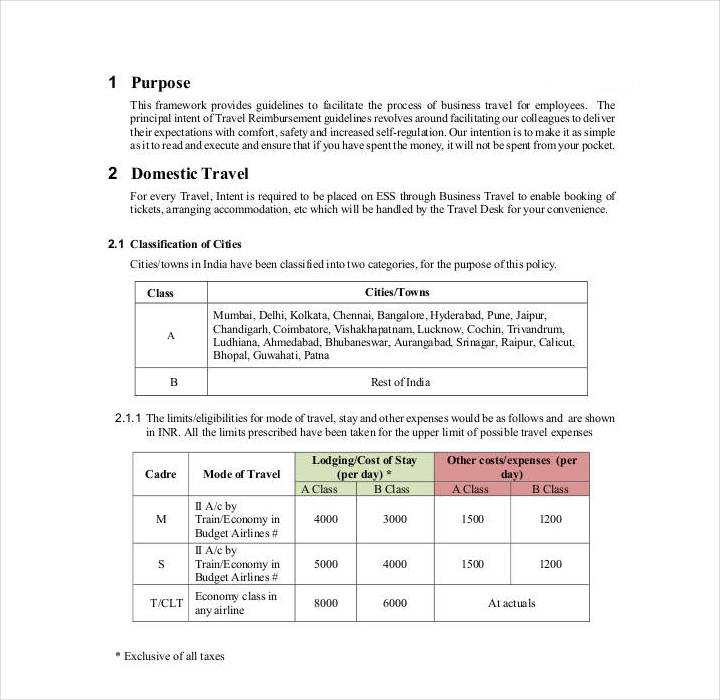 tallysolutions.com
Company Travel Policy Template
greatwest.com
Company Vehicle Policy Template
top.edu.au
Company Credit Policy Template
pmsilicone.com
How to write policies and procedures for your business
As mentioned before, the point of policies and procedures is to ensure that a business remains stable and orderly. This is done by making sure that employees know the proper guidelines, rules, and principles of the organization. Policies and procedures are generally in the employee manual that usually comes with the employee when he or she first starts out in the business. The goals of your company will determine how you write your policies and procedures. So here are some steps that should be able to help you out:
For outlining the basic goal of your business
If you're a manager or the business owner, then you should know what's best for your company. So before you start writing your company's policies, you have to make a list of all the goals that your company has to achieve. So consider things like the number of sales and smart goals for the employees and management. You have to think long-term and where you would like to see your business in the future. While you're trying to make your goals as specific as possible, you have to remember that they should also be attainable and worth working for. Once you've finished setting your company goals, you have to be sure to commit to them. While making goals is all well and good, pushing through with them is just as important.
After you've finished listing your company's goals, write a list of the tasks and procedures of your business. Think about the things that happen day-to-day when it comes to your business operations. Write down each of these tasks that need to be done every day in order for your business to run smoothly. You have to think of things like which tasks would require formal documentations or directions and which procedures need to be done consistently.
At this point, create a list of all the possible problems that can occur as well as their potential solutions. The point of a policy is to make sure that the business runs smoothly and that manager and employee performance live up to the company's standards. Think about all the different problems that could pop up if there were no rules or procedures to take care of them. By doing this, you'll be able to get an idea about what could happen, as well as know what to do in case they ever happen. So think of issues that surround the day-to-day activities of your business and create brief ideas on how you're going to solve them.
For writing the policies of your business
After you have listed the different issues that you would like your company to address, you must then come up with different categories for them. For example, if you have issues that mainly focus on the employee's well being within the workplace, then you may place these within the "Safety" category. By having all of your policies separated into different categories, it will make things more organized. It will also help you decide what's more important or what to prioritize, as well as help you address these issues in more detail. Plus, if your employees ever need to find a specific issue that needs to be dealt with, having them categorized will make it easier to find them.
Make use of an outline format to detail different policies that are under each category. With an outline, you will be able to discuss deeper aspects of each policy or category, which will then allow you to add stipulations and specifics as you go. It's best that you use numbers to order each section or category. So start with a brief, shorthand outline. Then once you've gone all through your initial ideas and have them written down, you can now go back and lengthen the sections accordingly.
Next would be for you to come up with the consequences in the event that a policy is broken. With policies, your business will be able to function properly, while at the same time make sure that your employees and managers live up to your company's standards. However, if someone breaks any of these policies, then that person should be ready for what's to come. Whatever you place in your employee manual must contain ways on how to handle policies that have been broken. So you have to be clear regarding the rights of your employees and how they will be disciplined should any of them break the rules of your business.
Have a clear policy regarding employee termination. In the event that you have to fire an employee due to him or her breaking your company's policies, then the written policies should be taken as a form of evidence if the employee wishes to argue regarding why he or she was terminated. So you have to be sure that you place a section in your policy regarding what will make an employee eligible for termination.
You should also have a policy regarding hiring new employees. You want to make sure that your business gets only those people that are suited for the job. A good example would be implementing a policy in which one must do a background check prior to employment, or having a new employee go through a probationary period before he or she becomes permanent. Be sure you outline and set these terms as clearly as possible as this can determine whether or not you're going to get employees that will live up to your business' standards.
You have to guarantee that you're writing all of your policies in a way that's clear. You don't want any of your employees to misunderstand anything or read things in a different manner. So if there are any other ways to interpret any of your policies, then make sure to rewrite them.
Simple Company Policy Template
helvetia.com
Company Payroll Policy Template
nrc.co.za
Company Leave Policy Template
hrpulse.co.za
Company Phone Policy Template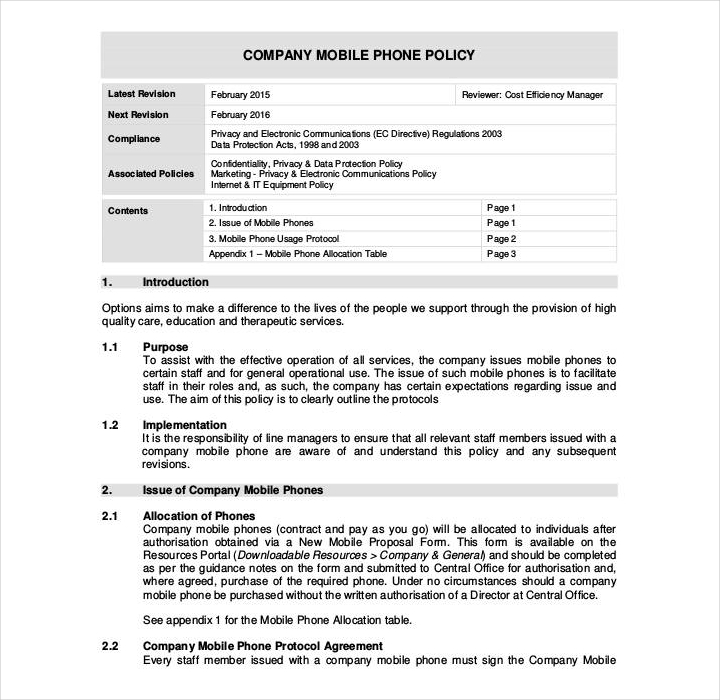 optionsgroup.co.uk
Company Accounting Policy Template
delarue.com
Company Safety Policy Template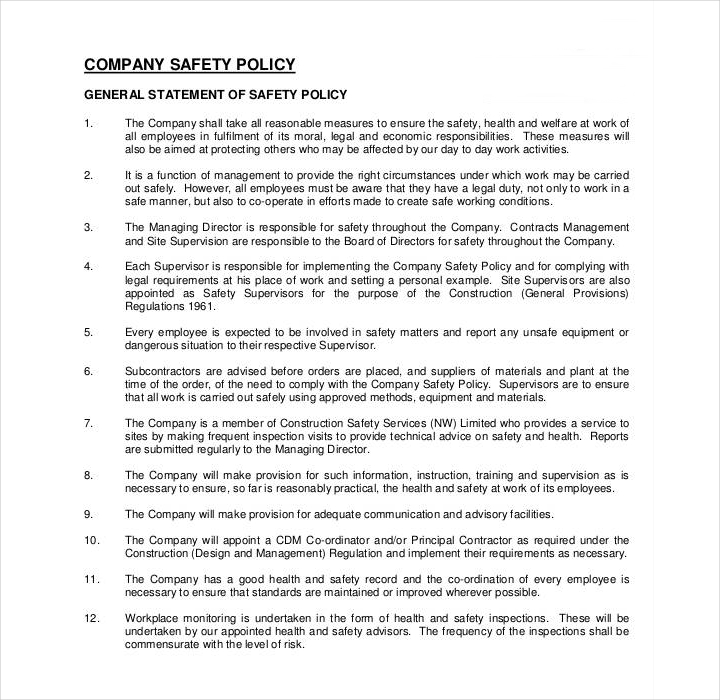 rowlinsonconstruction.co.uk
Construction Company Policy Template
nclabor.com
General Security Policy
health.govt.nz
Laptop Security Policy Template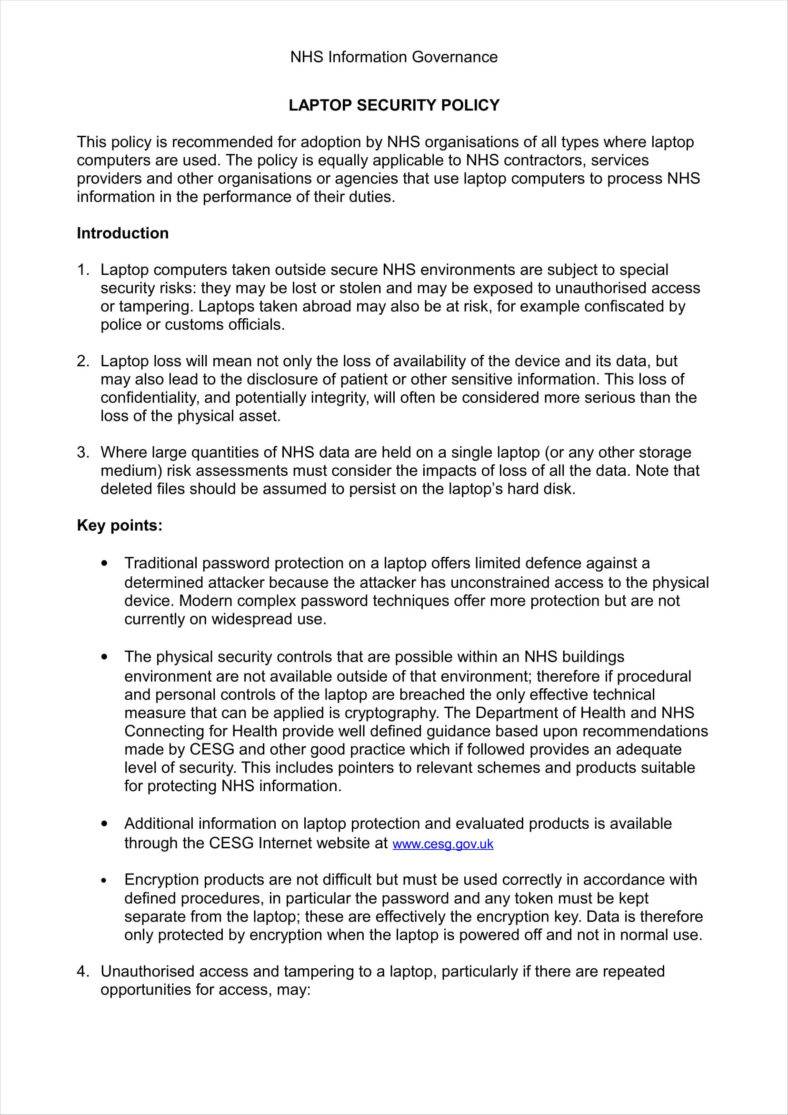 igt.hscic.gov.uk
Quality Management Policy Template
utas.edu.au
For writing the procedures
You have to be able to determine which of the tasks would require detailed and outlined procedures. You have to remember that not every task will require specific instructions on how it should be done. So what you're going to have to do is to look into the different tasks of your business, figure out which of them are more complex than the rest, and provide specific procedures and detailed instructions on those that need them. To help you understand which tasks you should prioritize, you can question things like what would be the consequences if a certain task is done incorrectly. The bigger its impact, then the more important is it to make sure your employees do those tasks properly.
Before you can detail your procedures, you'll need to gather the necessary information that will help you know about every step and aspect of it. So consider things like the kind of questions that your employees have had in the past as well as issues that you and your employees are currently encountering. Once you've gathered enough information, then you'll be able to write the procedures. However, it's best that you start off with the basics when writing it down. So what you're going to have to do is think about what the reader or employee will need to understand, then think about how the procedure should be carried out. Once you've figured those out, writing the procedures shouldn't be much of a problem.
While writing the procedures, make sure that you do so in an active voice. Try to avoid being too wordy as your employees might have a hard time understanding what you have to say. So try not to use jargon that an employee wouldn't know about or be able to understand.
For understanding legalities
You must include a section on anti-discrimination policies. It's important to place an anti-discrimination policy as it's a type of business policy that the government requires every business to have. Be sure that you include information on this type of policy as well as how you expect your employees to adhere to it.
Make sure that all of your policies are legal. There are a number of online resources that should give you and other business owners the information you need on this subject. You can even consider having a business attorney go over your business policies before you inform your employees about them.
When you have new recruits joining your company, they should be required to agree to and sign the policies and procedures document, as well as be given a copy for reference. In addition, if there are any policies or procedures that have been changed, then existing employees must also sign the amended policies and procedures document. Doing this will help assure that the employees will be held to these policies in the event that any legal action is taken by either party in the future. Take note that minors cannot legally make contract agreements. So make sure that if you're hiring anyone that's under 18, he or she provides you with a written permission from a guardian to enter the contract. The reason for this is because the parent or guardian may legally cancel the contract should they wish to do so.
General Environmental Policy
marion.sa.gov.au
Privacy Policy Template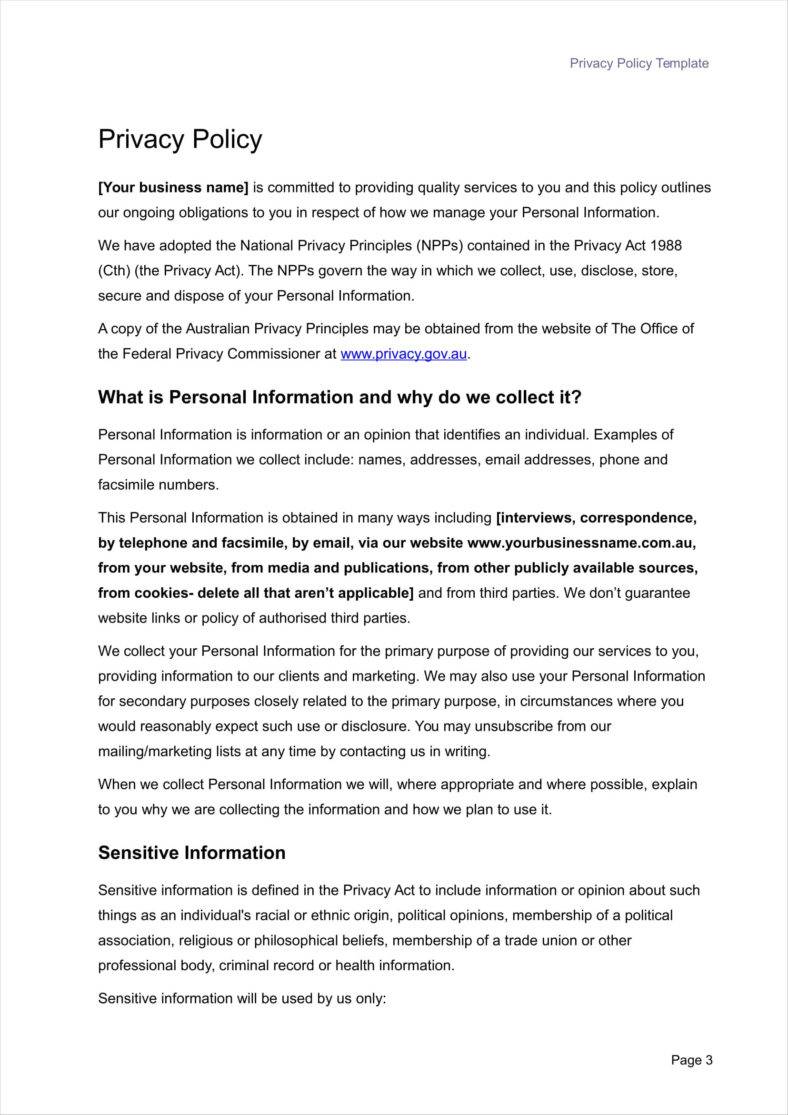 business.vic.gov.au
Company Vehicle Policy Template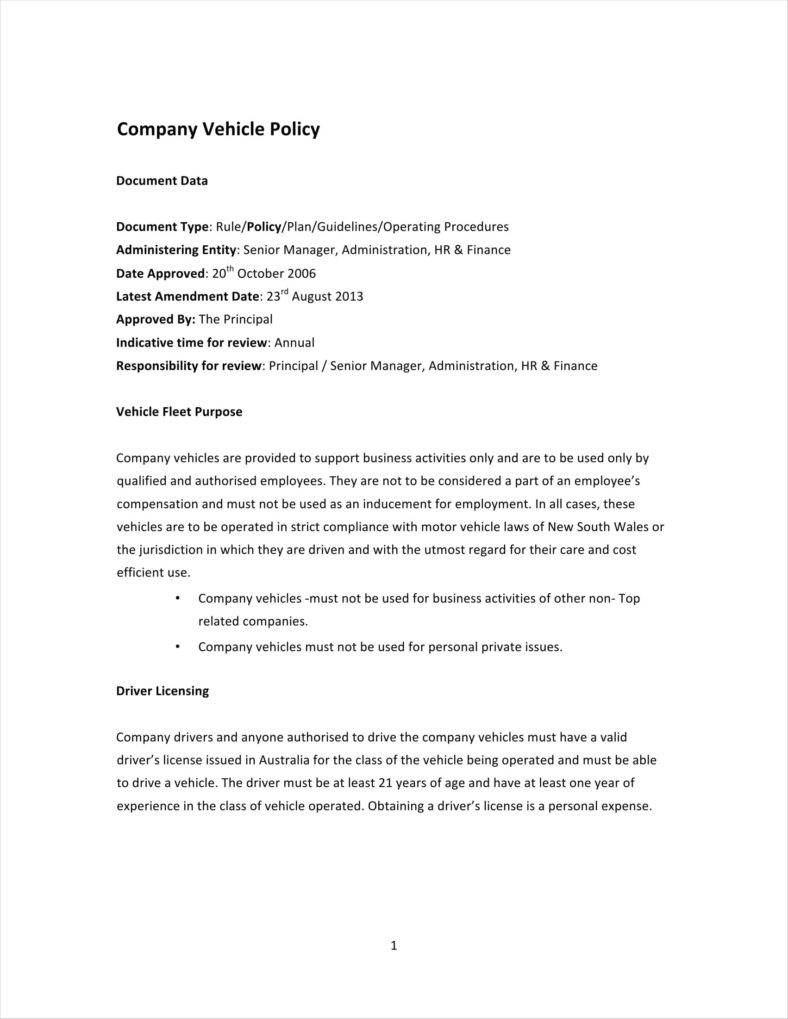 top.edu.au
Agency Social Media Policy Template
ok.gov
Corporate Social Media Policy Template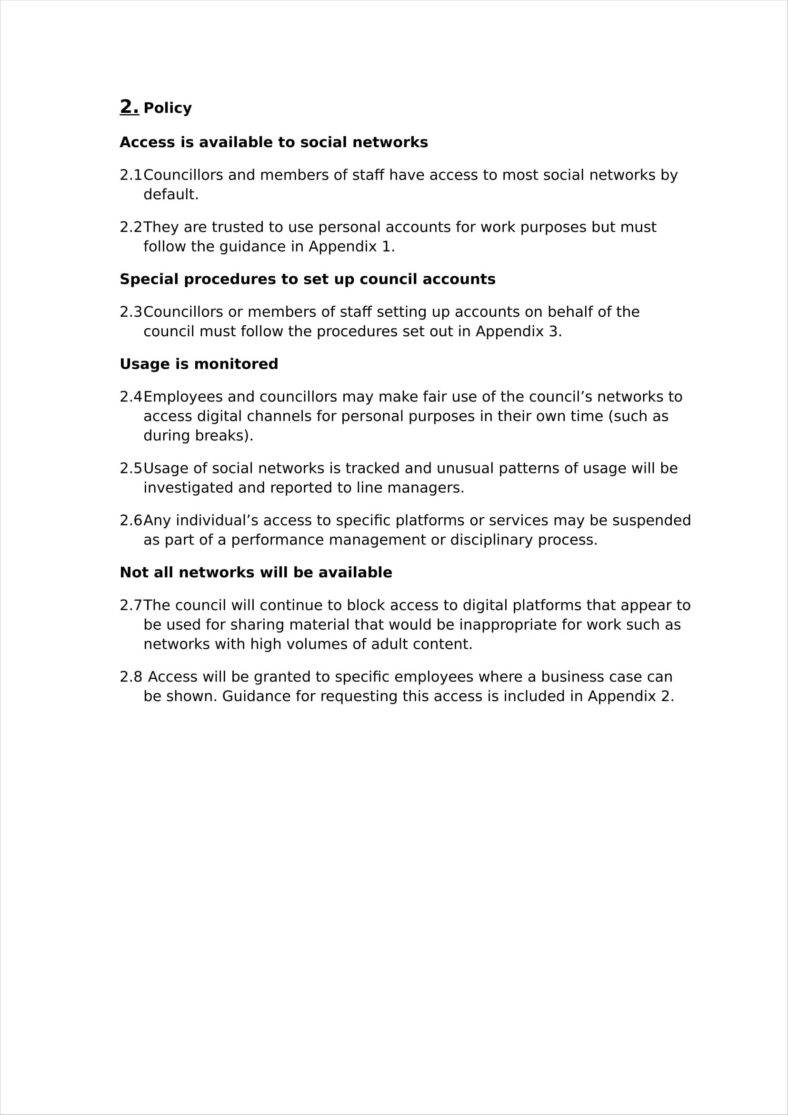 herefordshire.gov.uk
Employee Social Media Policy Template
kdla.ky.gov
For compiling the manual
Organize all of the information in a logical order. Start with the more encompassing issues, then you can move on to the minor ones. For example, rather than starting with the category for compensation, you can start with the hiring process or hiring eligibility instead. You can also consider opening the manual with a clear description of your company's goals. Start by writing a clear and cohesive paragraph or two that gives the reader a brief overview. This will tell the employee about the company's expectations, as well as what they can expect from the company. You can even use the outlining style to make subcategories that will make your manual look more organized. Once you're finished, make a table of contents to make it easier for the reader to find information.
There are people who are more visual than the rest, so it's best that you place diagrams, charts, or images in your manual. With these added visual elements, different types of employees would be able to more easily grasp the concepts in your manual. These types of images can simplify the different procedures and policies that you've placed in your employee manual.
Make sure that the manual is accessible to all of the employees. New employees should be given the manual once they're hired, and existing employees should get new copies in the event that any revisions re made. You might just need to have your employees sign a contract that states that they have agreed to the things that have been outlined in the manual. You also have to make sure that you keep a copy of the manual. You're going to need both physical and digital copies. The point of the employee manual is to ensure that the policies and procedures are understood and carried out properly. And if any issues arise, then the manual should be there to guide your course of action.
If you would like to know more regarding the policies of a business and how to make them, then you may go through any of our available articles. These will give you the information that you need, as well as the guidelines for policy templates that will help you make the rules and regulations needed to help your company operate successfully.
More in Policy Templates