Buildings, the workplace, or any business establishment require cleaning and maintenance on a regular basis for very obvious reasons. It goes without saying that clean business premises keep everyone safe from harm and diseases. It also gives a sense of comfort and boosts employee satisfaction. Since most offices don't have their own cleaning personnel, it's common to invite bids for interested third parties and contractors to complete the cleaning task.
5 Steps to Write a Cleaning Proposal
Step 1: Don't Make It All About The Cleaning
Many contractors make the mistake of sending potential clients project estimates focusing on the price tag, without knowing what type of cleaning they need. You can't just give clients a dollar amount and expect them to trust that your staff would do their job and that you have the right equipment to complete the task. In fact, your average person isn't really sold on the idea of commercial cleaning so highlight the things that make your services stand out to make your potential client consider your proposal.
Step 2: Let Them Know What Makes You Different
What sets you apart from the competition? Remember that there might be a dozen other businesses offering cleaning services in your area. Some of them could even come cheaper, so you need to market your services in a way that sets you apart from the rest. The key is to offer value and quality, not how cheap the services could be.
Step 3: Know What The Client Needs
Writing a proposal requires you to identify and prioritize what the client needs as opposed to the profits you'll earn when you get the job since that's already a given. What are the client's daily challenges with cleanliness? What policies related to cleanliness aren't working? This is why they're hiring a contractor. You need you to fill the gap by proving that you have taken the time to assess their needs which you will work to fulfill through your cleaning services.
Step 4:  State The Scope Of Services
This is where you need to get as detailed as possible. You can't charge for extra services when it wasn't included in the original proposal submitted. You also have to educate the client what the service includes and what the limitations are. For instance, they might have asked for a window cleaning service along with janitorial services for the comfort rooms, but asking you to also take care of workspaces is out of the question.
Step 5: Proofread and Check
At its core, a service proposal is a business document. You can't expect to land the job if you miss out on minor errors such as spelling, grammar, and typo. Your proposal needs to be professionally-written and no matter how convincing it is on the whole, you're not getting considered for the contract if your document is full of typos and errors.
11+ Cleaning Proposal Templates
1. Cleaning Business Proposal Template
At the end of the day, what matters is whether or not you'll be able to get the cleaning done the way the other party needs to. Price is a factor but one that comes next to quality, so go ahead and download this cleaning proposal template to make sure you're also offering value and not just any service.
2. Cleaning Service Proposal Template
The contractor who submits the best proposal wins the job. Make sure you only hand over a well-written proposal by downloading these templates and print them in any of the available formats. Take note of the structure and language used, then edit and customize accordingly.
3. Restaurant Cleaning Proposal Template
4. Cleaning Proposal Template
Want to make sure that you're meeting your client's RFP (Request For Proposal) requirements? Edit and customize this cleaning proposal template and tailor it to what the service needs after you make a draft for a proposal that responds to the task or job at hand.
5. Office Cleaning Proposal Template
Unsure of whether or not you need to submit a proposal as a response to an RFP? You don't really need to. Instead, you can just send a proposal such as a sample proposal above, to a potential client and reach out by convincing them you can provide the best solution to their cleaning problems.
6. Free Cleaning Business Proposal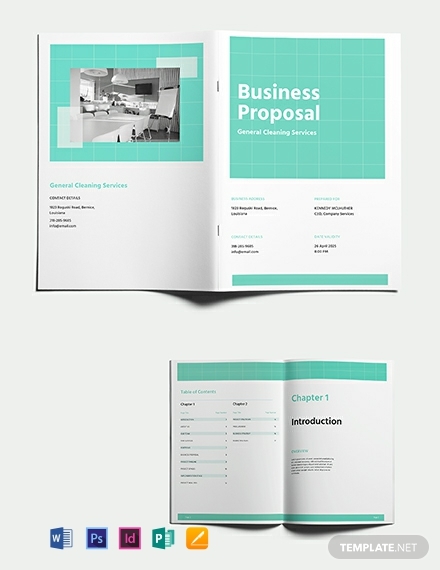 A wrong number, a misspelled name can mean a lost business opportunity so make sure to double check client information and proofread your proposal before submitting it. For a better output, make use of the proposal designs available on our website!
7. Commercial and Residential Cleaning Proposal
Afraid to risk submitting a cleaning proposal that doesn't have the right elements? You can use this template as your guide to also make sure your document has everything a business proposal should include. To save time, just click on the download button then print according to your preferred format.
8. Commercial Cleaning Proposal
Format your proposal. You want to leave no room for confusion so make sure your document is readable. If you're having a hard time, you can just use the cleaning proposal templates we have compiled in this article, and you'll find that they are printable in different formats for your convenience.
9. Request for Janitorial Services Proposal
Do you want your proposal to be as detailed as possible? Then download this template and check its content to guide you through the final stages of your proposal writing. Better yet, just edit and customize the document according to your business' and the client's information.
10. Proposal Request for Cleaning Services

villageofhazelcrest.org Download
No two proposals are ever the same because clients are also unique from each other. That doesn't mean you can't use these helpful proposal templates in making sure you have written your cleaning proposal correctly, complete with everything that any business proposal should have in its content.
11. Request for Cleaning Services Proposal
Hesitant to include sections that may just be unnecessary in the end? Refer to this cleaning proposal template and write what the client or customer need to know regarding the services you can provide. Persuasion is the key and you need to be as convincing as possible without being overbearing.
12. Janitorial Service Proposal Template
Still in doubt? Download the available cleaning proposal templates to make sure you end up with a professionally-written and properly formatted document from top to bottom. Your proposal is also a way to sell and market your services.
After all, only the best proposals are considered by other businesses when they need to hire a contractor to fulfill services that are out of their scope. Add a compelling and persuasive punch to your proposal by making sure it is well-written and in a formal language and tone. You're not just appealing to any customer. You're asking another business or organization to hire you and your team.