Management proposal templates are used in projects, events, constructions, and other undertakings in which proper allocation and control of resources are necessary. A management proposal ensures that all the items needed for an activity are well-disseminated and used within specific time frames. Just like job proposal templates, there are some management proposal samples that may also be applicable to employees and other members of the workforce.
Property Management Proposal Template
Event Management Proposal Template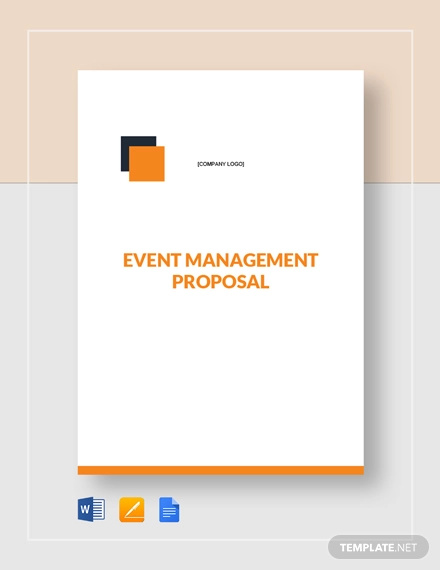 Restaurant Management Proposal Template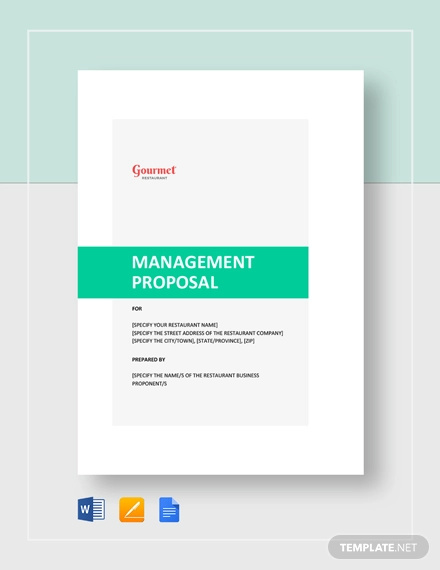 Construction Management Proposal Template
The creation of a management proposal is almost similar when planning a service proposal in terms of providing the specific item to be presented to stakeholders. Use our samples of management proposal templates in Word and PDF when creating or developing a management proposal samples for you to assure that you will make an efficient, professional, and highly-usable document.
Social Media Management Proposal Template
Event Management Proposal Template
Event Management
Project Management
Construction  Proposal
How to Write a Proposal to Management
As an employee, you can propose an idea that can help the operations or the current condition of your department be better. Writing a proposal to management can be done by following these steps:
Refer to sample proposal templates so you can easily create the format of your management proposal.
Specify the issue that you would like to address. You can also use training proposal templates if you think that the management needs to provide more training programs to its workforce.
Support your claims with valid instances and previous transactions as proof that there is a need for the management to look into the matter.
List down the proposals that you would like the management to consider.
Wrap up with your recommendations.
What Are the Ways to be Followed in Management Proposal Thesis
A thesis proposal used in the field of management is important to make sure that the items that will be presented in the study will be beneficial to the management of a business or an establishment. Here are the ways that you can follow when making a management proposal thesis:
Know the current condition of the business where you would like to apply the processes and results of your thesis.
Use free proposal templates to guide you in curating your management proposal thesis.
List down what the business needs to do in order to ensure the development of its management.
Just like when creating construction proposal templates, specify the workforce needed by the management, the materials, other items necessary for the management proposal to take place, and the timeline for the activities to be implemented.
Present the desired effect of the management proposal thesis and how it can benefit the recipient.
Management Consulting
Services Proposal
Management Proposal in PDF
Facility Management
6 Tips for Writing Effective Management Consulting Proposals
A management consulting proposal is created by a specialized consultant or a consultancy firm that can assess the effectiveness of the current management systems followed by a business. Here are six tips that can help you to create an effective management consulting proposal:
Make sure to curate comprehensive and detailed proposal letter templates. You need to assure your client that you can provide the consulting services that their management needs.
Know the existing problems of your client so your proposal can address them accordingly.
It is essential for your management consulting proposal to be time-bound so creating a timeline is highly recommended.
Just like an event proposal template, provide details on how your management consulting proposal will flow from the preparation up to actual execution.
Identify the strengths of your firm or the services that you can provide and incorporate those to the needs of your clients.
Be specific with the consulting services that you can deliver and the level of your expertise in terms of assessing the condition of the business and  providing the improvement plans that they need.
Follow these tips and start creating a management consulting proposal that is effective and that will surely let your client think of getting your services.