Resume
8+ Business Analyst Resume Samples
A business analyst is a professional entrusted with the great responsibility of analyzing the changes or the need of change in a business and formulating the actions to be followed. Here are a few business analyst resume templates. Are you about to apply for a job as a business analyst sample? Well, that's great but then the market is fiercely competitive today and hence you have to submit a truly professional resume to the hiring manager. In case you need some help, take the help of the below mentioned Business Analyst Resume Samples.
Free Analyst Resume Template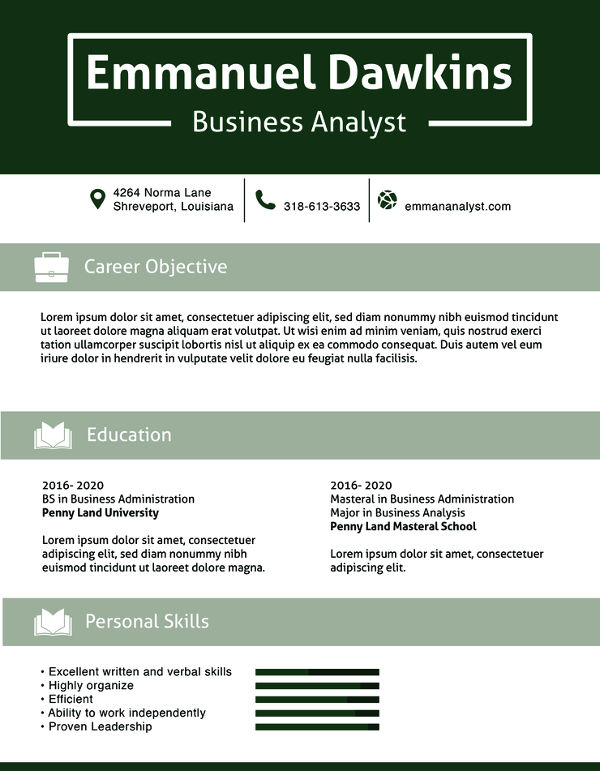 Sample Entry Level Business Analyst Resume
money-zine.com
You have a neat entry level business analyst resume template here that will allow you to list down your skills in clear bullet points and you also have a sizeable space for your achievements.
Business System Analyst Resume Example
lawhead.info
You have an elaborate business data analyst resume template here that comes with all the standard sections you would need on a professional resume like objective, professional highlights, recent project experience, etc.
Senior Business Analyst Resume
ejobsville.com
The most interesting aspect of this senior business analyst resume template is that it not only mentions the projects done but also provides detailed data on the responsibilities carried out to complete the project.
>

What are the tips to Create A Business Analyst Resume?

The primary tip to create your business analyst resume is to present your job titles in tune with the role you are applying for. You might need to tweak the title here but then always be honest and accurate with it. Then, your business analyst resume template must include the business analyst lingo throughout as it shows that you are well aware of the role and it would immediately create a better impression about you.

It would be smart to blend up your responsibilities and accomplishments under one heading- this way you can show what analyst skills you have applied to achieve what.
Business Intelligence Analyst Resume Example
arunethan.com
You have a very interactive business intelligence consultant resume template here that comes with charts and graphs for a better understanding. You will also find a detailed analysis of the projects handled in various companies. You can also see Marketing Analyst Resume Templates.
Sample Sales force Business Analyst Resume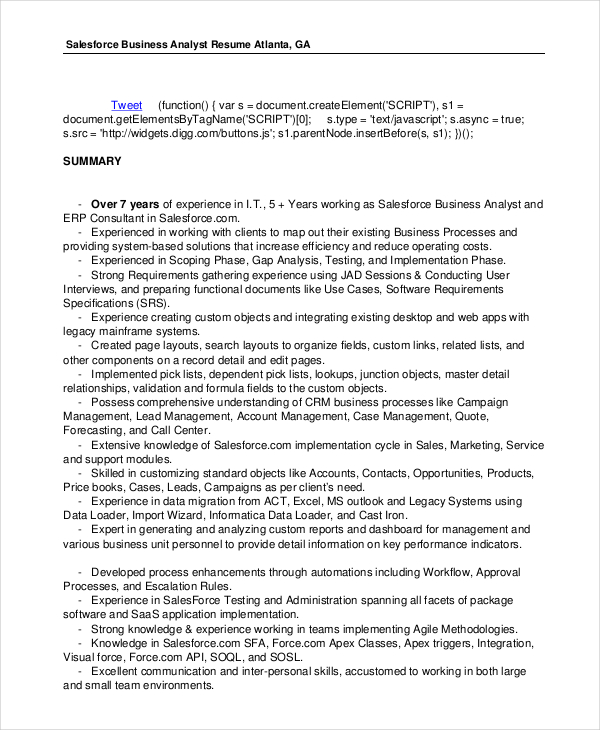 hireitpeople.com
This elaborate business analyst resume does a smart job by commencing with a sizable summary and you also have the work experience discussed in details with the project summary and responsibilities handled in each project.
Experienced Business Analyst Resume Format
suhailhalai.com
Sample Six Sigma Business Analyst Resume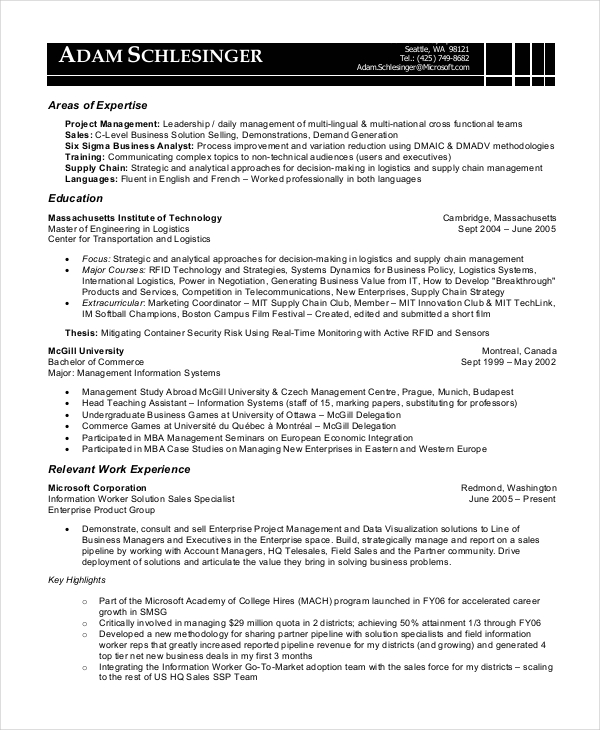 web.mit.ed
IT Business Analyst Resume Template
harcourt.ca
Professional Business Analyst Resume Template
>

What are the top 3 Mistakes to Avoid in the Business Analyst Resume?

One of the major mistakes that candidates make on their business analyst resume is skipping out on the summary. The summary makes the job easier for the hiring manager by getting him your overall picture at a glance. Then, talking about your secondary skills and responsibilities over the primary ones is another mistake you must be careful of. For example, you should not place more limelight on your coding skills compared to your role in business problem solving. Besides, do not bind your prime responsibilities and the very special project that you had participated in, in one point. You must maintain proper segregation of the data provided. You can also see Data Analyst Resume Templates.

The templates mentioned above would be grand when you are looking for help in drafting the best possible resumes for the job of a business analyst. The good part is that these set of templates contain samples for both entry level and senior business analysts- so that you can easily choose one as per your level of experience.
More in Resume