Resume
10+ High School Graduate Resume Templates
You just graduated from high school, and college does not seem to be in your plans yet. Instead of staying at home and waiting for things to go your way, take action in your life and get yourself a job.
Having only a high school diploma, you may hesitate to apply for a job. However, this shouldn't worry you. In fact, your educational attainment will look less significant compared to what you can offer in your résumé and in interviews. We have in stock blank resume templates that will help you create your own from scratch if you could not find the templates you're looking for here.
Free High School Resume Template
Free Graduate Resume Template
High School Graduate Resume Templates
Are you on the lookout for ideas to create a High School Graduate Resume? Then, you can check out High School Graduate Resume Templates. A resume needs to have three main details: Personal, Educational, and Experience. So, make sure you have included these three details when you are creating a High School Graduate Resume. Your personal detail includes your name, address, and you contact information for communication. You should have your educational degree(s) under educational information. And finally, You can write about your skills and experiences under the Experience details.
New High School Graduate Resume
aie.org
High School Graduate Student Resume Sample
copeenglish12.pbworks.com
1. Jobs You Could Land with a High School Diploma
Often belittled, high school graduates have equal chances of getting into high-paying jobs as compared to other professionals. Though they may not be able to embark on similar advanced fields, they can have high-paying jobs nonetheless. Hence, if you are one of these graduates looking for a job, finalize your high school résumé and apply for these jobs:
Legal support assistants
Mail carriers
Property and real estate managers
Real estate brokers
Railroad patrol officers
Mechanics supervisors
Transportation and distribution managers
2. Skills to Highlight on your Resume
For fresh graduates with absolutely no work experience, its absence does not automatically make you an incompetent applicant. You can highlight the following skills on your student résumé to impress your employer and prove you're a worthy applicant:
Excellent communication skills
Knowledgeable on advanced and basic computer troubleshooting
Work with little to no supervision
Quick learner and picks up new skills easily
Diligent and gives his 100 percent in every task
Just make sure that these skills genuinely describe your capacity, and you should have real-life experiences and skills to prove your worth.
Basic High School Graduate Resume
nehs.phila.k12.pa.us
Sample High School Resumes and Cover Letter
readwritethink.org
Sample Resume for High School Graduate Student Format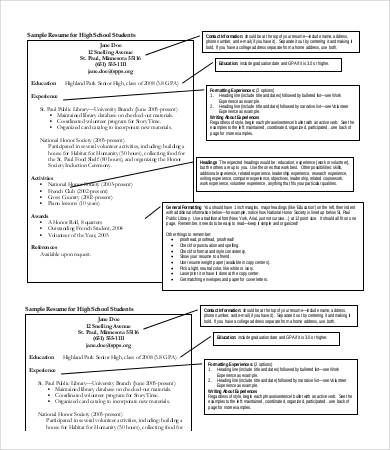 mass.edu
High School Student Graduate Resume Worksheet
academy.valverde.edu
Sample High School Resume Template
readwritethink.org
Sample Graduate School Resume
elon.edu
High School Graduate Resume Example
certiport.com
Professional High School Resume
mafiadoc.com
3. It Starts with a Resume
Résumés are powerful tools that create a lasting first impression. This document is the first step to have so you could land an interview. To look competent and highly skilled, grab a few high school graduate résumé templates from our collection and combine one or two together to create the one that fits you the most. You may also see Classic High School Resume Templates.
Each template is composed of the proper content and format that would surely attract more than just a single employer. Aside from résumés, we offer a stock of cover letters available as supplementary files. These templates are easy to edit since they are either in Microsoft Word or in PDF file format. You may also see Teacher Resume Templates.
4. Tips for Successful Interviews
Once you got the attention of an employer with a well-made high school student résumé, you should be scheduled for an interview. This is the phase where most employment decisions are made. To successfully get through an interview and to boost your chances of getting the job, take a look at these tips:
Research about the company.
Review past mistakes and prevent doing them again.
Rehearse answers for common interview questions.
Dress smart and appropriately.
Be ready and stay calm.
Answer what you know; never bluff.
Be charismatic and polite.
Show how interested you are on the job.
Enjoy the entire experience.
More in Resume