By definition a chronological resume is a type of resume wherein the events of a candidate's professional life are recounted in sequential order. Also such a kind of resume is known to follow a systematic order – a hierarchy of sections in which different details pertaining to education, profession, and others are mentioned. Chronological resume templates are easily available to help you design one for yourself. The formats are completely editable and user-friendly. Any person can create a chronological resume using a chronologic resume template. A chronological resume template is a document which acts as a readymade document for all those people who may not be clear about framing such resumes on their own.

Functional Resume Templates, Sample CV Templates
Chronological Resume Template Sample
Chronological Resume Template Download
Free Chronological Resume Template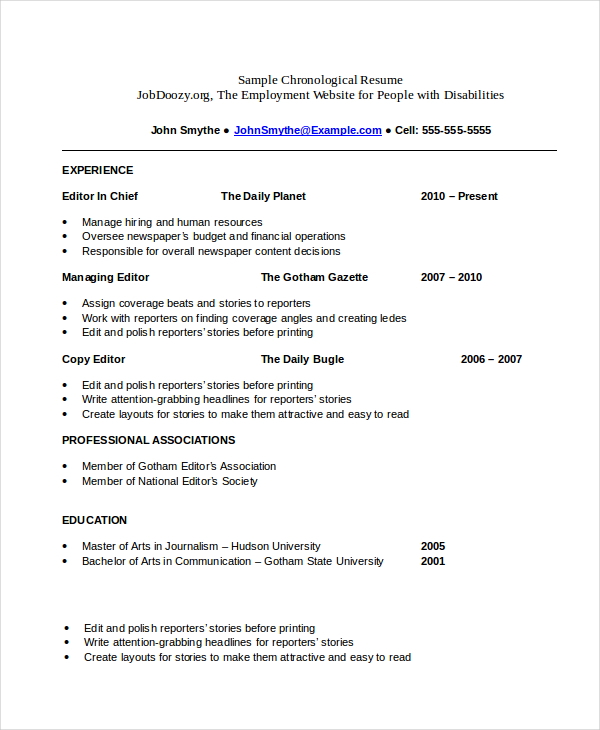 Chronological CV Resume Template
Sample Chronological Resume CV Template
Customer Service Chronological Resume Template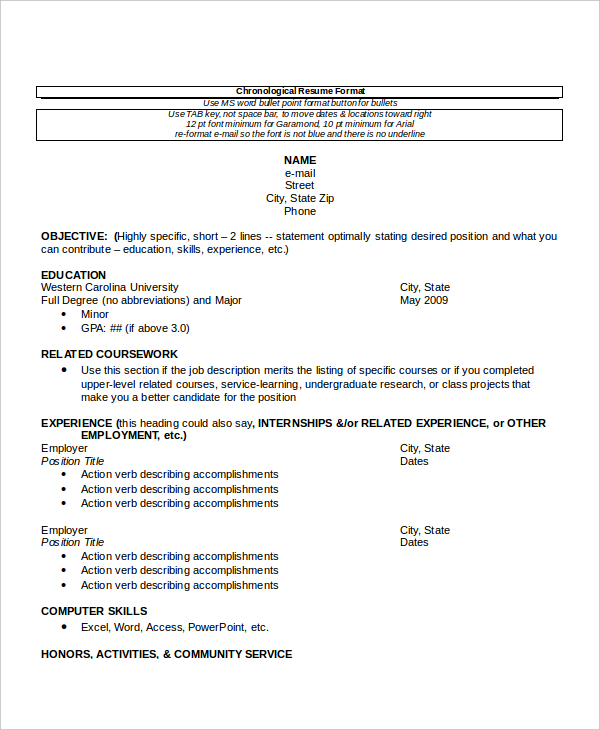 General Resume CV Template Chronological
Chronological Resume Sample Template
CV Sample Chronological Resume Template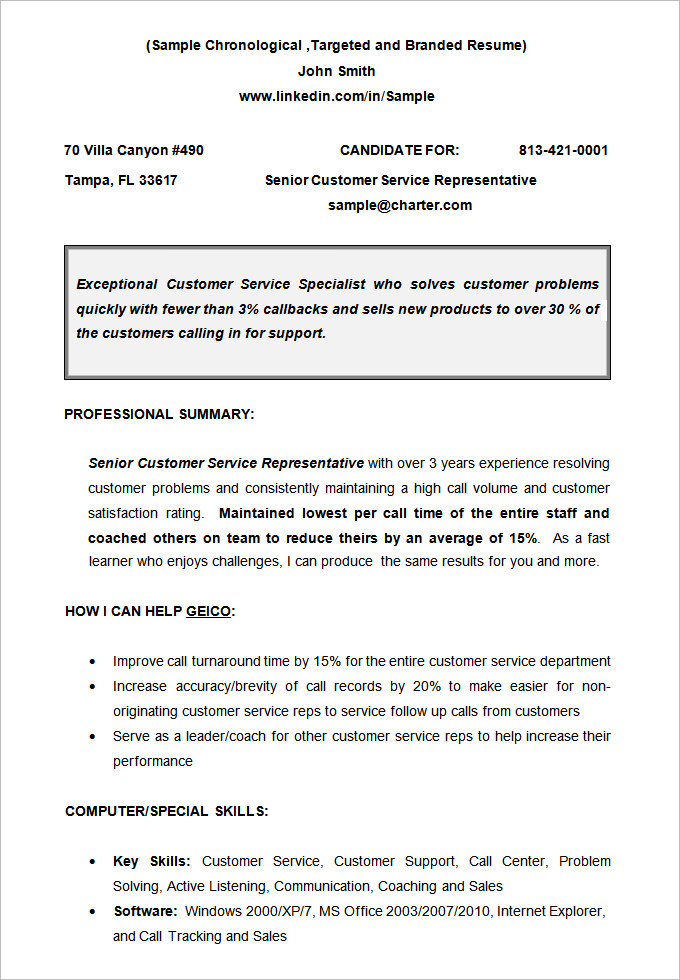 Sample Management Chronological Resume Template
Chronological Resume Template Sample CV
Sample Resume Template Chronological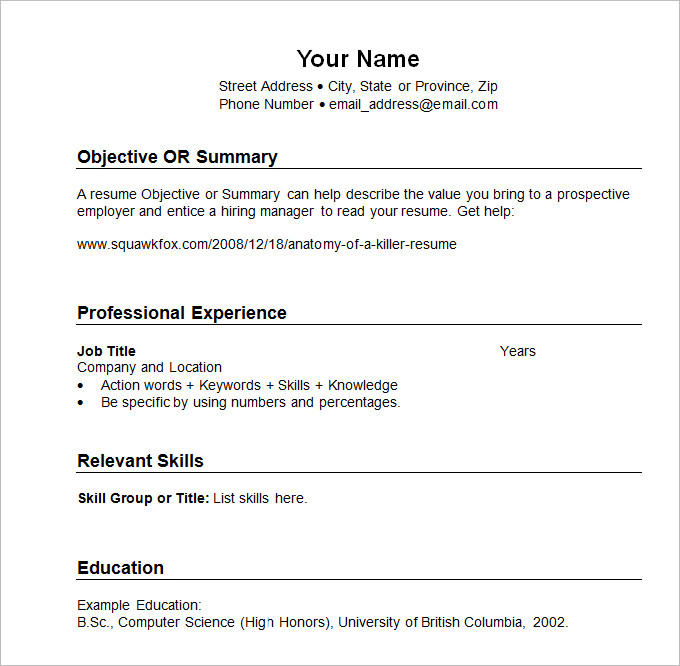 Administrative Assistant Chronological Resume
nyc.gov
Chronological Resume for Engineering Students
mccc.edu
Chronological Resume Format
blackburn.edu
Chronological Resume Work Experience
suu.edu
Custodian Supervisor Chronological Resume
sdps.ucdavis.edu
Entry Level Chronological Resume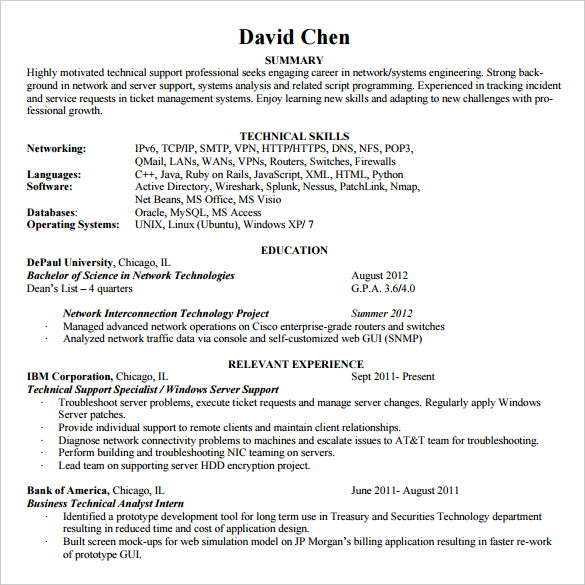 resources.depaul.edu
Pharmacy Chronological Resume
utoledo.edu
Professional Chronological Resume
writing.colostate.edu
Reverse Chronological Resume
sph.washington.edu
Sample Chronological Resume Worksheet
id.uscourts.gov
Teacher Education Student Chronological Resume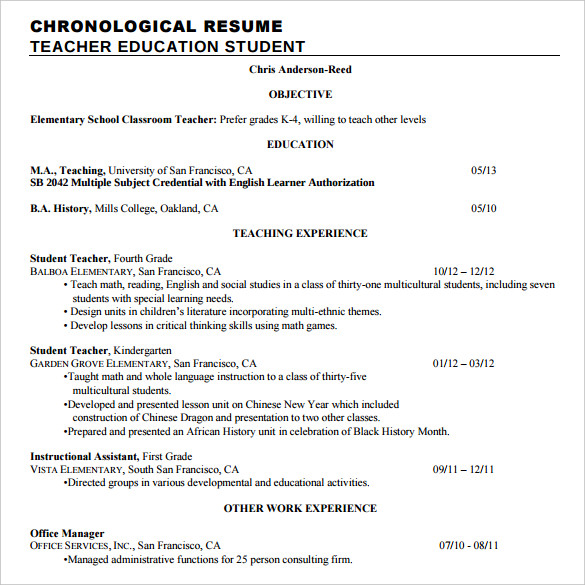 myusf.usfca.edu
A sample chronological resume template is a document which can be used as a sample of a chronological resume template and serves as well detailed example. The sample can be very time saving as it helps to understand the format and also some of the content details that are needed in a chronological resume. Infact, samples of Chronological Resume Templates can be used as it is to complete a resume which can be further used for job application purposes. Many of these samples are available online for download and can be installed for free of cost. The samples are easy to personalize and hence save a lot of time of the user.