Are you fresh out of college? Looking to kill it at that amazing first job? One of the most important requirements for you is to have a brilliant resume to make sure that you stand out among a sea of applicants. Your first job resume must be unique and highlight your strengths.
5 Steps to Write a First Job Resume
Step 1: Create the Header
The first thing you write in your resume is the header which includes your name, present designation (such as the name of your college/school), email address and phone number. Make this part bold and separate it from the rest of the text by a line or box.
Step 2: Write Your Educational Qualifications and Prior Experience
Usually, most resumes have your educational and professional experience listed down in reverse chronological order. We recommend that you create a table for the same to avoid putting down a wall of text. Since this is the first job you're applying for, you can put your internship and volunteer experience in this section
Step 3: Mention Your Language and Technical Skills
This section is important because it shows how functionally adaptable you would be to the job you're applying for. You must mention all the languages you are proficient in (along with the level of proficiency) and any other technical skills such as Excel or coding knowledge.
Step 4: Highlight Your Extracurricular Achievements
In this part, write down the areas apart from academics in which you have excelled. You can include anything like theatre, art, public speaking, etc. and write down your level of expertise and achievements in each. This shows that you can devote your attention to multiple pursuits and explore your creative side.
Step 5: Pay Attention to the Language
The words and phrases you use in your resume reflect your attitude and a strong resume is one that is carefully and smartly worded. Use keywords that show desirable qualities like leadership skills, creative thinking, taking initiative, desire to learn, etc.
10+ First Job Resume Templates
1. First-Time Teacher Resume Template
This teacher resume template has a beautifully designed format and is specifically created for a teacher's position. This resume template shows off your educational qualifications while giving enough space to mention your extracurricular achievements. It also highlights the specific skills you possess required to fit the job description.
2. Printable Beginner Acting Resume Template
Just graduated from film school? Looking to make it big in the world of films and acting? Then your first resume should reflect just that. This acting resume template will help you to craft a memorable and unique document to make sure you stand out in the crowd.
3. Entry Level Job Resume Template
This entry level resume template is a creatively designed one that will help any entry-level job seeker to optimize their job search. There are specific columns and sections devoted to highlighting the qualities and qualifications required to meet the job description of the dream job.
4. Management Fresher Resume Template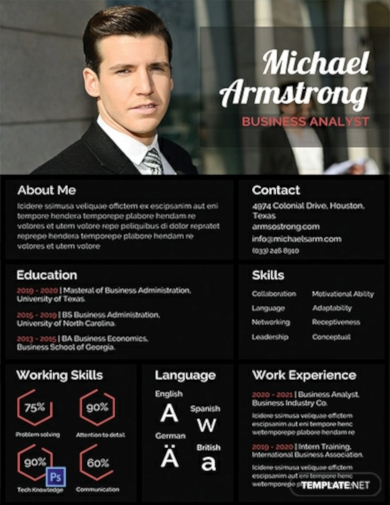 The field of management is a highly competitive and fast-paced world. So, it's imperative that as a newly graduated student, you have a stellar resume to make your big entrance. This MBA resume template is ideal since it hits all the required details and requirements perfectly.
5. Professional First Job Resume Template
Are you a young fresher on the lookout for the amazing first job to propel you into a work life? You will definitely need a great resume to make a lasting impression. This sample professional resume template is for a graphic designer job description, but you can modify it according to the field you're applying for.
6. Simple Fresher CV Template
This free simple fresher resume template is designed by experts for a web designer looking for their first job. It is creative and unique in its layout and content. On top of that, you can easily make edits and customizations to make it suit your requirements.
7. Free Engineering Fresher Resume Template
Are you a fresh graduate in an engineering major? Looking to kick start your career with a great first job? Then you're in luck because this fresher engineer resume template will help you to create a stellar CV that will definitely wow your employer. It has everything you need and more.
8. Free Fresher Resume Template Sample
Need an impressive resume, but don't have the time or resources to make one from scratch? Look no further, for this fresher resume template for an engineering job profile has all the elements you need to make your application stand among out all others.
9. Professional First Job Resume Sample
This sample professional fresher resume template is specifically designed keeping in mind the requirements and qualifications of a fresher to the industry. The prompt and heading are completely customizable and open-ended. You can add your personal touch by tailoring the template to fit the brief for your first job.
10. Graduate First Job Resume Template Example
This resume will guide you to make the right decisions while writing up your own. Simply fill in your details in the relevant columns and you're good to go! This graduate fresher resume template is especially neat and professional – which will look quite impressive in a job application.
11. Creative Freshman Resume Template Sample
As a newly passed out student, you must face the task of finding a job and making a name for yourself in the industry. To start that process off, you must have a solid resume to make yourself stand out. This fresher resume template will help you to do just that through its creative design and relevant text.