Resume
15+ Construction Resume Templates
Are you looking for work in the construction sector? And in need of advice on how to get the perfect resume to represent your skills? Look no further, as this article will tell you all you need to know. Read on to find out how to make your construction resume template.
Table of Content
15+ Construction Resume Templates
1. Construction Lawyer Resume Template
2. Construction Subcontractor Resume Template
3. Construction Paralegal Resume Template
4. Assistant Construction Manager Resume Template
Need a job as an Assistant Construction Manager? The first step when applying is to have a really good resume to submit to the recruiters. This construction manager resume template is efficient and makes it easy for you to present your details in a way that has a great strong impact. It's the perfect blend of colors, columns, and typography, to create the best possible impression.
5. Construction Assistant Resume Template
6. Construction Coordinator Resume Template
5 Steps to Write a Construction Resume
Step 1: Keep It Short and Crisp
The first rule of writing any resume is to make sure the reader – your potential employers – does not find it boring. For this, you must make sure that you don't provide any unnecessary information, and make it a short and easy read for the reviewer.
Step 2: Go With Tabulation
Busy HR executives who review hundreds of resumes always prefer tabulated information rather than long and boring paragraphs. List out your details, use bullet points and highlight the important facts. It is important that the reader can easily find what they are looking for at a glance.
Step 3: Don't Leave Out Any Important Details
Apart from mentioning your biographical details, educational qualifications and previous work experience, don't forget to mention any relevant details that may be important. If you've been to any seminars, or workshops or construction site visits, mention it. They may be more important than you think.
Step 4: Make It Stand Out
Your potential employers will be receiving lots of resumes every day, and many of them may be equally eligible as you for the job. This is where it helps if the design and style of your resume are unique and catches the eye from amongst the others.
Step 5: Appear Confident and Bold
The tone of your resume should say that you are confident about your skills and that you feel you can do a good job. The single most important thing recruiters look for is self-confidence, because even a skilled worker can make mistakes if they doubt themselves.
7. Construction Laborer Resume Template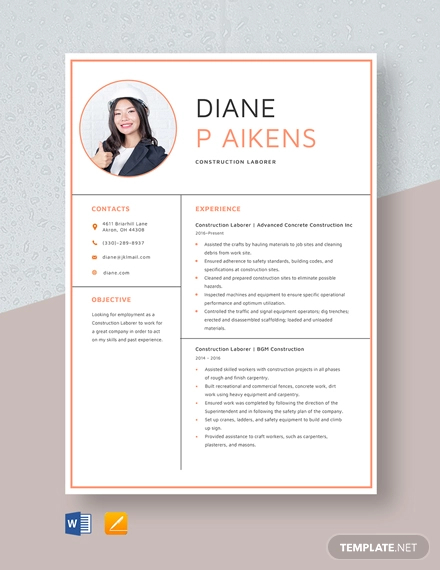 8. Construction Administrator Resume Template
9. Construction Resume Templates for Aspiring Professionals
Looking for a premium Construction Resume template for an eye-catching and professional resume? This premium construction manager resume template comes fully loaded with full Photoshop compatibility and high-quality graphics and artwork. The layouts are fully customizable and the portrait style oriented, well-layered template is in 300 DPI resolution, and completely print ready.
10. Construction Manager Resume Template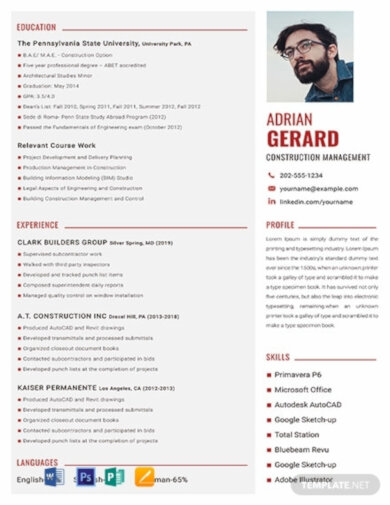 If you're going to apply for a construction manager post, you need to check out this manager resume template. Professional, crisp and aesthetically pleasing, it is sure to make your resume stand out. Use this template to write your resume, and the chances of you getting the position shall shoot up instantly. The sidebar style of the resume will make your document differentiated.
11. Concise Minimalistic Construction Resume Template
This simple two-page construction resume template is perfect if you're aiming for the minimalistic look. It uses a simple layout, in the PDF format and is fully customizable according to your needs. It is a great template to get back to basics and forego flashy graphics and colorful layouts. The preset content of the template will also help you draft your resume quickly.
12. Construction Laborer Resume Template
A very compact Construction Laborer work resume template, this template will allow you to display your resume on one page. With attractive graphics and eye-catching typefaces, this template will lend a professional yet pleasant look to your resume, as it integrates all your information in a tabulated manner, without creating clutter.
13. Construction Worker Resume Template
The crispness of your resume can speak a lot about you to recruiters. This Construction Worker resume template lets you make a one-page basic work resume template that is crisp, precise and to-the-point. Including all your important details like work experience and educational qualifications, it offers your recruiter your info at a glance.
14. Construction Professional Resume Template
If you're looking for an old-school resume with a toned down style and classic aesthetic, this is the best professional resume template to make your Construction Professional resume. Giving you a well-designed yet simple layout to display your information, this two-page resume follows the traditional resume format that's been trusted for years.
15. Construction Manager Resume Template
Are you a Construction Project manager in need of resume templates? This smart and concise construction manager resume template can be the answer you need. With a retro look and classic typefaces, it can lend a look of experience and confidence to your resume, while letting you display your info all in one page.
16. Construction Executive Resume Template
This is a smart and simple executive resume template for a construction manager or senior executive in a construction firm. The layout of this two-page resume template lets you display all your educational qualifications, professional skills and previous work experience neatly in a tabulated fashion and without cramping too much information into too little a space.
More in Resume