Resume
5+ Physical Therapist Resume Templates
If you have experience and the passion of working as a physical therapist, you could consider expressing your interest in an open position by writing and submitting a readable, professional resume to a potential employer. To help you to write the resume with confidence, accuracy, and assurance of the document standing out, you should use the physical therapist Resume Templates. The purpose of these templates is to make your resume writing easier and straightforward; they also to save you a lot of time and money.
Assistant Physical Therapist Resume
dayjob.com
If you are an experienced therapist who would like to sign on for a job in a different medical department as an assistant medical therapist, you can use this doc file to write a resume for the job. You can also see Classic Resume Templates.
Entry Level Physical Therapist Resume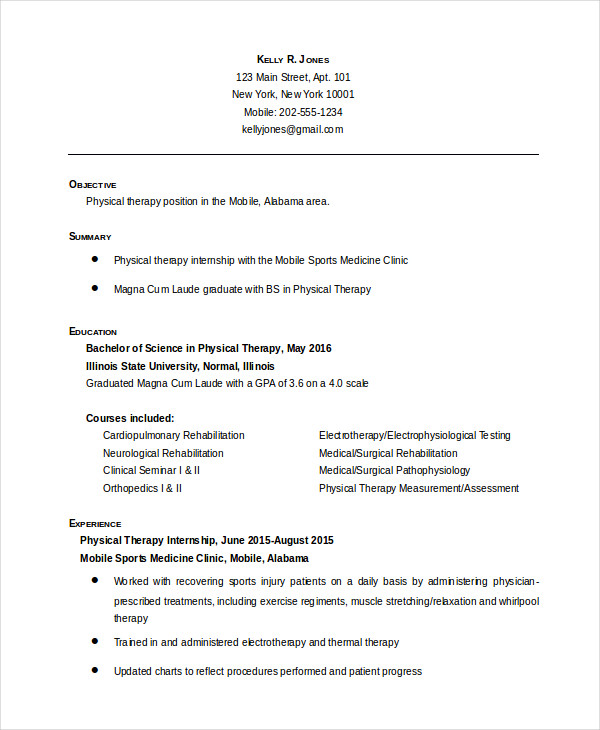 collegegrad.com
If you have just graduated from a medical school and would like to sign on for a job as an entry-level therapist, you can use this document to write the best resume that will get you the job.
Physical Therapist Resume Templates
Are you looking for a Therapist job? If you are, then you need to create a resume that catches your employer's attention and matches the role they are looking for. When you create the Resume, take care of the following points:
The objective of your Resume. The objective of your resume should be clear, concise, and state the role you are looking for.

Work experiences. Include work experiences relevant to the job you are looking for.

Your skill set. Apart from your work experiences, you can include your skill set and what you are capable of in the resume. It will make your resume look strong.

Contact details. Include your contact details, such as your phone number, email, and your address for communication.
>

What to Include in a Physical Therapist Resume?
It is important to note that your education background is important, and so, you must include it in your resume just immediately after your career objective. The description must be brief, accurate, and precise. After writing your education background, think about your career objectives for a while.
You must have a purpose even if you are just a student looking for an attachment or a graduate seeking for an internship. There may be different reasons for writing a career objective, like say to help an employer get to know more about you, but the primary one is to give the employer a heads up on what you intend to bring to the table.
Student Physical Therapist Resume
apta.org
If you are a student looking for an attachment as a physical therapist, you can use this document file as a sample resume template to express your interest in an open physical therapist job offer.
Physical Therapist Aide Fresher Resume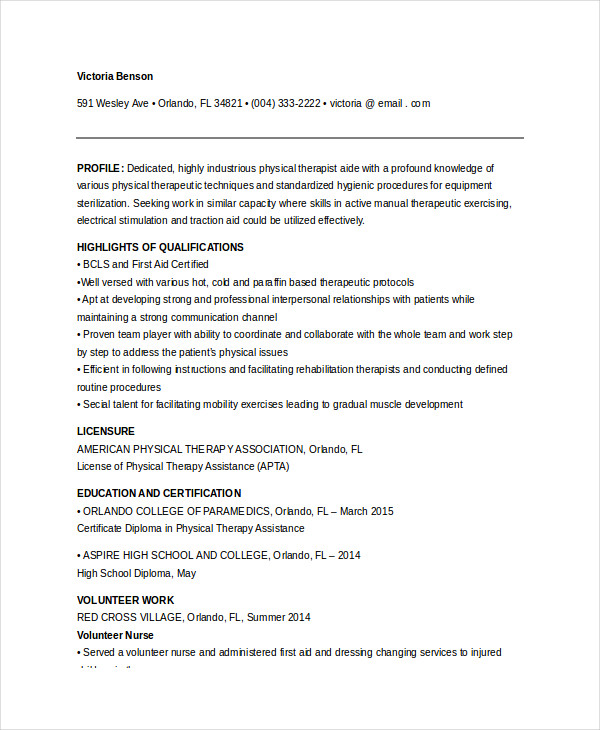 coverlettersandresume.com
If you are a fresher from a medical school, but you have never written a resume before, you will find this template quite useful. The template is, of course, easy to edit and 100% customizable.
>

Physical Therapist Resume Tips
Try to make the resume interesting to read. It is fine to write a standard resume, but it will be more helpful to you if you consider thinking outside the box to make the resume read even better. Make the resume adaptive. In other words, the content of the document should suggest to the reader that you are capable to not only work in a competitive environment under minimal supervision but also able to move the medical business to the next level. Your career objective should be interesting to read, and your education background and work experience must be clear, to say the least. You can also see Chartered Accountant Resume Templates.
Physical Therapy Teacher Resume
hsccf.hsc.usf.edu
If you are a student who would like to work as an intern, or you are in your mid-school years looking for an attachment, you will find this template useful for writing an impressive, comprehensive resume.
Professional Physical Therapist Resume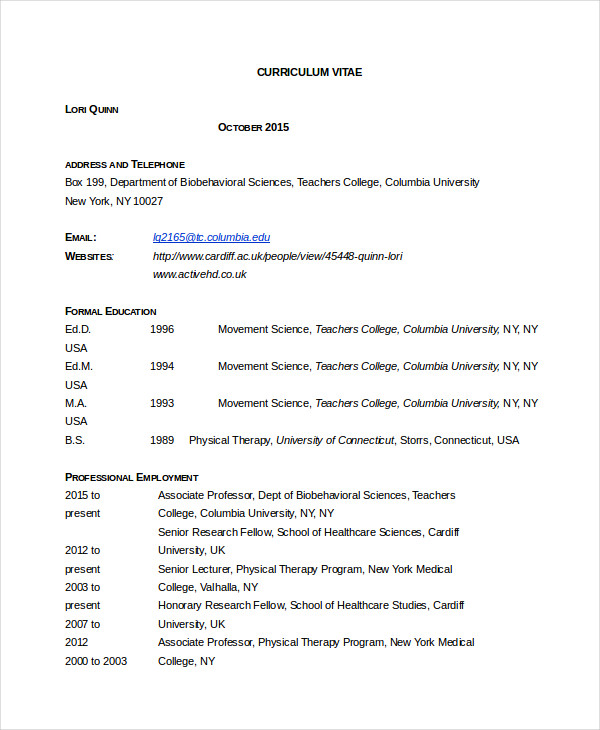 tc.columbia.edu
> Mistakes to avoid in Physical Therapist Resume
The tendency to write passive sentences is perhaps a craze that took root a long time ago. Even resume writers are now using passive voice to author the documents. Okay, using passive voice is not a crime per se, but you need to avoid using it on your resume. Stick to active voice instead. Another common mistake many resume writers make is the failure to proofread their document.
The problem is rampant, unfortunately. The best thing you can do to solve this problem is to make sure you proofread your work. Honestly, there is no magic formula for proofreading the document, you just have to check and make the necessary changes. You can also see Electronics Resume Templates.
The best therapy resume will always win you the job. Therefore, you need to make sure that your resume reads well; otherwise, a potential employer is not going to give you the job you are busy hunting.